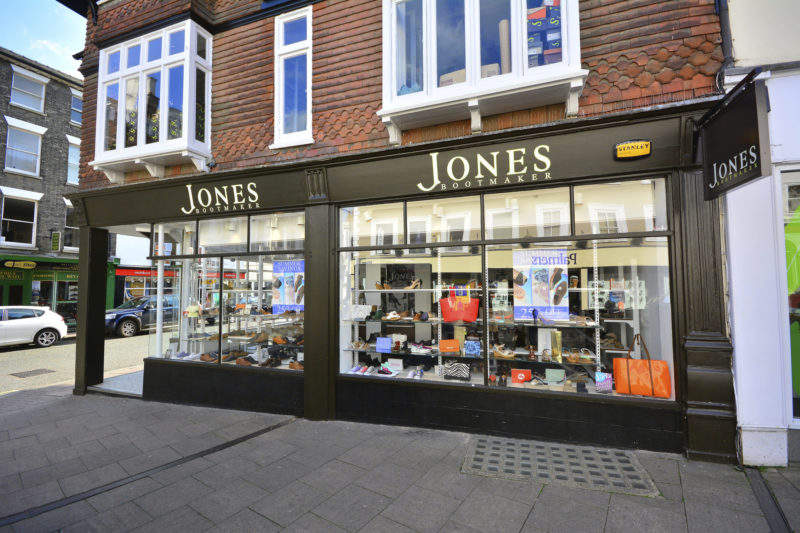 Jones Bootmaker boasts a well-known brand name, however a lack of investment and inaction from previous owners left it to stagnate, ensuring that it currently offers very little to UK footwear shoppers. Forging its own niche in a struggling market will be a challenge for new owner Pavers , given that its proposition needs an extensive overhaul to win back lapsed customers.
After its second administration within 12 months, Jones Bootmaker has found its saviour in fellow footwear specialist Pavers via a pre-pack deal. However, with just a 0.8% footwear purchaser share in 2017 according to GlobalData's How Britain Shops survey of 10,000 UK consumers, Jones Bootmaker is very much on the back foot compared to rivals Clarks and Dune, with little keeping it top of mind among its customer base.
A more compelling product offer is imperative, with a need to better showcase its comfort, fit and style credentials given its core customer base of discerning 45-65 year olds. The dominance of trainers in the footwear market is cause for concern for the specialist due to its focus on formal styles, and therefore its inability to fully tap into the most lucrative segment of the market. Brands such as Gabor, Peter Kaiser and Timberland give its offer credibility, and Jones Bootmaker could do more to emphasise these ranges, especially online. It is, however, its own brand ranges that need the most attention as they are the primary source of differentiation from competitors, with a need for more fashion-led styles to suit the younger tastes of its mature customer base.
Justifying a place on the high street
Service is central to a consumer's decision to visit a footwear specialist, and Jones Bootmaker must bring its trained staff and fitting services to the fore to enhance the instore experience, helping to satisfy shoppers' needs and drive conversion. While competitors such as M&S, Next and Clarks continue to improve the fashionability of their offer, weak apparel sales will hinder footwear cross-selling opportunities at the two clothing specialists, while store closures will negatively impact Clarks – presenting Jones Bootmaker with opportunity to steal shoppers and their spend.
Jones Bootmaker needs to justify its place on the high street and its position in the upper midmarket to premium segment by ensuring its product offer demonstrates value for money. Without this, it will remain overlooked by shoppers. While likely actioned to keep up with rivals, continual discounting in recent years has proved detrimental, making it harder for consumers to see the value in its full price proposition. Despite a challenging market, with volumes expected to remain in decline this year, keeping a tight rein on promotional activity will be necessary to protect margins.
Pavers is taking on 42 standalone Jones Bootmaker stores out of the 47 on offer – a much more manageable turnaround prospect compared to its near 100-store count just over a year ago. A lean portfolio is vital given the shift to online, and especially as offline growth is forecast to elude the footwear sector until 2022. The specialist's e-commerce business needs enhancing to bring it up to scratch, with more competitive fulfilment options, such as faster click & collect and free returns at the top of the to do list.
To get back on track Jones Bootmaker cannot rely on its heritage alone; there is a crucial need to modernise and innovate its existing staid offer to rebuild destination appeal and drive relevance among UK footwear shoppers.