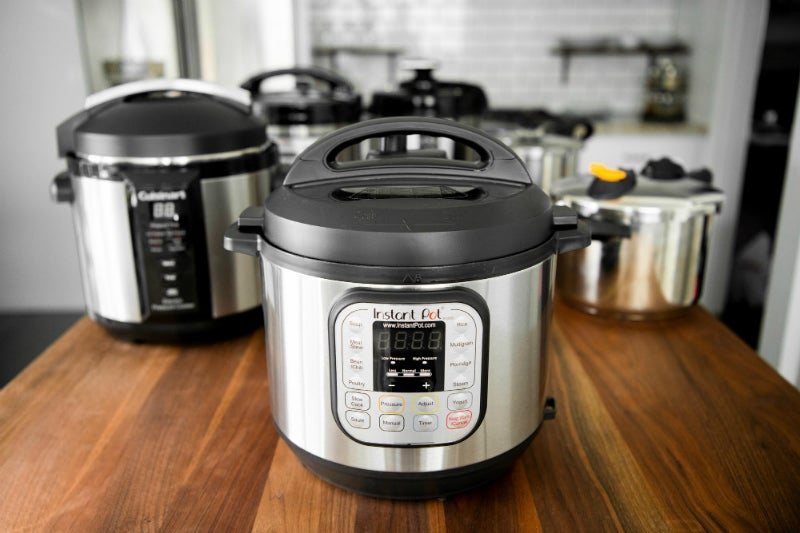 Packaged coffee marketers were caught flat-footed by the popularity of the Keurig K-cup single-cup coffee maker after its launch in 1998. Are FMCG food companies making the same mistake with the Instant Pot multicooker?
The Swiss Army knife of kitchen appliances, the Instant Pot 7-in-1 multi-functional pressure cooker has gone from one man's creative way to speed up home meal preparation to an internet sensation and an Amazon Prime Day, Black Friday, Cyber Monday superstar – all in less than a decade and all with little advertising expense.
For 2018's Amazon Prime Day promotion in July, Instant Pot sold over 300,000 units in just 36 hours. Early indications are blowout numbers for the Instant Pot for Black Friday and Cyber Monday in 2018.
Over 1.6 million people currently follow the "Instant Pot community" Facebook page – a remarkable figure for a kitchen appliance. And nearly 200 different Facebook groups are dedicated to the Instant Pot, according to CNBC. The Instant Pot enjoys a cult following largely thanks to the effort and persistence of its inventor – Canada's Robert Wang.
Versatility is helping the Instant Pot win the kitchen countertop space battle
Inspired by electric pressure cookers that are common in his native China, Wang intentionally focused on multi-functionality for the Instant Pot, ending up with an appliance that is a pressure cooker, rice cooker, slow cooker, steamer, yogurt maker, warmer, and sauté cooking device in one.
This versatility has helped the Instant Pot hang onto precious countertop space in the kitchen. Single-application appliances often end up in the kitchen cupboard where they fail to cultivate consumer engagement because being out of sight often means being out of mind. Just ask the marketers of countertop bread makers about that.
Instant Pot's main claim-to-fame, though, is speed. By preparing dishes up to 70% faster than the usual cooking methods, the Instant Pot can overcome the tendency to leave meal planning to the last minute by making up for lost time.
But then the Instant Pot is also equipped with a programmable timer that can delay cooking up to 24 hours, an endearing feature for consumers who do like to plan ahead. Instant Pot has both ends of the planning spectrum covered: procrastinators and planners.
Explosive sales growth for multi-cookers spells opportunity for FMCG companies
What this all adds up to is a kitchen appliance category – multi-cookers – that is firmly in growth mode. According to a recent CNBC report quoting sales data from the NPD Group, sales of multi-cookers increased by nearly 80% to over $300 million in the US in 2017. That growth figure has actually accelerated this year, running just under 100% for the year-to-date.
And this may just be the beginning of something big. The NPD Group puts market penetration of multi-cookers at just under 12% in the US. For perspective, CNBC reports that 85% of American households currently own a slow cooker like a Crock Pot.
Packaged food products designed for use in a Crock Pot or similar slow cooker are fairly common in supermarkets. The same cannot be said for the Instant Pot. Direct tie-ins with the programmable pressure cooker brand are relatively rare at this juncture.
Multi-cookers bridge conflicting meal preparation desires
This is somewhat surprising since the Instant Pot and multi-cookers like it seem to have the potential to bridge two conflicting desires: preparing meals from "scratch" and making meal preparation as fast and painless as possible.
Consumers overwhelmingly say that cooking a meal from scratch at home is their preferred approach to food preparation. According to GlobalData's 2018 Q3 survey, 74% of consumers globally and 66% in the US see this as preferable to eating prepared or packaged meals at home, ordering meal delivery, or eating at a restaurant or other foodservice operation.
But speed also matters to consumers. On an average weekday, 19% of consumers globally eat dinner in less than 15 minutes. For younger consumers, the need for speed is even greater, suggesting a desire for equally speedy meal preparation times. Globally, 24% of 18-24 year-olds say they eat dinner in less than 15 minutes on the average weekday, according to a GlobalData 2016 Q4 consumer survey.
Why are FMCG companies responding so slowly to the Instant Pot craze?
The ability of multi-cookers to take food ingredients – including packaged, centre-store ingredients – and turn them into quick meals would seem to be ideal for packaged food makers. So why aren't they doing more to ride the Instant Pot wave?
Food makers may think that multi-cookers are a fad, or that consumers don't need any help figuring the devices out. They may see limited upside with aligning their brands with multi-cookers, thinking the devices are too ethnic for a mass audience. This thinking is flawed.
A quick look at Facebook groups dedicated to the Instant Pot shows lots of curiosity, but also lots of confusion. Trial-and-error seems to be the preferred approach to figuring multi-cookers out, suggesting a large knowledge gap as consumers may be intimidated by all of the possibilities for multi-cookers just as one may look at all of the buttons on a television remote and freeze up.
Food makers should be trying to fill that gap since knowledge gaps often spell opportunity. FMCG companies have a lot of room to innovate, creating products that are "optimized" for the Instant Pot and competing multi-cookers or at least suggesting their products work well with multi-cookers.
A Google search of the top recipes for the Instant Pot shows pot roast, chicken, chilli, and beef stew among the favourites. What do these brief listings have in common? Almost none of them name a single packaged food brand.
Venerable brands like Campbell Soup, Tyson, Perdue, Uncle Ben's and more that appear to be well positioned to capitalize on the Instant Pot's success all seem to be missing-in-action.
The "white space" here is considerable and brands that finally wake up to that fact could win big. We'll see if FMCG companies wake up to the opportunity in 2019 or keep on sleeping.
Photo courtesy of Your Best Digs.