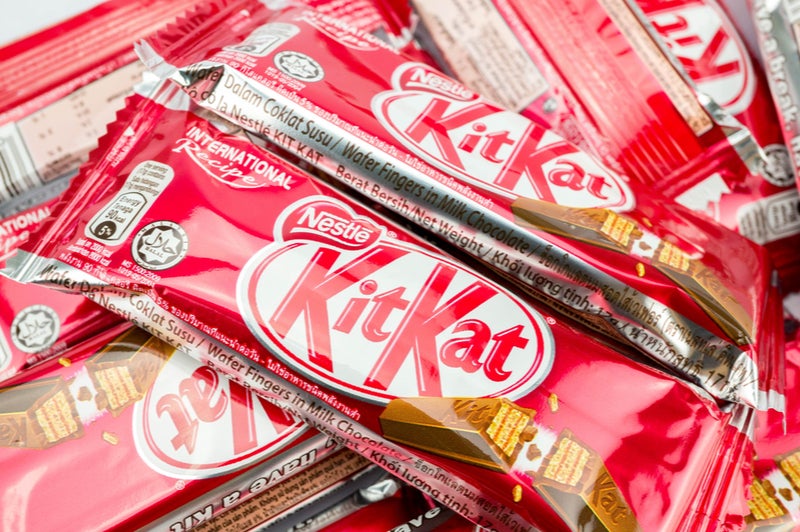 In a direct-to-consumer offering, Swiss multinational food and drink company Nestlé has launched a bespoke "premium breaks" range in the UK.
Nestle's KitKat Chocolatory will provide shoppers with luxury, handcrafted KitKats across 30 John Lewis stores. The confectioner also has plans to roll this range out to a new Nestlé online store later in the year.
In a statement, Nestlé said every KitKat chocolate bar is 'individually hand-crafted by expert chocolatiers'. Consumers will be able to pick up six flavour combinations, including 'gin and tonic' and 'whisky and ginger' at the John Lewis stores.
The premium chocolate bars will also become available online in time for consumers to purchase their Christmas stocking fillers and these will be personalised from 1,500 different flavour combinations with each bar made to order and a name or message appearing on the front of the pack.
With its new product offering, Nestlé is taking its world-famous, mainstream chocolate bar from corner shop to department store in a bid to compete directly with high-end chocolatiers such as Hotel Chocolat, which has not been the case previously.
Rabia Khan, head of KitKat Chocolatory for Nestlé UK & Ireland, said: "KitKat is our biggest brand and this is the biggest news for KitKat since the introduction of the KitKat Chunky exactly 20 years ago".
In its Q3 2018 consumer survey, Globaldata found that 57% of global consumers are always or often influenced by how well a food product is tailored to their needs and personality.
This suggests the new eight-finger 'create your break' bars will appeal to the growing consumer demand for personalised products.
Also, Nestle's customisable flavour option follows on the success KitKat has enjoyed in recent years in Japan, with unusual options such as purple potato, green tea, pumpkin and sake finding an appreciative local fan base among consumers also willing to share their experiences online.
The 'shareability' factor will also no doubt appeal to younger tech-savvy UK consumers who will be able to post about their customised or limited edition product online.
In the same survey, Globaldata found that over 90% of UK consumers were influenced by how unique or enjoyable a food product is.
Nestle is hoping made-to-order KitKats will find new adherents in the UK, particularly among younger tech-savvy shoppers who may be tempted to share their personalised chocolates on social media. After all, sharing is what the 'breakable chocolate bar' is all about.