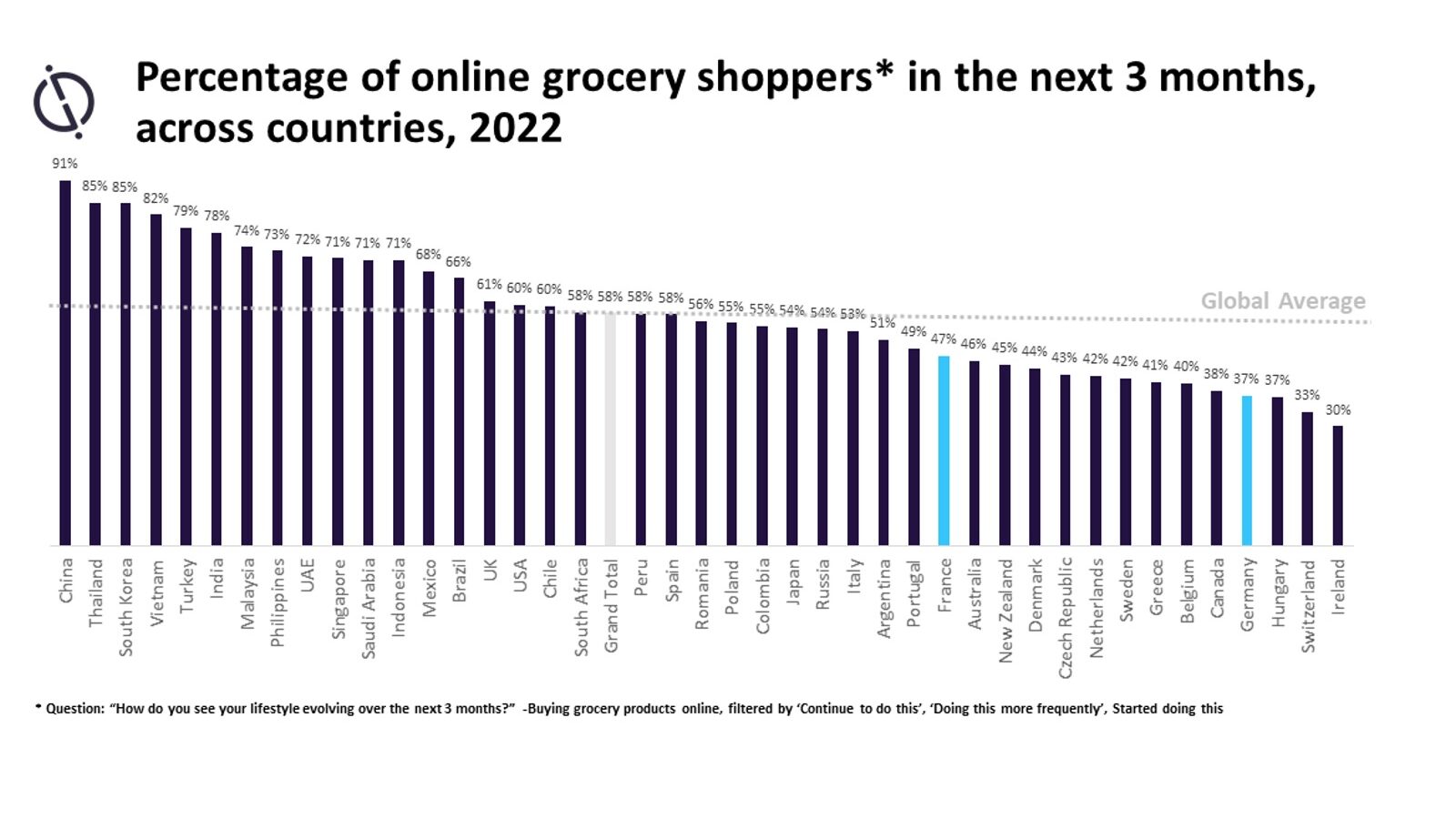 Globally, shoppers are continuing to buy into and explore the online grocery shopping landscape. As highlighted by GlobalData's Q1 2022 consumer survey, close to three in five (58%) shoppers worldwide expect to continue or increase their grocery shopping in the upcoming months. However, q-commerce disruptors, fulfilment logistics, potential price changes and local resistance to the online channel could prove significant barriers for large retailers to overcome.
National variation in the popularity of online grocery shopping is clear with Asian countries—China, Thailand, South Korea, and Vietnam—ranking at the top four in preference for online grocery shopping. Conversely, European countries skewer towards the lower end of the scale with Germany, Hungary, Switzerland and Ireland ranking in the bottom four. The success of retailers in countries with a lower online grocery shopping penetration paint an optimistic picture of the future of e-commerce globally.
In a recently published annual FY 2021 report, Germany's largest retailer, Edeka, registers an overall revenue growth of 2.5% and boasts strong double-digit growth in online revenue. Reaching 19.4% is notable, although it reflects a slowdown compared to 2020's number which hit 41.5%, albeit from a small base. This is in line with the company's rivals such as Carrefour, which announced a 20% growth in its e-commerce model and relies on France for around 48% of sales.
Carrefour has stated that it aims to triple its e-commerce numbers by 2026, illustrating the company's confidence in online sales. However, both Germany and France are under-indexing compared to the global average in online grocery shopping, clocking in at only 47% and 37% of consumers who expect to continue or increase their online grocery shopping. Carrefour and Edeka's results stand in sharp contrast to LIDL, which is refusing to capitalize on the UK's high online grocery shopping rates as investing in a delivery model would undercut and put pressure on the company's low price promise.
Picking the right delivery collaborators and careful investments can enable retailers to appeal more to their target audience. Edeka, for example, invested in Picnic, a Dutch start-up that mimics traditional milkman strategies with planned routes. Armed with over 800 modern electric vans and a national nomination in 2021 for its Zero Waste Project, Picnic makes for a strong ally in a country where sustainable strategies are appreciated. In a further collaboration with Picnic, Edeka has launched Everest, an organisation built to support international expansion of online delivery.
The primary e-commerce barriers for European retailers lies in a discomfort with online grocery ordering which can be offset by collaborating with companies that align with the region's values.