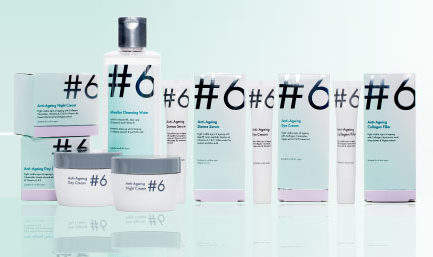 While Boots continues to lose share of the UK health & beauty market, discounters' investment in new beauty categories is increasing competition in terms of value opposition. Indeed, Poundland's first foray into own brand skincare brings Boots' flagship No7 brand under further price scrutiny.
Poundland has made a brazen move to assert a competitive edge over the UK's number one health & beauty retailer with a dupe of Boots' much loved No7 brand, with the launch of '#6' skincare. The new range, which focuses on of-the-moment anti-ageing ingredients such as hyaluronic acid, ceramides and algae extract, offers a complete six-step skincare regime for £6 – hence the brand name. Conversely, the similarities of the logo and aesthetics of the packaging with No7 will undoubtedly sting as Boots continues to cede share in the UK health & beauty market. It has lost 1.9ppts of market share over the last five years, while Poundland grew by 0.2ppts in the same period.
Beauty 'duping' is well known in an industry elevated by bloggers and social reviews, mirroring the rise of runway knock-offs from fast fashion retailers such as Primark and Zara. Value beauty replicas offer shoppers the old-age allure of a luxury without the high price tag, as well as fulfilling the need for instant gratification for products that a large percentage cannot easily afford. Poundland's range takes duping to the next level by offering what is clearly a super-value dupe of No7, a brand already considered an underdog of premium skincare. What's more, this is not the first time Poundland has attempted to undermine Boots' price positioning this year – in March its public campaign 'Give high prices the boot' highlighted the discrepancy in pricing of specific products between the retailers.
As Boots continues to compete with the lower priced sector by offering regular promotions on No7, it is the customers who place value on transparency of price and ingredients that may be tempted to switch, along with those who enjoy the hunt for the latest cult dupe. Amid the current polarised spending habits in beauty, it would be naive to expect those that consider skincare a luxury rather than an essential to trade down to a Poundland range.
However, they may be unconvinced by the differentiation of No7 and opt to trade up instead. For those already weary of inflated brand margins and prioritise value for money (something that No7 has long been synonymous with) there is now a heightened pressure for price justification. Opting for a transparent marketing approach, generating consumer confidence by calling out ingredient quantities and formulation, alongside a focus on personalised experience in stores will be important steps in keeping a wide enough distance between #6 and No.7.