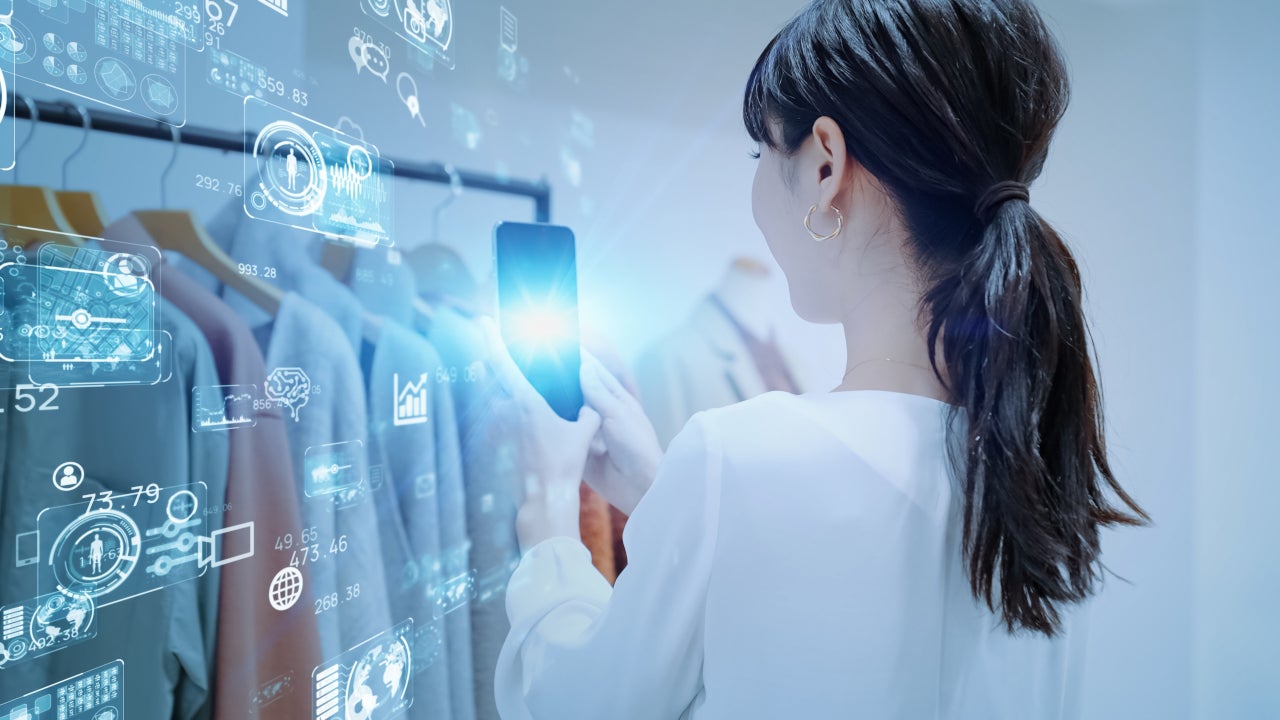 Marketplaces/retailers are adding new features and functions, such as personalised product recommendations, chatbots, visual search and delivery saving schemes, to their websites to enhance shoppers' experience.
Technology Trends
Listed below are the key technology trends impacting the retail marketplaces theme, as identified by GlobalData.
Augmented reality (AR) marketplaces
Marketplaces are striving to improve customers' online shopping experience by launching various technology driven initiatives on their websites, aimed at enabling customers to make sound purchase decisions on online platforms and therefore reduce the chances of order returns. AR is gaining popularity among retailers as it can provide a store-like shopping experience when shopping through digital channels.
For instance, British online fashion retailer ASOS has partnered with Israeli AR and artificial intelligence (AI) company Zeekit to launch 'See My Fit,' powered AR technology, enabling shoppers to witness simulated views of models wearing clothes and accessories. Shoppers can virtually check products on their smartphones and make a purchase decision without visiting retail stores during the Covid-19 pandemic.
Conversational platforms
There are many components to AI that retailers can use to improve shopper journeys. The most applicable uses are computer vision, machine learning, and conversational platforms. Many of these are already available to use in stores and online.
AI can also be used at home, with AI-enabled voice assistants becoming more accessible with the launch of the Amazon Echo in November 2014. With these smart assistants also capable of ordering replenishment items, there is a clear retail opportunity that stores must capitalise on.
Experiential technology
Ecommerce retailers/marketplaces are striving to improve customers' online shopping experiences by launching several technologies driven initiatives on their websites, aimed at enabling customers to make sound purchase decisions on online platforms and reduce the chance of order returns. For instance, ASOS is showing selected products on models of various sizes, so shoppers can look at a model image of someone who is in a similar size to them and make an informed purchase decision.
Mobile and Ecommerce marketplaces
As consumer retail spend continues to shift online and shoppers shop in physical stores less, the mobile channel is becoming increasingly important. Mobile commerce is the fastest growing area of ecommerce marketplaces with spend via smartphone rising rapidly as consumers continue to turn to their convenient handheld devices to complete everyday tasks. Mobiles have played an important role in the development of the ecommerce industry, especially as their capabilities have been increasing at a constant pace.  Ecommerce marketplaces are devising strategies to make their websites more mobile-friendly as the channel is gaining traction.
Online to offline (O2O)
O2O commerce is a business strategy that draws potential customers from online channels to physical stores. Supermarkets, department stores, and other retailers are using O2O strategies to fight back against the tech sector by developing their ecommerce capabilities and drawing customers into their stores to collect products that they have ordered online.
Robotics
Robotics have been prominent in online marketplaces accelerating their supply chain operations and attracting more independent retailers/merchants/sellers. The robotic technologies deployed by these marketplaces are being leveraged by approved sellers and include picking and packing products in warehouses and fulfilment centres and making automated deliveries using autonomous vehicles and drones. Autonomous vehicles have the potential to bring a range of benefits to retail, from environmental benefits to faster and more convenient delivery options.
Social commerce
As the lines between social media and online marketplaces blur, social networks are strategically placing buy buttons within their messaging apps, photos, videos, and programmatic ads. Millennials and members of Generation Z spend large amounts of time on social media and are therefore the target market for so-called social commerce. Social media companies are adding capabilities, such as chatbots, to make it easier for their users to find, buy, and review goods on their sites. Instagram is reportedly developing a standalone shopping app that allows users to browse products from retailers they follow on the main Instagram site and make direct purchases. Another important breakthrough is the use of visual search tools that enable users to locate items through photos taken on their smartphones.
Technology expansion/acquisition
Retailers are collaborating with technology start-ups to enhance their operations and reach. For instance, Walmart has partnered with all-in-one commerce platform Shopify to expand its ecommerce Marketplace. As part of this partnership, Shopify platform users will have access to Walmart Marketplace. The partnership enables Shopify sellers to seamlessly list their items on Walmart.com, which gives Walmart customers access to a broader assortment.
The rise of the internet super-monopoly marketplaces
The ecommerce sector which includes retail marketplaces is bifurcated between the giant internet ecosystems and the rest. The giants have many advantages, including substantial network effects from the sheer scale of their user base, superiority in AI, and in-house mobile payment platforms. Facebook, Tencent, Amazon, and Alibaba have gained strong footholds in global online markets. They are now virtually impossible to dislodge and much of the growth in ecommerce is flowing to them.
5G network advancement
As demand for faster mobile broadband internet increases, technology must be developed to support this, hence the introduction of 5G. Yet this requires both network providers and devices to upgrade to support these faster speeds i.e. network towers must be enhanced, and consumers must buy newer devices. The introduction of 5G will allow consumers fast access to necessary information, aiding online purchasing as well as browsing on-the-go. Also, retailers will be able to launch more interactive websites with high definition videos as more consumers start to have access to 5G.
This is an edited extract from the Retail Marketplaces – Thematic Research report produced by GlobalData Thematic Research.