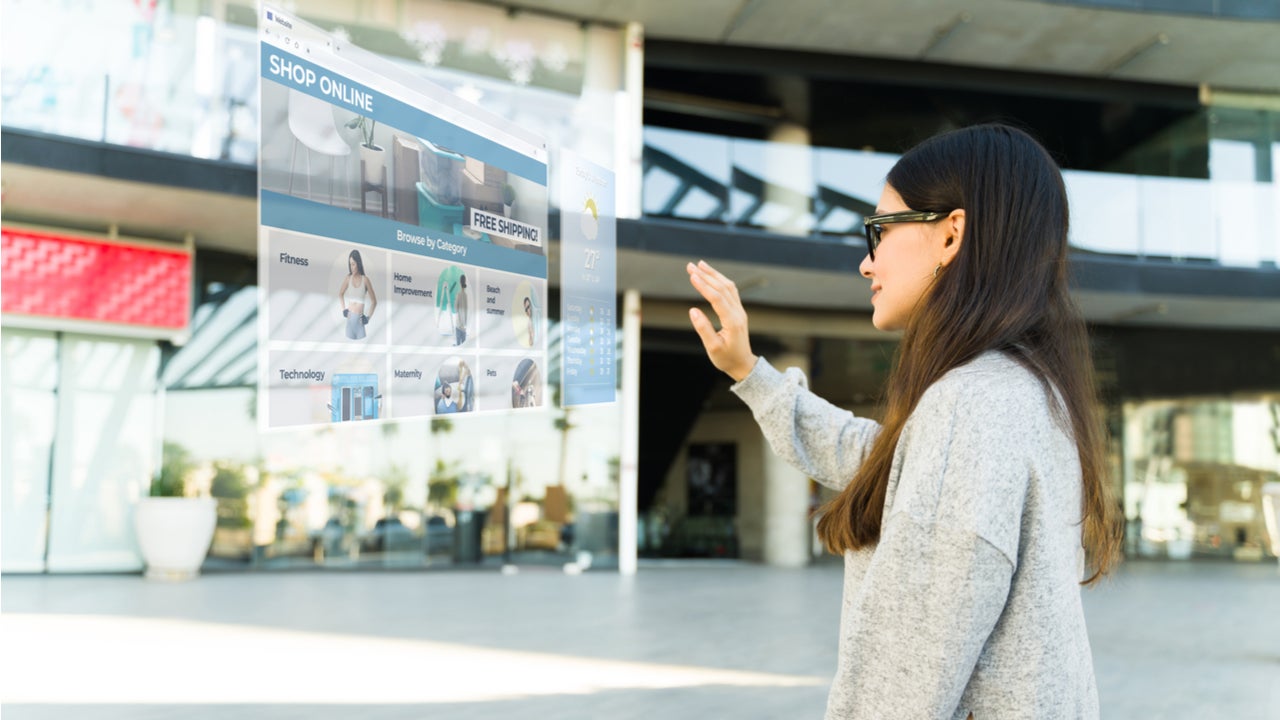 Metaverse leads as Retail Insight Network lists the top five terms tweeted on retail tech in Q1 2022, based on data from GlobalData's Retail Influencer Platform.
The top trends are the most mentioned terms or concepts among Twitter discussions of more than 150 retail experts tracked by GlobalData's Retail Influencer platform during the first quarter (Q1) of 2022.
1. Metaverse – 214 mentions
NIKE's potential to expand in the metaverse, McDonald's filing trademark applications for virtual goods and services and Walmart preparing to enter the metaverse by creating its own cryptocurrency were some popular discussions in Q1 2022.
Lauren Thomas, a retail and fitness reporter at broadcast media company CNBC, shared an article on footwear manufacturing company Nike being named Guggenheim's finest idea for 2022, citing the company's engagement in the metaverse. Analysts at the investment and advisory company believe that the footwear manufacturer will continue to grow as it expands its online operations and offers innovative products this year. Nike acquired virtual sneaker company RTFKT in December 2021 for an undisclosed amount and also collaborated with online gaming company Roblox to build a virtual world called Nikeland. Companies are investing in the metaverse to capture the attention of younger consumers, and translate those social connections in a virtual setting to maximise their sales and return on investments, the article detailed.
Metaverse was also discussed by Glen Gilmore, principal of consulting and digital marketing firm the Gilmore Business Network, who shared an article on fast food company McDonald's filing ten trademark applications for virtual goods and services. The company filed ten trademark applications including an application for a virtual restaurant with actual and virtual products and a virtual restaurant that offers home delivery services, the article highlighted. The company is also looking to trademark its online actual and virtual concerts and other entertainment services offered by its virtual McCafe brand, the article noted. McDonald's filing comes after the bakery company Panera Bread filed a trademark application for Paneraverse, for its downloadable, virtual food and beverage products that can be used in the virtual worlds, along with non-fungible tokens (NFTs) and the option to buy actual products in the metaverse to be delivered.
In another tweet, Michael Lagazo, a commercial real estate specialist, tweeted on retail company Walmart secretly planning to enter the metaverse, with plans to launch its own cryptocurrency and collection of NFTs. The retailer filed seven new trademarks on 30 December 2021 that indicated its plans to build and sell virtual products, such as electronics, home decorations, toys, sporting goods, and personal care goods, as per the US Patent and Trademark Office. The company stated that it will also offer users a virtual currency and NFTs, as part of a separate filing. Retailers such as Gap have also begun selling NFTs of its logo sweatshirts, while NFTs of Under Armour and adidas were sold out in December 2021 and fetched excessive prices on the NFT marketplace OpenSea, the article highlighted.
2. Innovation – 168 mentions
Alibaba using robots to increase warehouse productivity in China, Flipkart introducing a voice search feature on its B2B platform, and retailers adopting new tracking technology to detect stolen goods, were some of the popular discussions in the first quarter.
Jim Harris, a disruptive innovation thought leader and speaker, shared a video on technology innovation radically increasing productivity. He cited the example of e-commerce company Alibaba, which used 60 robots to increase its warehouse productivity by 300% in China. The video illustrated that when an order is placed, a robot locates the product in the warehouse, picks it up from among the 32,300 shelves after which humans pack and dispatch it to the respective consumer. Each robot can also carry up to 500kg of weight, and is equipped with a laser system to avoid collisions. The robots also charge themselves when batteries run low, and are currently performing 70% of the tasks in the warehouse, the video detailed.
Innovation was also discussed by Rajneesh Kumar, chief corporate affairs officer at e-commerce company Flipkart Group, on how Flipkart Wholesale, the digital B2B marketplace of Flipkart Group, is bringing the voice search feature to its B2B platform. The company believes that this technology innovation will help retailers and local shopkeepers in growing their business and profits, Kumar tweeted. Currently available in English and Hindi, the feature aims at helping retailers in using the search function more easily, thereby making transactions easier on the platform. The company stated that the feature will also help consumers in accessing a wide range of products on the site. The new feature supports the platform's core business plan of offering a hassle-free shopping experience and quick credit options, the article noted.
In another tweet, Tony D'Onofrio, CEO of TD Insights, a consultancy firm, shared an article on retailers using radio frequency identification (RFID) tags to detect stolen goods both in stores and online. Retailers are now seeking to solve the problem of shoplifting by attaching sophisticated a piece of hidden tracking technology that can trigger store alarms or can help in identifying stolen products being sold online, the article detailed.
An estimated 15% of retailers have adopted the RFID technology to track stolen goods, the article noted. Apparel and beauty retailer Victoria Secret is one of the retailers that attaches tags to track products across supply chains, while officials claim that the company is also testing the tags to thwart shopliftings. The RFID tags can benefit retailers, but experts believe that they can also be used inside stores to track customers without their consent leading to privacy concerns, the article highlighted.
Furthermore, retailers claim that the technology is not robust enough to track customers when they are wearing a clothing or if the products are lost or stolen. Moreover, specific reader guns that are used to access information from the RFID chips only work within a range of between 10ft and 30ft, thereby making it impossible for anyone to read the tags without an RFID gun from a distance, the article noted.
3. Online Shopping – 151 mentions
A surge in goods returned by UK shoppers, augmented reality (AR) becoming the next frontier for the future of online shopping, and technology firm Vajro raising $8.5m to make online shopping easier, were some of the popular discussions in Q1.
Neil Saunders, managing director and retail analyst at retail research agency and consulting firm GlobalData Retail, shared an article on the rise in post-Christmas returns in the UK. A 2020 study conducted by KPMG, a professional services company, found that the return of more than half of the clothing purchased online cost businesses almost $9.1bn every year. The article detailed that cancellation of parties, work from home trends and shift towards online shopping contributed to the high returns.
Many of the unwanted products returned by customers are sold in bulk to either charities or resellers, who repair or repurpose the items for sale on e-commerce sites such as eBay or Depop. A proportion of these unwanted goods, however, is burnt or sent to a landfill. The pressure to act sustainably and to reduce costs is, therefore, driving retailers to cut down the number of unwanted products. Technology firms such as ZigZag and ReBound, for instance, are helping retailers track the returned goods more closely, assessing why the sale did not convert and taking decisions on where and how to recycle the goods without having to bring them back to the UK, if sold abroad, the article noted.
Glen Gilmore further shared an article on AR being integrated into online shopping. The Snapchat instant messaging app, for example, allows users to customise and virtually try on a pair of shoes using AR, the article noted. Sponsored by a specific brand such as Nike, the app allows users to even change the colour and texture of sneakers to get a virtual, 360-degree view of how the footwear will look on a person's feet.
Nike is particularly doing well in this field, where AR is being integrated into social media platforms and AR apps to tap into the younger demographics, the article noted. Other social media platforms are also expanding their in-app shopping offerings. For instance, TikTok introduced a feature along with e-commerce company Shopify that allows users to shop from videos and retailer profiles directly, and Instagram launched AR-powered makeup try-ons for cosmetics companies such as NYX, Lancome and Urban Decay. The introduction of AR intro social media platforms is expected to boost the social commerce industry, which is projected to grow faster than traditional e-commerce from $492bn in 2021 to $1.2tn in 2025, according to consulting firm Accenture.
In another tweet, Maria Halkias, a retail reporter at The Dallas Morning News, a newspaper daily, shared an article on Vajro raising $8.5m to enhance its mobile app platform that helps e-commerce store owners to build iOS and Android apps in 60 minutes or less. The funding was provided by Five Elms Capital, a private equity firm that invests in business-to-business software firms. The company plans to use the investment to improve features of its platform and integrate with other e-commerce platforms such as WooCommerce and Magento. The company's mobile app platform has been used by more than 2,000 companies to generate sales on e-commerce sites such as Shopify. The platform does not require retailers to write code and allows them to make changes without the need to update their app each time.
4. Artificial Intelligence (AI) – 150 mentions
Innovative AI technology that helps in cutting the price of foods approaching their expiration date, important use cases of AI in e-commerce, and Walmart tracking stock in its grocery store using AI technology, were some of the popular discussions in the first quarter of 2022.
Vladimer Botsvadze, a digital marketing consultant, shared a video on how a new AI technology is helping in cutting the price of food that is approaching its expiration date. The technology enables consumers to pay less for the foods that are closer to going off the shelves, while reducing supermarket waste and increasing profits. The video detailed that supermarkets waste millions of dollars of unsold food every year, while one-third of all the food produced never reaches the consumer. In addition, the wasted food accounts for 11% of the greenhouse gas emissions. The AI technology launched by software and development company Wasteless helps in cutting food wastage at partner shops by 39%, while reducing emissions and enabling shoppers to save money. The article further detailed that Wasteless intends to implement its AI solution across 300 stores in Europe by 2022.
AI was also discussed by Jeff Bullas, CEO of the blogging site the jeffbullas.com, on AI use cases for e-commerce. The article detailed how AI is transforming the way e-commerce marketers are collecting customer data and driving business intelligence. Use cases of AI in e-commerce included descriptive analytics, diagnostic analytics, predictive analytics, driver analysis, time series forecast, last-touch attribution, channel selection, virtual assistants, chatbots, voice search, VR, AR, and social media marketing. The applications help in optimising resources, analysing consumer behaviour and decision-making, the article noted.
In another tweet, Sean Gardner, an AI specialist, shared a video on Walmart using AI technology to track stock at its 50,000ft2 conventional grocery store located in Levittown, New York. The company has turned the grocery store into an AI lab to test new retail technologies in a real-world scenario that is open to the public, the video illustrated. The store is equipped with sensors and cameras that track the remainder stock in real-time. The AI alerts the staff through notifications on a portable device when one in 30,000 products may be running out of stock and to re-stock them on time. The company is also working on a technology that helps detect spills automatically, allowing employees to clean the surfaces immediately and prevent accidents.
5. Sustainability – 86 mentions
Sustainability-focused accelerators in retail expected to gain prominence in 2022, and the growing popularity of slow fashion in the apparel industry, were some of the popular discussions in Q1.
Ben Sillitoe, founder of Green Retail World, a publishing company tracking developments in eco-friendly retailing, shared an article on how sustainability accelerators in retail will gain prominence in 2022. The departmental store John Lewis Partnership, for example, introduced the Circular Future Fund in 2021 that awards $1.31m to projects that show innovations related to the circular economy, the article detailed. Sillitoe believes that the race to be more environmentally friendly is starting to become a priority in the retail tech space. E-commerce company Amazon also collaborated with the European climate innovation hub, EIT Climate-KIC, to unveil the new sustainability accelerator programme called the Amazon Launchpad Sustainability Accelerator. The 12-week programme seeks to support green start-ups in their businesses, by building more sustainable products and helping them to scale up their operations, the article highlighted.
In another tweet, Barbara Thau, senior features editor at the US Chamber of Commerce, CO, a publishing company, shared an article on how slow fashion is creating new opportunities for start-ups and legacy brands in the retail sector. The article detailed how slow fashion started as a movement away from cheap and disposable fast fashion to sustainable and locally clothes in the US. In 2022, new technologies, supply chain disruptions, and changes in consumer habits have expanded the cause of slow fashion, making is a trending concept in the apparel industry. Fashion executives believe that sustainability is dominating fashion agenda and consumer priorities and is a huge opportunity.
Made-to-order and slow fashion is taking place at a hyper-regional level, with local communities being involved, according to Cindy Elliott, director of business industry sector and corporate responsibility at analytics firm Esri. International retail companies such as Nike and Nordstrom are also beginning to innovate in the space, the article noted. A 2021 survey conducted by Genomatica, a sustainable manufacturing company, further revealed that one-third of Americans wanted to buy all their clothing from an existing sustainable store, and more than 30% stated that they would support a fast-fashion-tax on unsustainable apparel.