In theory, the metaverse can provide retailers with the opportunity to give consumers an immersive virtual shopping environment that aids brand building through unique experiences. This can have a range of benefits for retailers, for instance, it can create brand loyalty, as consumers can shop in personalised environments, making them feel more valued by the brand.
Additionally, it gives retailers another platform from which they can collect data. For example, NIKE allows consumers to design shoes in the metaverse using an infinite set of combinations and from this, it can collect data on emerging trends among different demographics and manufacture popular designs to be purchased in the real world.
Crucially, retailers can monetise the metaverse, as consumers can purchase virtual products and buy products in real life through the metaverse, having already 'used' and 'tried on' a product as opposed to just conducting online research.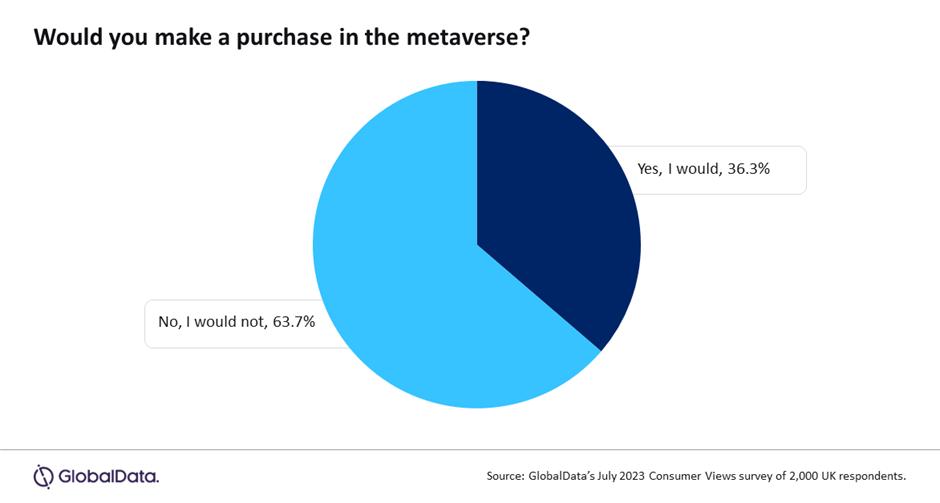 In reality, despite many well-known retailers investing in the metaverse and non-fungible tokens (NFTs), including Nike, Charlotte Tilbury and Dior, consumers are largely apathetic towards the metaverse.
A recent survey conducted by GlobalData found that 91% of consumers who are aware of the metaverse have never made a purchase in the metaverse and a further 63.7% stated they would never do so. The main driver of consumers not wanting to purchase in the metaverse was not understanding it, with 41.6% of consumers citing this as a reason. In addition, 37.0% of those who would never make a purchase in the metaverse stated they would prefer to try products in-store. This renders one of the theoretical advantages of the metaverse obsolete, raising the question as to why retailers are still investing in it.
One answer could be that although consumers are not ready for it, retailers want to have a metaverse strategy they can press play on when consumer sentiment changes. For instance, the Vision Pro, Apple's headset set to launch in early 2024, could change how consumers use and interact with the metaverse. The device will differ from current headsets, by allowing consumers to switch between an opaque and transparent view depending on whether they are consuming immersive content or interacting with people in the real world.
Given the allure of Apple products, it will be interesting to see if its launch will increase interest in the metaverse and improve its popularity, from which retailers may be able to leverage interest in their metaverse offerings. However, if Apple is unable to make the metaverse popular to consumers at large, it is unlikely any mainstream retailer will be able to do so, at which point it may be time for retailers to ditch their metaverse strategies.