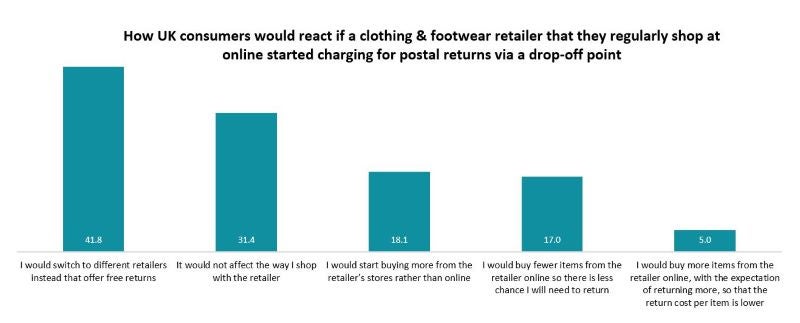 Zara's decision to introduce a fee of £1.95 for online postal returns in the UK in May 2022 has proved to have been an unpopular move among consumers, with the majority of those that have purchased from the retailer online in the past year now reconsidering doing so again in the future. Therefore, other apparel players should be wary about following in Zara's footsteps, as 68.6% of UK consumers would change their shopping habits if a retailer they shop at regularly were to introduce additional fees. This is primarily due to it making it more expensive to shop online, as the cost of living crisis means consumers are unwilling to take on extra costs.
A huge 82.6% of UK consumers that have purchased from Zara online over the past 12 months stated that the introduction of the postal returns fee would make them reconsider purchasing from the retailer online again in the future. While some of this lost online spend will be transferred to Zara's physical stores, consumers who do not live close to one of its 59 UK locations will be likely to shift their spend to another online retailer that offers better affordability instead, especially now that the rise in fuel prices is making consumers less willing to drive to stores.
While Zara's strong reputation and fast reaction to trends somewhat protects it against losing online spend, other retailers may have even greater difficulty convincing shoppers to pay extra costs, with only 31.4% of UK consumers stating that if a clothing and footwear retailer they regularly shop at online started charging for returns, it would not impact their shopping behaviour. The largest proportion of consumers (41.8%) stated that they would switch to a different retailer that still offers free online postal returns instead while 18.1% stated that it would make them shop more in-store, rather than online.
Therefore, introducing returns fees would cause a reversal of the effort retailers have been putting into improving their online platforms in recent years, with many having significantly invested in optimising their delivery and returns options to be more convenient. 17.0% of consumers also stated that returns fees would drive them to buy fewer items from the retailer online, highlighting again how this would be an undesirable move for other retailers to make, even if they find that heightened transportation costs are negatively impacting their profit margins.
The main factor consumers would be concerned about if more clothing and footwear retailers were to start introducing postal returns fees is that it may cost them more money to shop online, as cited by 37.5% of respondents. This is likely bolstered by the ongoing cost of living crisis, which is causing consumers to reduce their non-essential spending and prefer value retailers that offer superior affordability. With almost a quarter of consumers (23.2%) also stating that it would be difficult for them to return items to store because there are not a lot of shops where they live, retailers that are seriously considering implementing returns fees must carefully evaluate the feasibility in respect to their store footprints, as those with fewer locations will find it most difficult to maintain sales.