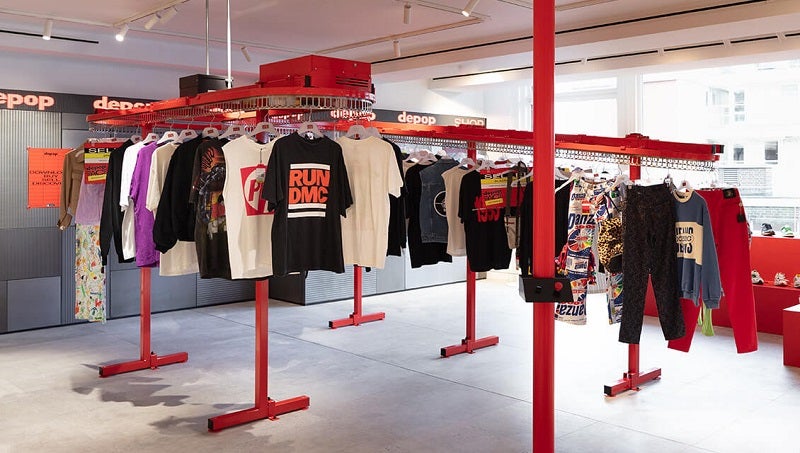 Having a physical space and being able to purchase items on Selfridges' website will boost Depop's brand awareness and reputation, by showcasing products from its most popular sellers in a luxury space. This represents the premiumisation of resale, a step away from perceptions of second-hand clothing as unfashionable, unwanted items. The pop-up, Depop Space, challenges these beliefs by simply being in Selfridges, where fashionability is extremely important. The physical presence will also help build consumer trust in Depop, helping it to attract customers who may have been reluctant to purchase from the app before. As part of the pop-up, Depop will host panel discussions and workshops with top sellers, increasing customer interaction with the marketplace and creating a form of experiential retail that will attract consumers to Selfridges.
Depop Space showcases a curated collection of products from the app's top sellers, with the majority being vintage designer items, in line with Selfridge's luxury price proposition and what its customers are seeking. Selfridges is most popular for clothing among young consumers, so Depop Space is clearly suited to this demographic and offers a unique experience to attract shoppers – the space is street-inspired, with red industrial fixtures including a moving a clothes rail, and contemporary rap music. Because most of the products are vintage, Depop can capitalise upon the growing demand for unique items in an era of ubiquitous fast fashion.
Sustainable resale solution brings favour with ethical shoppers
One contributing factor to Depop's success is the sustainability of resale, a feature that many sellers highlight as consumer awareness of the environmental impacts of fast fashion grows. Depop Space is not Selfridges' first move to stock more sustainable fashion, as it has run its Bright New Things initiative since 2016. This introduces four emerging designers every season that place a focus on sustainability, such as E.L.V Denim that has a zero-waste policy and uses denim from discarded materials; and Stay Wild Swim, that makes swimwear from ECONYL, a type of regenerated ocean plastic.
Despite their higher price points, these sustainable and ethical products will appeal to Selfridges shoppers, as 94.1% of AB consumers state that it is the responsibility of retailers to act sustainably, according to GlobalData's monthly survey of 2,000 nationally representative UK consumers. Additionally, 82.3% of 16-24-year-olds state that retailers should make an effort to source materials sustainably and ethically, so initiatives such as Bright New Things and Depop Space are helping Selfridges gain a reputation not only for unique and fashionable products but ones that also happen
to be sustainable.