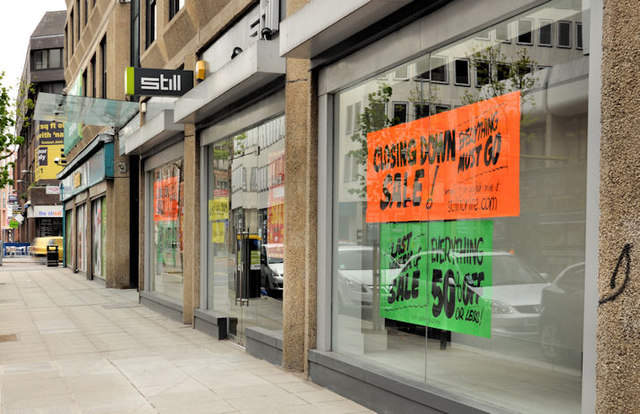 The stark contrast in online and store performance over the festive period affirms that retailers and landlords must respond to unloved and underperforming stores.
Online and offline sales performance of key retailers over the Christmas trading period
| | | | | |
| --- | --- | --- | --- | --- |
| Retailer | Period | Total UK sales vs. last year | UK store sales vs. last year | UK online sales vs. last year |
| ASOS | 4 months to 31/12/17 | +23.3% | N/A | +23.3% |
| Debenhams | 6 weeks to 30/12/17 | +2.2% (Group GTV) | Not stated | +15.1%* |
| Dixons Carphone | 10 weeks to 06/01/18 | +1% (UK &AMP ; Ireland) | Not stated | +5%* |
| House of Fraser | 6 weeks to 23/12/17 | -4.0% | -2.9% | -7.5% |
| John Lewis | 6 weeks to 30/12/17 | +3.6% | Not stated | +12.1%* |
| Marks & Spencer | 13 weeks to 30/12/17 | +1.1% | Not stated | +3.0% |
| Matalan | 5 weeks to 30/12/17 | +7.3% | +6.2% | +24.7%* |
| Next | 54 days to 24/12/17 | +1.5% | -6.1% | +11.0%* |
| Superdry | 10 weeks to 06/01/18 | +12.6% (Group) | +3.1% | +30.5% |
| Ted Baker | 8 weeks to 06/01/18 | +9.0% (Retail) | Not stated | +35.0% |
The table shows UK performance of selected retailers over the peak Christmas trading period. Please note GlobalData forecasts (*) are shown where online figures have not been reported.
Although many of the midmarket multichannel players have reported disappointing performance across the 2017 peak season, impacted by waning consumer confidence leading to shopper spend being reined in, the majority have shown a glimmer of hope in the online channel. Many retailers have reacted to changing shopper behaviour and wisely focused their investment on digital channels in 2017 and have been rewarded during the crucial Christmas trading period, as consumers moved online, enticed by convenient delivery options and the vast product ranges available.
The continued rise of ecommerce and declining sales from physical locations has left retailers questioning the need for large store portfolios. In contrast to the cherished online channel, the bulk of physical stores have not been given the same love and attention and this, coupled with weak footfall, has left many physical locations across the UK in a sorry state. Though some retailers such as Next have a strong click & collect proposition that helps stores benefit from growth online, the improvement in home delivery options in general means the rising costs of operating stores are likely to outweigh the gains of providing a click & collect point.
Retailers looking to manage physical decline
A number of retailers with sizeable store estates, including Marks & Spencer and Clarks , have announced they will be shutting unprofitable stores in response to changing shopping habits but to start driving positive store LFLs, store closures must be aggressive. Younger retailers without the drain of a large store portfolio have the advantage of a much more agile business model and are able to adapt more quickly to any small shifts in shopper behaviour. Initially an online pureplay, N Brown opened 15 stores from 2011 onwards but rapidly reacted to fruitless physical performance by closing five of these in 2017, rapidly stemming any decline in profit.
High street stalwarts such as New Look and the Arcadia brands don't have the luxury of a flexible business model and must consider the best way to manage down large store numbers. Given the limited growth anticipated in physical retail in 2018, property companies can fully expect retailers to begin asking for rent reductions, early opportunities to break leases and support where possible over the next 12 months.
Considering consumer willingness to spend on leisure activities such as eating out, exercising and going to events like festivals, property companies must be prepared to convert retail space to other uses. The BHS store on Oxford Street, once the flagship location within its estate, has been taken on by Polish retailer Reserved but as the entire store space was not required, the remaining area is now set to be transformed into a food hall boasting 25 restaurants, 10 food stalls, four bars and an event space. Concepts like this will appeal to foodie millennials and landlords must consider other inventive concepts to draw in consumers and should be prepared for these to be focused away from retail.