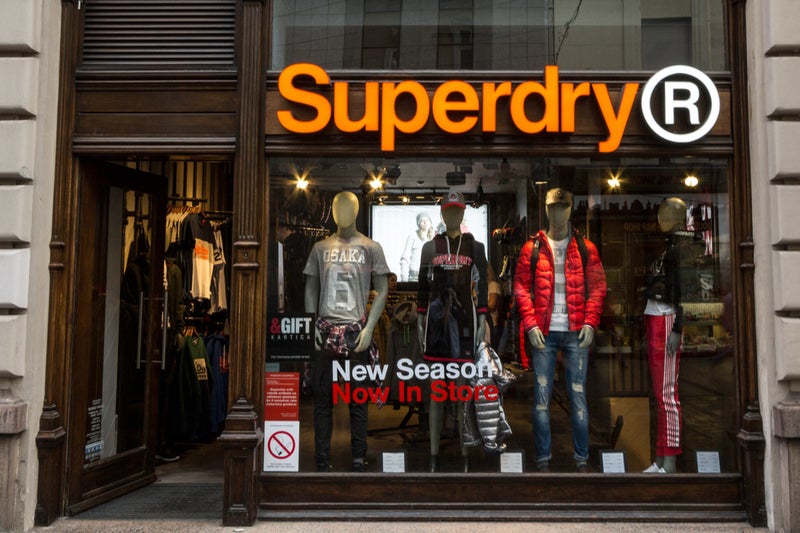 Superdry's products are already available on major platforms in India, including Myntra, Ajio and Amazon however, the new direct-to-consumer website forms part of its expansion plans to increase its presence there.
According to the company, the new website is expected to generate sales that represent between 7% and 10% of total revenue in the year ahead.
Superdry has been available in India since 2012, via a deal with Reliance Brands. The company has enjoyed double-digit growth in India and therefore this moves seems strategic in term of generating growth.
The retailer has struggled to generate growth in the domestic market
Superdry has experienced turbulence in recent years with the company's shares dropping more than 70% over the past year and its announcement of March 2019 that it would cut up to 200 jobs signals further concerns.
Superdry has been criticised for not keeping up to date with the latest trends, modern consumers expect digitally-relevant and engaged brands in a market where being constantly 'on-trend' on social media is the norm. The company has not been able to compete with younger, more-affordable and digitally-savvier brands. Boohoo, ASOS, Missguided, Primark and many others have changed the world of apparel retail. These competitors have clear target markets and strong brand identity.
In comparison, to keep consumers interested Superdry has embarked on a plethora of promotions and sales. However, heavy discounting can dilute brand image; frequent discounting serves to lower the value of the brand, which appears to be the case with Superdry.
India provides growth opportunities
While Superdry has struggled in its domestic market, increasing its online presence in India is a strategic move. India is one of the world's fastest-growing internet markets, thanks to cheap data and a growing number of smartphone users. Moreover, GDP growth in India is expected to remain robust in the coming years, making India the fastest-growing G20 economy.
Economic development in the country, rapid urbanisation and the growth of the middle class will increase disposable incomes and encourage consumption.
The trend towards increased online spending will only grow over the coming years. The penetration of online shopping in India, in terms of potential consumers (internet users), is still extremely low, thus there is ample room for growth.
Expansion in India will allow Superdry to increase its footprint and compensate for the loss it has experienced in its domestic market.