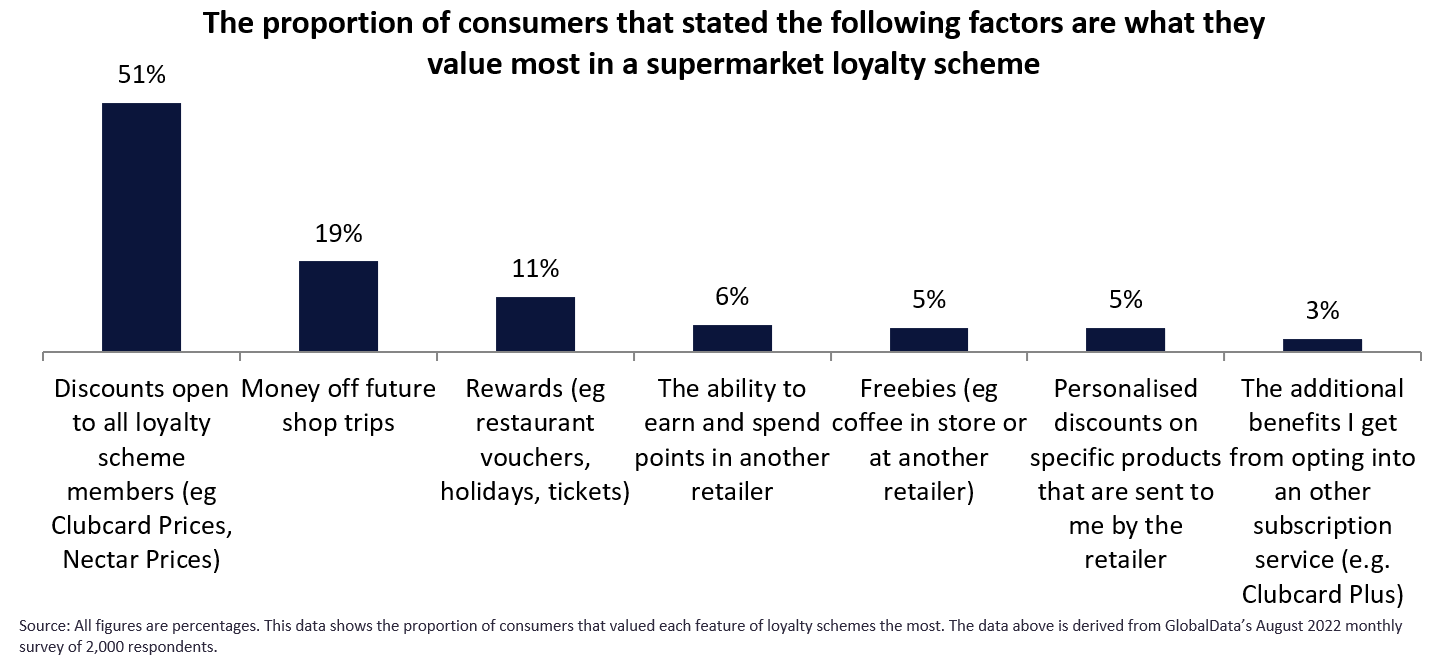 With high food inflation continuing to put pressure on household finances, loyalty schemes are an effective way for supermarkets to compete with the consistently low prices of discounters Aldi and Lidl.
The most important aspects of loyalty schemes for consumers are discounts and rewards, with 51% stating that they valued "discounts open to all loyalty members" the most, with "money off future trips" and "rewards" the second and third most valued (19% and 11% respectively), according to GlobalData's monthly consumer survey from August 2022. Other supermarkets should follow Tesco and Sainsbury's example of offering their lowest prices to those signed up, as well as supplementing this with rewards and money off as added incentives for loyalty.
However, rather than increasing consumer loyalty with a singular retailer, 68% of consumers said that they use multiple loyalty schemes to make the most of savings on offer. The age group most likely to do this was 35 to 44-year-olds, with these shoppers likely to be spending more on housing and childcare costs, and thus feeling greater pressure to cut costs when shopping for essentials. To gain increased loyalty from this consumer group and others, supermarkets should ensure that they offer competitive member pricing on everyday staples.

Yet almost two-fifths of consumers also stated that they do not use loyalty schemes because they do not want to share their data with retailers. This is most prevalent among 16 to 24-year-olds. Retailers must work on explaining how they use customer data and give reassurances regarding privacy to alleviate the concerns of younger consumers. Equally, retailers may need to give an added incentive to garner appeal, through more attractive rewards or freebies, both of which were valued more highly by consumers in the 16 to 24 and 25 to 35 age ranges.