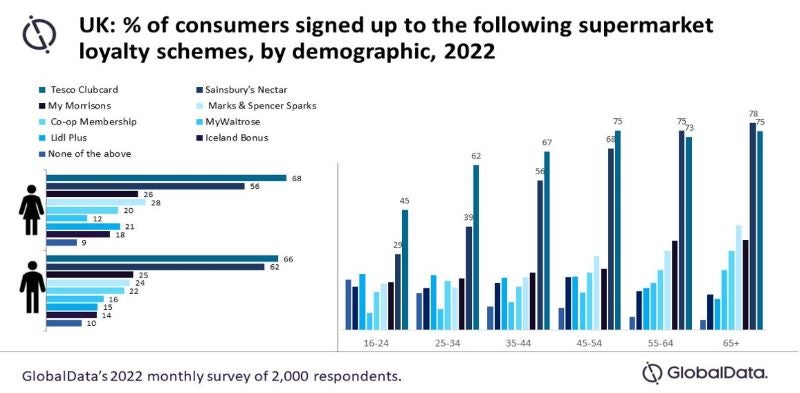 The rising inflation is squeezing consumers' budgets, and many are choosing to shop at supermarkets perceived as the best value for money. Discounts are the most appealing reward to people when shopping at retailers, with nearly a fifth (19.7%) of UK consumers agreeing that such promotions are important to them as rewards when they consider collecting loyalty card points. Loyalty schemes have been in the spotlight over recent weeks, with several supermarkets updating their existing programmes, adding some benefits, and reducing others as they look to draw customers back in-store and increase consumer loyalty.
As inflation begins to bite, targeted savings and personalised offers are in, and free newspapers and traditional point collecting are on their way out. Grocers must raise awareness of price match schemes through offline marketing such as instore signages, as well as promotions on their websites. Most consumers are signed up to a loyalty scheme of some kind and Tesco's Clubcard scheme is the most popular (67.1%).
Tesco Clubcard is the most popular choice among UK consumers, owing to the instant rewards it offers that could prove a distinct advantage. Sainsbury's Nectar loyalty card follows closely behind, offering regular one-off, limited time offers, based on what consumers buy most frequently. Conversely, Iceland Bonus, which launched its first app with the digital version of the bonus card in April 2021, is the least favourite among the consumers as it does not offer personalised offerings for its members and customers could only use it in-store until February this year, when it announced an extension to all of its online consumers. Interestingly, younger consumers also skew more towards Tesco Clubcard, among all the others while both Tesco's Clubcard and Sainsbury's Nectar are equally popular with older consumers, although Sainsbury's leads by a slight margin for consumers aged 55 years and above.
As most supermarkets in the UK offer a loyalty scheme, grocers must create a differentiation such as the ability to exchange points for discounts or money off activities. Some supermarkets have also introduced gamification and coupons to be exchanged for specific products. These rewards could appeal to those whose spend on leisure is being squeezed due to the cost-of-living crisis. The benefits and offers provided need to be compelling and differentiated to ensure shoppers choose a particular retailer or offer as even with growing consumer choice, personalised marketing communications and diverse offerings, brand loyalty is as important for consumers as brands.