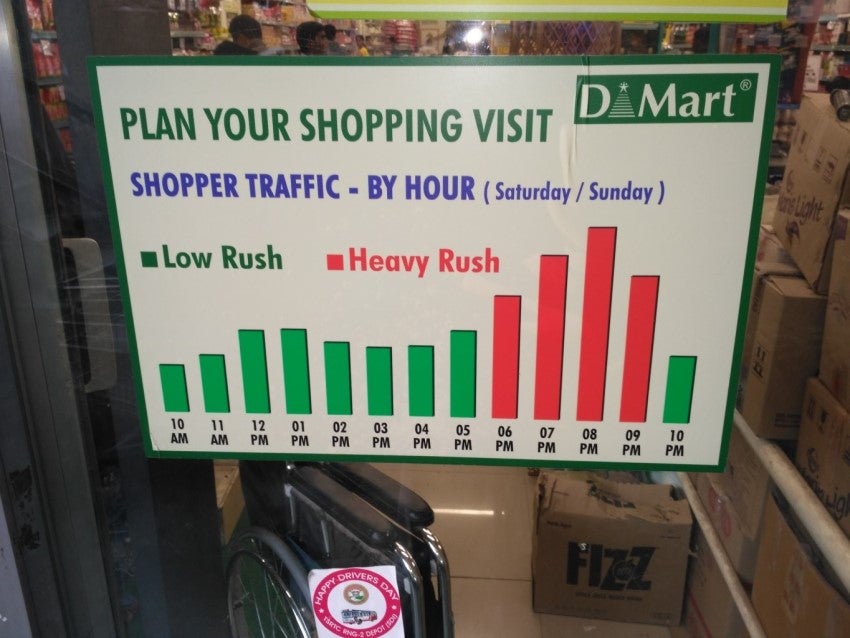 At face value, it seems nothing could go wrong for DMart, one of the most successful discounter supermarkets in India at the moment. It has a growing number of stores and geographical footprint, increasing revenues and has an ever-increasing number of loyal customers. Also, is showing great success in the financial heart of Mumbai's Dalal Street.
DMart needs to change with the times
As a result of this popularity, long customer queues outside many of its stores are a common sight on the weekends – a dream for any retailer. However, these same queues may become Dmart's biggest challenge as the company struggles to handle consumer demand and its quality of service takes a hit.
The transition of Indian consumer buying habits from convenience stores, such as Kiranas, to supermarkets is driven by a desire for convenience, increased choices, improved shopping experience and discounts.
While DMart stores enable customers to get the best value deals in any city, the unmanageable footfall is affecting shoppers in other ways. Buyers are reporting long queues to enter, followed by parking difficulties, shortages of trolleys and bags, long till queues and employees not filling the shelves fast enough to handle customer demand.
This all creates an unpleasant shopping experience. And where DMart has benefitted from positive word of mouth publicity, shoppers' bitter experience of inconvenience will equally travel quickly via the same channel of communication.
DMart has taken steps to address this challenge with a poster campaign urging shoppers to plan their weekend visits and is advertising peak times for those wanting to avoid them.
The ever-changing retail landscape might only need one trigger for consumers to shift their loyalties.
Walmart's acquisition of online retailer Flipkart, plans by Reliance Industries to empower local neighbourhood stores through their e-commerce platforms and Amazon's offline push – any of these could break through the competitive barrier set by the Avenue Supermarts owned retailer.
DMart does not have too many options to work with due to its existing low cost/no-frills model. It cannot expand floor base as the variation in consumer flow between peak times and non-peak times is too high, so this decreases revenue per square feet area.
DMart needs to push its e-commerce agenda – with a 'click & collect' option for example – which would help it pass on some of its peak traffic to other times. DMart could also look at increasing weekday discounting as a means to better distribute its footfall at non-peak times.
While many DMart customers may continue to be content with their shopping bill, the retailer will still need to heed the wished of its peak time and weekend shoppers who make up the bulk of its revenue base.