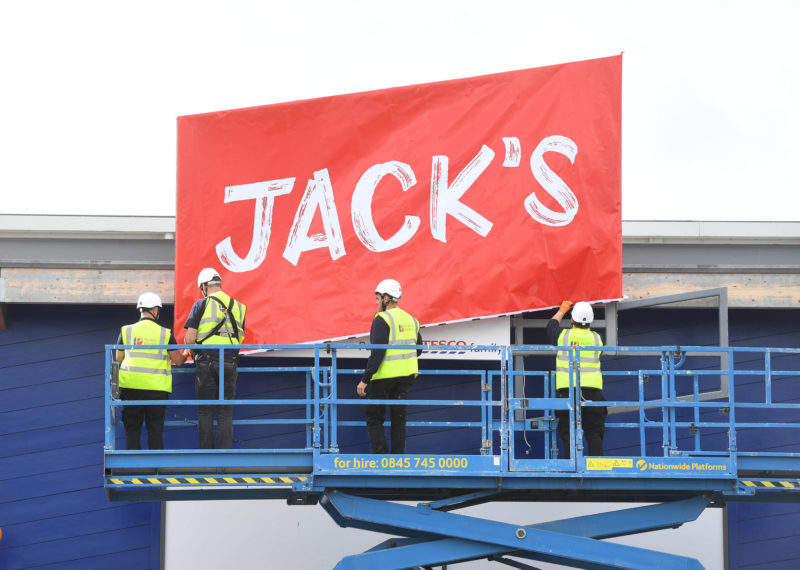 Food and grocery market leader Tesco today unveiled its secretly developed discount store format Jack's – as part of the retailer's centenary celebrations in a clear attempt to thwart the relentless growth of discounters Aldi and LIDL. And through a combination of Tesco-Booker's supply power, lower price points for the new Jack's brand, and a distinct focus on British products, Tesco's strategy to counter the discounters through the new 'cheapest in town' proposition looks to be a winning one.
Jack's – so named as a nod to founder Jack Cohen – will first open to the public tomorrow at two locations, Chatteris and Immingham. Upon walking into the store, visitors will find it difficult not to immediately compare Jack's to an Aldi or Lidl; firstly, the store size (c.12,000sqft) and layout (wider aisles and bakery at the front of store) both compare closely to the discounters. Then, approaching the centre of the store, they will come across Jack's when it goes it goes (WIGIG) concept, around 50 products rotated roughly once a month, that appears to be a direct mimicking of Aldi's successful 'Special Buys' section. And the limited 2,600 stock keeping units (SKUs) on offer – significantly less than an average Tesco, with no clothing and a reserved general merchandise offer (160 SKUs) – makes it seem that Jack's could blend in as another one of the LADs (limited assorted discounters, that is).
But despite the similarities, there are numerous elements of the new proposition that sets Jack's apart. Scanning one's eye over the products, any shopper will be surprised at the large percentage of products covered with the new Jack's branding – with the new own-brand label covering 1,800 (69%) of the product lines. Furthermore, it would be difficult to avoid the heavily British feel of the store. Union Jacks adorn the milk, fresh meat, cereals and crisps sections, with '100% British' plastered across said products, and contribute to one of Jack's new mottos – eight out of ten products across food and drink (which make up over three quarters of the products) are 'grown, reared or made' in Britain. And at the checkout, posters promote the new 'Jack's Shop Smart' scan-and-pay app – the first of its kind for a discounter.
So in all, it seems the two and a half years that a small, dedicated splinter cell of Tesco has invested in developing the Jack's proposition has made a recipe for success; low-priced, British produce in a welcoming store environment ticks many of the common consumer boxes. The reliance on British sourcing – previously championed by Morrisons – is apparently not driven by fears of imminent Brexit disruptions to grocery supply, but rather a direct response to consumer demand. Of course, any protection that gives Tesco during the Brexit whirlwind will be a thick silver lining for CEO Dave Lewis and his team.
Shrugging off prior speculation of potential damage Jack's may have on the main Tesco brand, Lewis appears confident that Tesco and Jack's can not only coexist but coordinate, leveraging the vast size of the Tesco network (particularly supply chain management, bolstered by Booker) and using the lower operating costs of Jack's (e.g. cheaper freezers, more shelf-ready packaging) to cut prices in benefit to the consumer. Indeed, conjecture that Jack's and Tesco's will be publicised as separate entities has been firmly swept away by the 'part of the Tesco family' tagline underneath the Jack's logo on the store front – and if that's not enough, one of the proposed locations will be directly next to an existing Tesco.
Why Tesco feels such a move is the right one is obvious. In 2008, the Big Four's market share sat at 59.5%, with Aldi and Lidl a distant worry (a combined share of 2.9%). A decade later, the Big Four's estimated share has fallen 7.4ppts – worth just over £11bn in 2018 – with the aforementioned discounters scooping up the lion's share of the value, increasing their total share to 10.1% and building an empire of c.1,610 stores across the country between them. Their rapid growth has come from their low price-point proposition, convincing the financially squeezed British shopper that they can shop for less than the Big Four had previously advocated.
But until today, the major grocers have not recently taken on their discount adversaries head on – instead, opting to explore potential mergers, acquisitions and partnerships with other parties (such Tesco's acquisition of Booker and new association with European giant Carrefour), aiming to reduce operating costs through economies of scale and more unified supply chains. No recent news best highlights this than the proposed Sainsbury's-ASDA merger – which also today headed into the CMA's second, in-depth phase of investigation.
Tesco has previously tried the discount format before, with 'Victor Value' in the mid-80s. But the revelation of Jack's marks a much more direct shot at the discounters, with its similar layout and proposition. But while the future of Jack's does look bright, the unambitious store rollout plan – 10 to 15 by the end of Tesco's financial year (February 2019) – implies a lack of confidence that the predicted 60 store initial network would not have. Also, Jack's will not be generating entirely new sales for Tesco, with five of the proposed stores to be converted from other Tesco formats – not to mention the inevitable cannibalisation from other Tesco locations. So for Lewis and his team, the real aim will be for Jack's to damage Aldi and Lidl more than it damages its big brother.
In the end, the success of these trial stores – and the fate of the Jack's experiment – will be down to how the consumer responds. And while the intention and realization of Jack's meets many criteria of the average UK shopper, muscling in on the value image that Aldi and Lidl have been cultivating for over a decade is a challenge facing all grocers engaged in the price war – even for a powerhouse such as Tesco.