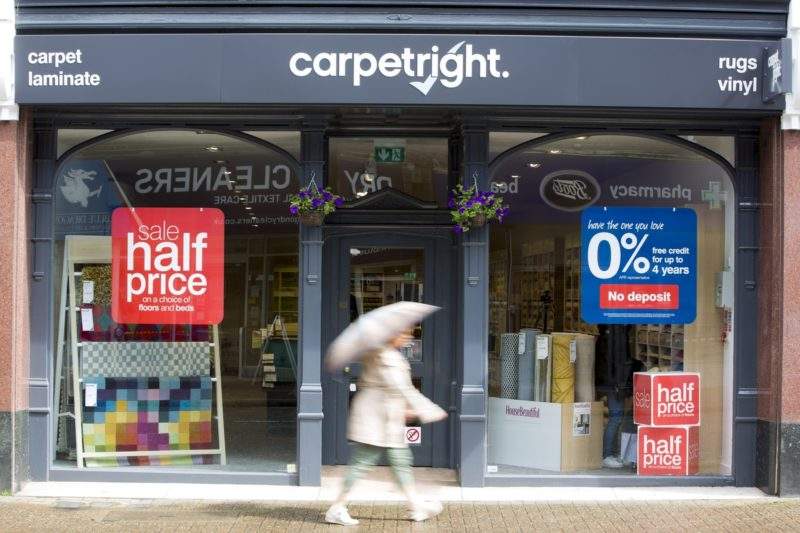 For the second time in six weeks, Carpetright has issued a profit warning, announcing that it now expects to make an underlying pre-tax loss for its financial year 2017/18. While its improved offer will bear fruit from 2019, the immediate task for Carpetright is to make it through 2018.
That Carpetright was able to achieve sales growth in flooring for the six months to October 2017 indicates that its improved offer has gained traction with shoppers. However, Carpetright's market share only remained constant in 2017, despite investing so much in refurbishing two thirds of its stores and improving customer service, which is disappointing. Its poor start to the year will make maintaining shares challenging in 2018 as new upstart Tapi ramps up its locations.
2018 is going to be a challenging year for floorcoverings, as housing transactions will only experience slight growth towards the end of the year and consumer confidence and spending power remains weak. However, Carpetright has shown that it can outperform in tough conditions, as flooring sales increased by 0.3% for the six months to October 2017. This was driven by average transaction size being up 9.1%, aided by higher levels of customer service and more shoppers buying on interest-free credit.  As bed sales rebound from 2017's poor performance when it was selling through discontinued products, this will help counterbalance weaker flooring sales later in 2018. Once conditions recover from 2019 onwards, Carpetright's sales will follow suit.
However, Carpetright still faces challenges from 2019 as Tapi becomes a greater threat. The new entrant is already the eighth largest retailer in the sector in 2017 and offers high levels of customer service and store environment to cater to affluent shoppers. To gain traction among more constrained shoppers and widen its customer base, Tapi will also match any quote on an identical product and also offers interest-free credit on orders of £500, as it goes after Carpetright's core customer.  Unlike Carpetright, Tapi is expanding towards its target of 150 stores and trialled a concession within Wickes in November 2017 to help achieve this goal. However, despite this expansion, Tapi still has comparatively few stores in the South West, Yorkshire and Wales, which Carpetright can capitalise on in the meantime.
While Carpetright has significantly reduced its portfolio from the 559 it had as of April 2011, the 402 it currently has is still too many. Within this portfolio, it still likely to have a tail of unprofitable stores, which, given its current pressures, will struggle to exit until the lease expires. In the race to achieve their ideal number of stores, Tapi is closer to its target than Carpetright. Should Carpetright refresh another 70 stores by April 2018, around a third of stores will be in the old format. A proportion of these stores are likely to be set for closure once the lease expires, but Carpetright will still need to invest in refreshing these stores.