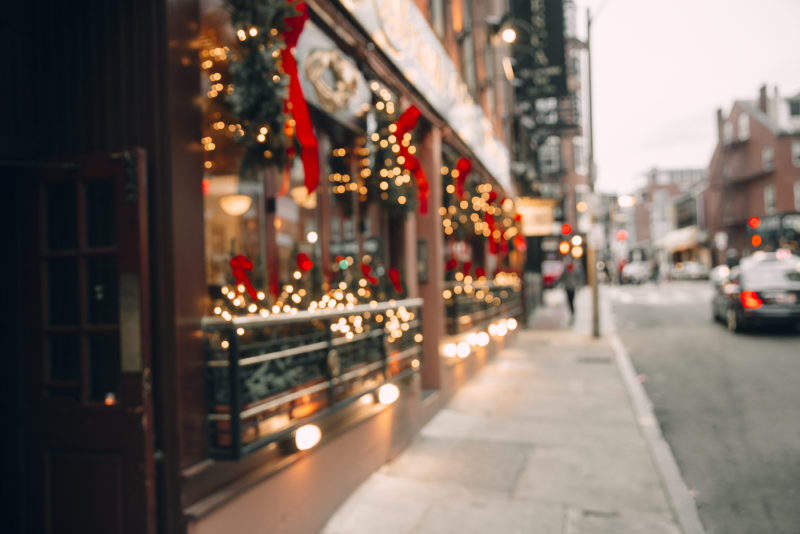 While it has been a year of retail failures, profit warnings and store closures so far, Q4 or the 'golden quarter' offers retailers the opportunity to gain sales from consumers who are finally ready to prioritise shopping.
But low consumer confidence and confusion over Brexit will inhibit big-ticket spend, and trading down to value retailers is becoming more widespread, due to the rapid store expansion of players such as B&M and Home Bargains.
Food & grocery
Growth within food & grocery will slow to 2.5% this Christmas, against an inflation-driven comparative in Q4 2017 (3.6%), as food inflation falls.
Both food and alcoholic beverages will see a significant fall in volume growth compared to Q4 2017, as consumers trade down in both of these categories. However, food is more resilient to low consumer confidence than other retail sectors due to its essential nature. Expected trends that retailers will focus on over Christmas include alcohol-free beverages (e.g. flavoured tonic waters), specialist teas, and plant-based protein side dishes (e.g. lentils, quinoa, chickpeas & tofu).
Fashion & beauty
It has been a less than stellar year for many clothing retailers and Q4 will be no different. Mid-market players are expected to be left out in the cold once again as shoppers trade up for enhanced quality, making it yet another challenging Christmas ahead for clothing market leader M&S.
Giving shoppers a reason to make wants-driven purchases, and forgo spending on other categories, through compelling product and value for money will be the key to a successful festive season. Online pureplays such as ASOS and boohoo are likely to be the biggest winners this Christmas given their potent mix of discounts, and fast and convenient fulfilment.
Health & beauty remains a winner at Christmas and shoppers are expected to splurge on premium lines for both gifting and self-treating. This is helped by a wider choice of brands and greater shopper knowledge, especially in terms of ingredients. With the appeal of department stores on the wane, we expect online pureplays to take advantage, luring shoppers in with discounts and loyalty schemes.
Electricals & entertainment
With Q4 accounting for a third of annual electricals spend, the period offers retailers the best opportunity to capture spend as shoppers benefit from discounting periods such as Black Friday and early Boxing Day sales. Less generous discounting last year deterred shoppers from splurging on these occasions, but volumes are forecast to grow this year as cost prices level.
Mobile phones, laptops and tablets will offer the greatest growth potential for retailers, with Apple releasing its budget-friendly iPhone XR and MacBook Air in the period. While Apple is still much more expensive than its competitors, these new releases offer retailers an opportunity to entice less-affluent shoppers to trade up when buying gifts during the festive season.
In entertainment, the release of Red Dead Redemption 2 this month has been highly anticipated and is likely to drive spend in Christmas gifting. More Nintendo Switch games are available this year which is necessary to mitigate the lack of a stand-out new console.
Home
The home category, which includes furniture and floorcoverings, homewares, and DIY and gardening is forecast to grow 0.6% in the final quarter of 2018 compared with the previous year.
Much of this growth will come from homewares (+1.4% year-on-year), which has been more resilient in 2018 than other home categories; consumers have sought to refresh their homes, and interest in interior design has grown through social media and fashion retailers' own home collections. The effects of the latter should be particularly notable over the seasonal period.
Online
Capping off a strong year for the UK online market in which multichannel retailers have consistently reported robust digital growth, Christmas is set to be the icing on the cake with more consumers than ever choosing to buy online for the festive period. Online pureplays will prove popular again this year thanks to their best-in-class shopping experience. Amazon is set to remain a top choice for gift purchases as its broad product range appeals, and as Amazon Prime subscribers turn to the retailer as their first port of call.
Online spend will be bolstered this Christmas by Instagram's shopping function, which launched this year, as well as Pinterest featuring direct links to retailers' product pages. The ease of purchase through social media will drive impulse purchases of partywear as well as gifts across sectors.