Mantra, a plant-based snack food brand based in Thailand, launched vegan prawn crackers to capitalise on the rising demand for vegan-friendly options as consumers shift away from meat-based diets. Consumer demand for snack solutions that deliver on health, taste and convenience will provide an impetus to snacks made from natural ingredients.
The prawn crackers claim to be cholesterol-free, low in saturated fat and made from plant-based ingredients, including soybeans, chickpeas and other grains. The company claims that the product is allergen-free, and is, therefore, suitable for people with seafood allergies.
With health becoming a major priority post-pandemic, consumers are more mindful about their diet and are hence moving towards better-for-you options. With more consumers shifting towards vegan diets due to growing environmental and carbon footprint concerns, plant-based options are well-positioned to capture the growing interest in alternative protein. This trend is substantiated by GlobalData's Q4 2022 consumer survey, wherein a third (32%) of Thai consumers consider the plant-based claims in their food and beverages to be essential when making a purchase, while a further 51% consider it as nice to have.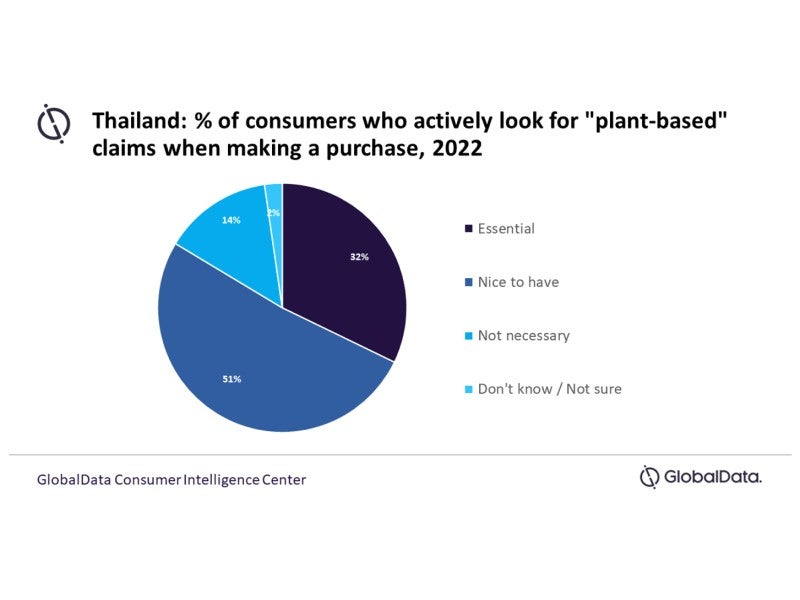 Consequently, food companies are expanding their plant-based protein offerings, spurring innovation in plant-based seafood options. They are leveraging diverse ingredients and advanced technologies to develop plant-based alternatives across all types of seafood. Concerns about global overfishing, contaminants and pollution from fish farms are expected to further fuel demand. Thailand in particular has reported high levels of coastal pollution following the boom in its aquatic and island tourism industry, which led to government intervention and closed beaches in the 2010s. As a result, the 'blue economy', or ocean sustainability and protection, is a key talking point both in the country's political and public spheres.
With the easing of pandemic restrictions, the demand for on-the-go snack packs is set to grow, as consumers venture out of their homes more often for work, school, travel and leisure activities. Against this backdrop, plant-based snack options present untapped potential that delivers on convenience and nutritional benefits.