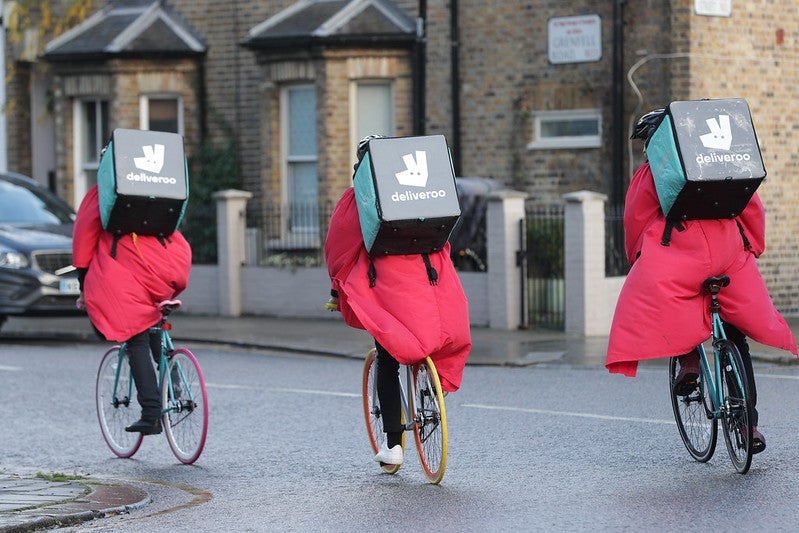 Germany-based food delivery group Delivery Hero has purchased a 5% stake in British online food delivery service Deliveroo.
After the sale was announced, shares in Deliveroo increased by more than 9%.
The two companies compete in the Middle East, Hong Kong and Singapore markets.
In a statement, Delivery Hero said: "Delivery Hero is always looking for new investment opportunities.
"We strongly believe in the future potential of the delivery industry as a whole and therefore decided to purchase shares in one of the companies that is at its forefront."
Delivery Hero operates in around 50 countries and owns minority stakes in other food delivery companies, including foodpanda, Just Eat Takeaway, Glovo and Rappi.
The acquisition comes as several established food delivery platforms, including Deliveroo, are expanding into new markets, with restaurants having been forced to close across the UK and Europe.
These firms are seeking to capitalise on the growing demand for grocery delivery fuelled by nationwide coronavirus lockdowns.
Deliveroo introduced its grocery delivery service last March at the start of the UK's first national lockdown.
The company has since partnered with several major supermarket chains, including Aldi, Waitrose and Sainsbury's.
In April, Waitrose planned to expand its Deliveroo service to a further 110 locations in the country after a successful trial.
Deliveroo was launched in the UK in February 2013 and currently operates in more than 500 cities and towns across 12 countries.
On 31 March, the company was listed on the London Stock Exchange.
Last year, Amazon was granted clearance by the UK Competition and Markets Authority (CMA) for its 16% investment in Deliveroo.
In a separate development, Deliveroo has announced plans to expand its operations into Waterford, Ireland. This will be the fifth city in the country in which the company has started operations.