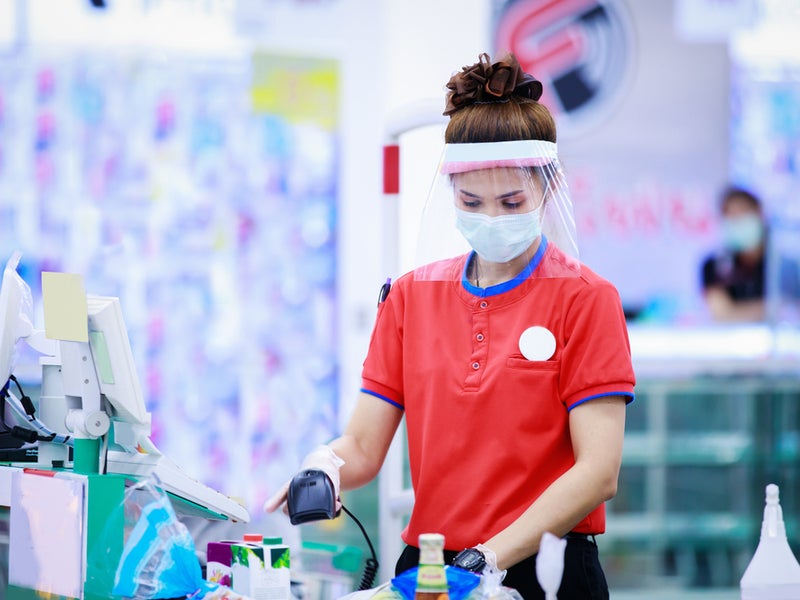 Stores leads as Retail Insight Network lists the top five terms tweeted in retail tech in May 2020, based on data from GlobalData's Influencer Platform. The top tweeted terms are the trending industry discussions happening on Twitter by key individuals (influencers) as tracked by the platform.
1. Stores – 665 mentions
The gradual re-opening of stores, permanent closures for others, the idea of stores creating recreational spots and parks for shoppers, and the extensive use of robotics in stores and restaurants in the times to come, were some of the popular topics discussed in the month of May. According to an article shared by Sarah Nassauer, a retail reporter for the Wall Street Journal, as three malls opened across the US in Ohio, Texas, and Georgia, dozens of shoppers looked eager to get out of their homes. While half of the stores remained shut inside the malls, mask rules and nervous retail employees was a common sight, the article noted.
Mary Portas, a retail expert, author, broadcaster, meanwhile, tweeted on the head of M&S stating that people will stop looking at shopping as a leisure activity. This will, in turn, drive them to retail parks for joy and leisure.
We went to three malls in three states Saturday as more stores reopen across the U.S. Here is what we found: https://t.co/Y5sW3e83AU via @WSJ w/ @efindell and @@cammcwhirter,

— Sarah Nassauer (@SarahNassauer) May 18, 2020
2. Covid-19 – 446 mentions
The retail and manufacturing sectors are witnessing the most cyber attacks, as Covid-19 spreads. Meanwhile, retail chains suffer a massive blow with new quarantine rules and social distancing norms. However, the bouncing back of the retail sector, and one-way shopping systems, were popularly discussed during the month. According to an article shared by Tamara McCleary, the CEO of Thulium, a social media marketing agency, cybercrimes are accelerating with the pace at which the coronavirus pandemic increases across the globe.
A report that examined the first 100 days of the crisis and the scams that unfolded, reported that the retail and manufacturing sectors were worst hit, the article shared by the influencer noted.
Graham Soult, a retail consultant, further re-tweeted on how shoppers at Trinity Square were introduced to the one-way shopping system, as part of Covid-19 measures to prevent crowds and busy streets.
In other news, Neil Saunders, the managing director of GlobalData, shared an article on how Australia's retail sector is bouncing back from the Covid-19 crisis much faster than anticipated. Approximately 80 per cent of the stores across the nation are back in business as restrictions have eased over the past few weeks, the article noted.
#Cybersecurity And #COVID19: The First 100 Days https://t.co/2M0KoODhi8 pic.twitter.com/2E8W7pNjMI

— Tamara McCleary (@TamaraMcCleary) May 29, 2020
3. Artificial Intelligence – 343 mentions
Ways in which artificial intelligence is helping ecommerce marketers, sectors spending the most on the technology, robotics and automation being used to manage stocks, disinfect shopping malls, and meet human staff shortages, were popularly discussed topics during the month. According to an article shared by Evan Kirstel, a top B2B influencer, the German retailer, Otto, is using artificial intelligence to predict what customers will order with 90 per cent efficiency. The deep learning algorithm was created at CERN, in Geneva and has not only increased business but also created more jobs, the article noted.
Glen Gilmore, a social media and digital marketing consultant, meanwhile, tweeted on malls staffed by robots. Live intelligent service assistants in a Thailand mall helped people find things, while robots checked temperatures, made public announcements, and also carried hand sanitisers, the article detailed.
In other news, Jeff Bullas, a digital strategist, consultant and author, shared an article on how artificial intelligence is helping ecommerce marketers to boost their conversions and predict revenues through predictive analytics, voice search, chatbots, and more.
This German retailer is using artificial intelligence developed at CERN to manage its stock#Industry40 #retailtrends #AI #retailtech #DigitalTransformation @3BodyProblem #Industrie40 pic.twitter.com/T3rA2bvtsQ

— Evan Kirstel #RemoteWork (@evankirstel) March 1, 2019
4. E-commerce – 315 mentions
Growing e-commerce activity, brands adopting digital strategies to meet the current demands, revamping online storefronts, and rapidly changing business models for consumer packaged goods and grocery industries, were widely discussed during the month. According to an article shared by Scott Galloway, a marketing professor, e-commerce activity is on the rise with Amazon Media Group being the fastest growing media company. The article evaluates which companies will thrive in what can be expected as the the worst economic downturn.
In other news, Jason Goldberg, a digital commerce and retail expert, shared an article how the grocery and CPG industries are here to stay. Migrating online could be the most challenging but growing customer demands is pushing companies to adapt new and digital business models.
E-commerce, we know that's going to be crazy up — it's just a matter of how much crazy up. But what's the fastest-growing media company over $1 billion in the world right now? It's Amazon Media Group. (yours truly) https://t.co/LfTfFwmf5i

— Scott Galloway (@profgalloway) May 2, 2020
5. Technologies – 205 mentions
High tech solutions and embracing new digital infrastructures is essential for retailers to reopen their stores in less than a month now in Britain's high streets. Robotics and automation helping malls reopen, and how lockdown could be a boom for small retailers with the use of the right technologies, were popularly discussed during the month. According to an article shared by Graham Soult, a retail consultant, high tech solutions and revamping digital infrastructures will define how customers interact with the shops on high streets once re-opened.
Evan Kirstel, a top B2B influencer, further tweeted on malls in Thailand being staffed by robots. Right from live intelligent service assistants to temperature scanning robots, the mall has robots everywhere.
In other news, DJ Brisebois-RCC, president and CEO of the Retail Council of Canada, tweeted on the opportunities and challenges facing the fashion retailers, and how technology could alone help reshape the sector.
"How we interact with the shops on our high streets will be irrevocably changed as we ease out of lockdown." A perspective on the role of technology in enticing shoppers back to the High St. #HighStreet #Retail https://t.co/DqknQpprKG

— REPAIR Research (@ResearchREPAIR) May 29, 2020