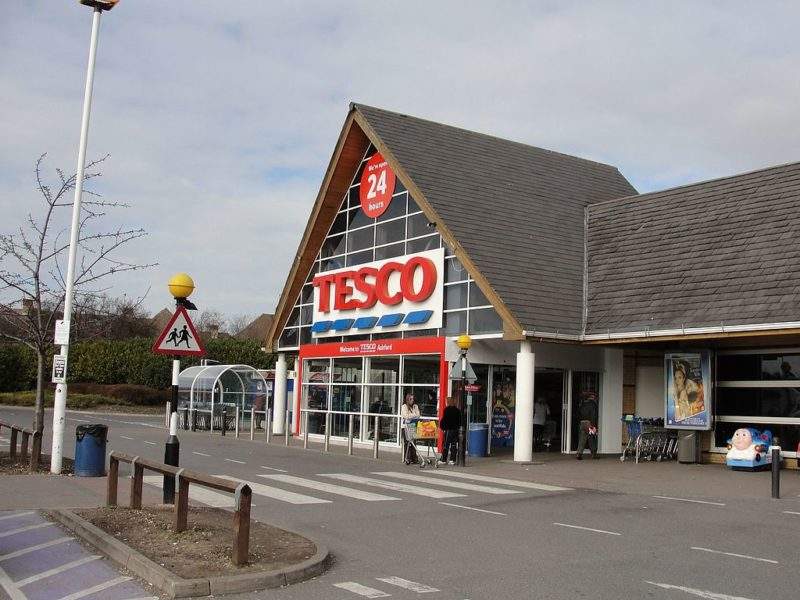 Tesco
Coinciding with 'Veganuary', a January challenge to commit to a vegan lifestyle for a month, Tesco launched 18 new meals in its Wicked Kitchen range. The range was created by American chef and former Whole Foods executive Derek Sarno, who now acts as Tesco's director of plant-based innovation. In March, Tesco was the first UK supermarket to launch Quorn's brand-new vegan Cumberland sausages, an alternative to its existing vegetarian sausages. While in May, the supermarket introduced a vegan steak produced by a Dutch company Vivera, made from wheat and soy. Later that same month, the supermarket launched an own-brand vegan Margherita sourdough pizza, with a gluten and wheat-free base, topped with tomato sauce and coconut oil-based cheese. In August, it added a plant-based 'bleeding' burger from US brand Beyond Meat to its vegan range. According to results from a poll of 400 vegans surveyed in June, Tesco is the UK's best vegan supermarket.
Sainsbury's
In January, Sainsbury's launched a 'next generation plant-based' range, available in more than 500 of its stores, to tap into the growing flexitarian market with its new veg-heavy line. The new range features what the supermarket described as 'UK first' sweet and smoky BBQ pulled jackfruit, mushroom mince, cauliflower steaks and cauliflower burgers.
In March, it introduced own-brand Deliciously Free From vegan ice cream in three different flavours; chocolate, strawberry and vanilla. The new ice creams are based on a coconut oil recipe and are free from dairy, wheat, gluten and soy. It also added new vegan products to its 'grab-and-go' line-up of wraps – including spicy vegan jackfruit wrap.
In June, Sainsbury's announced a controversial move to sell fake meats, including burgers, in the chiller section alongside real meat to cater for customers who are dropping meat from their diet. By stocking fake meat next to the real thing, the supermarket said it was hoping to capitalise not only on the growing vegan market but also on the flexitarian lifestyle of decreasing meat consumption. The same month, it also added 21 new products to its vegan range produced by Naturli, some of which have been designed to look and taste like real meat. Sainsbury's then moved to add 19 more products, including from vegan meat brands Tofurky, Linda McCartney and Vivera.
In July, Sainsbury's exclusively launched Naturli's Organic Vegan Spreadable, an award-winning vegan butter. The 'butter' is made using high-quality ingredients including rapeseed, coconut, shea nuts and almonds to help give it a creamy texture that mimics the real thing.
Asda
In January, as shoppers around the UK were taking part in Veganuary, Asda brought out its own-brand vegan and gluten-free cheese to meet the growing demand for plant-based products. The same month, the supermarket launched a new range of vegan on-the-go lunch options, including onion bhaji wrap, hummus and falafel sandwich and Mexican bean and rice salad. While in February, it introduced vegan and gluten-free hot cross buns ahead of Easter celebrations. As the demand for vegan food continued to grow, the supermarket launched a new lower price vegan range with products starting from £1.50. The new line, accredited by The Vegan Society, features frozen plant-based burgers, sausages and falafel and was developed by Asda's innovation chef Andrew Johnston.
Morrisons
In March, Morrisons has pledged to clearly label all of its own-brand vegan food, after other retailers, including Asda and Tesco, already committed to labelling its vegan food last year. Following month, Morrisons launched vegan Cocoa & Vanilla cream biscuits, which customers believe are 'just like Oreos' as part of their Free From range that features gluten and dairy free products.
While in July, the supermarket launched a vegan parmesan cheese in garlic, chilli, and original flavours, created by Good Carma Foods, a company which specialises in environmentally-friendly packaging. The
Waitrose
After introducing mature vegan cheddar cheese across its stores in May, Waitrose became the first major supermarket to launch a dedicated vegan section. The supermarket introduced 50 new vegan products in an effort to increase its plant-based range by 60%. The new vegan section in the supermarket is clearly signposted to make it easier for customers looking for plant-based products. Among the new range are two exclusive brands: The Vegetarian Butcher, a Dutch company specialising in meat substitutes, and The Happy Pear, headed by wholefood chef partners David & Stephen Flynn. The new range includes snacks, ready meals, and 125 vegan-friendly ingredients.
Iceland
In March, Iceland released 'bleeding' plant-based burger that looks like rare meat in a bid to cater to the growing popularity of flexitarianism. Following the success of the recently released the 'No Bull' burger, in August the supermarket announced it will launch 13 additional plant-based products. The new products will be stocked in supermarkets new dedicated vegan freezer and will be available from September 2018.  The new products will include plant-based substitutes for sausages, chicken, burgers and mince.