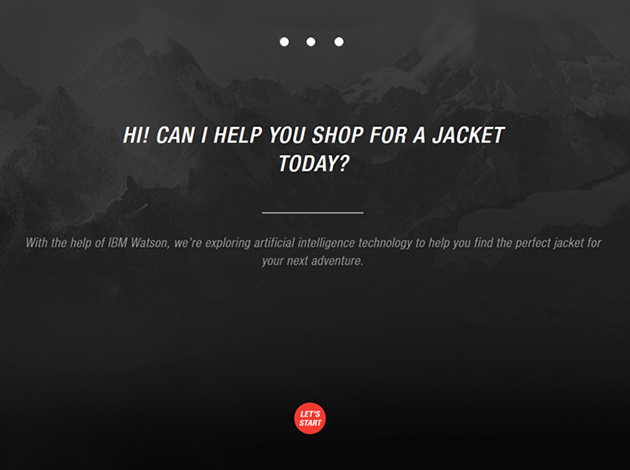 AI has the potential to help retailers improve systems efficiency, customer service and sales growth. The primary applications of AI in retail are customer service chatbots (AI designed to simulate text-style conversations online), personalisation and intelligent search tools. Still, only a handful of retailers in the UK have trialled AI due to it being prohibitively expensive and still in the early stages of development.
Most AI investment in 2017 will be targeted towards e-commerce with the exception of Amazon. AI will be used in a bricks & mortar environment through Amazon Go, whereby AI technology will replace instore cashiers to detect products shoppers have taken. Over the next five years, a growing number of retailers will buy into AI as it becomes more affordable and as the technology advances.
Here is an outline of the key AI applications in retail:
Intelligent search tools
Example: John Lewis
Other examples: Skechers, Net-a-Porter
Most retailers use algorithms to suggest similar items or items bought by other customers already, but in 2016 John Lewis was one of the first retailers in the UK to implement an artificially intelligent visual search tool for its iPad app. The technology simulates the part of the human brain responsible for vision to recognise content within digital images, providing more accurate and relevant similar product suggestions. John Lewis could develop this further by offering visual search whereby customers can search for similar products using uploads of pictures they have taken themselves as U.S. department store Neiman Marcus has introduced.
More accurate search results and suggestions will lead to increased average spend and more impulse purchases. The tool also allows retailers to track the type of products customers are buying to understand the customer better and use the data for marketing products specific to consumers.
Personalisation
Main example: The North Face
Other examples: Ted Baker, Wallis
The North Face has developed a personal shopping tool to help users find jackets suitable for their specific needs – such as when and where they would use the jacket and what styles and materials they are looking for. This results in a recommended list of jackets for the customer labelled by how well the products match the needs of the shopper.
Personalisation improves the customer experience and ease of shop, but The North Face's personalisation tool has a number of limitations that restrict the outerwear specialist's ability to increase sales. The tool is limited to one product category and is not always successful in understanding free text (the technology does not understand answers with spelling mistakes or colloquial language for example). However, as the technology advances and more customer data is garnered, personalisation will be more and more successful at increasing a retailer's sales.
Customer service chatbots
Example:  Shop Direct
Other retailers: Amazon Echo, Uniqlo
Retailers already use human chatbots to answer queries and help internet shoppers, but Shop Direct is investing in an artificially intelligent conversational user interface called Very Assistant that it hopes will improve customer service and therefore increase repeat spend on very.co.uk. Though it is not due to be launched for a few months, a preview of the service is available.
As an online business, excellent service is even more crucial for Shop Direct. Shop Direct will need to make sure its chatbot offers a seamless experience that is advanced enough to fully replicate the experience of talking to an instore product advisor. Customers should be able to ask complex questions to the robot about style advice and items that would suit the shopper's personal preferences.