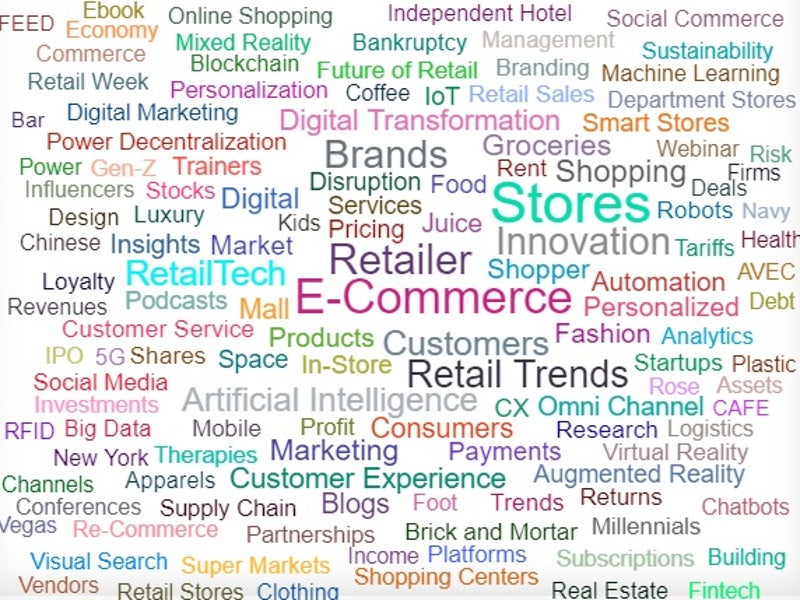 Retail Insight Network lists the top five terms tweeted in retail technology trends in Q3 2019, based on data from GlobalData's Influencer Platform.
The top tweeted terms are the trending industry discussions happening on Twitter by key individuals (influencers) as tracked by the platform.
E-commerce – 1,359 mentions
Choosing the right e-commerce platform and the best E-commerce content marketing strategies were the top topics of discussion in retail technology trends in Q3. Creating a successful e-commerce business depends on choosing the right platform, such as open-source, cloud, SaaS, and other turnkey platforms. This according to Jessica Bruce, an influencer and e-commerce expert. Identification of business needs, target audience, careful research, and calculation of costs involved, are essential to success.
Once an e-commerce business is launched, marketing its content is even more important. E-commerce analytics play a key role is defining marketing strategies. They provide insights into aspects of the business such as traffic and customer buying patterns, as identified by Michael Schiemer, an entrepreneur and author. Using this data, businesses can understand the demographics of their audience. This can be used to promote their business through social media and influencers.
How To Use Ecommerce Analytics To Generate More Sales https://t.co/XAfQ5PPrw7 / #Ecommerce #Analytics pic.twitter.com/0qphyWnah5

— Mike Schiemer (@MikeSchiemer) July 17, 2019
Innovation – 323 mentions
Innovative strategies that bricks and mortar retailers need to adopt in order to survive and compete with online retailers, was a heavily discussed topic during the quarter. The discussion was driven by the success of online retailer Amazon's Prime Day sale in July, which surpassed sales on 'Black Friday'.
More than 7,000 retail store closures have already been announced this year. This is due to the age-old strategies adopted by them and competition from online retailers. Despite the closures, new store openings were also announced by retailers. Typically these are adopting new business models such as an omni-channel approach. They also provide innovative experiences in-store to attract customers.
Quite a few traditional retailers have seen a renaissance of sorts. https://t.co/bzMygzLIz9 Brick-and-mortar stores' role in driving online shopping is increasingly important and well documented. Fully agree @StevenPDennis #retail #Innovation #leadership

— Tony D'Onofrio (@tonycdonofrio) September 24, 2019
Artificial Intelligence – 290 mentions
The way customers are shopping has undergone major transformation over the years. New technologies and artificial intelligence (AI) are poised to play a key role in the future. Approximately 63% of customers said that retail technologies and innovations have improved their shopping experience on mobile devices. Similarly 66% said that the technologies improved their experience in stores. This is according to a report from the National Retail Federation (NRF), a trade association based in the US.
AI is expected to provide predictive insights into buying patterns of customers and offer recommendations based on them. Virtual reality could help customers to try on clothes and share their looks with their friends, the report adds. Customers are also interested in new technologies that make shopping easier. These include smart dressing rooms, augmented reality, and in-app store navigation.
Why AI Is The Future Of Retail https://t.co/SgXAMwrvBG / #Retail #RetailRow #RetailTech #Retailers #AI #ArtificialIntelligence #MachineLearning pic.twitter.com/rJXbY8vkz4

— Mike Schiemer (@MikeSchiemer) July 16, 2019
Digital Transformation – 207 mentions
Digitalisation in retail and its impact on how customers shop, was a highly discussed topic during the quarter. Investing in digital technology is essential for retailers to succeed in the future. Customers are looking for new ways of shopping, such as click and collect services and virtual point-of-sale systems to improve their experience.
Digital technology can also help retailers by providing data on their inventory, transfer online sales to physical stores, and offer flexible delivery options. In line with this trend, McKinsey & Company is opening a new retail pop-up store named Modern Retail Collective at the Mall of America. The new store will be fully-technology enabled. It will implement new technologies, and provide insights to retailers on technologies that work and those that don't.
Retailers need to get off the sidelines and begin designing new customer experiences. The most forward-thinking retailers are already digitally mature; doing nothing is no longer an option https://t.co/aM9BDpbQVC#Retail#DigitalTransformation

— Cyril Coste #DigitalTransformation (@CyrilCoste) July 9, 2019
Customer Experience – 158 mentions
Improving customer experience as a key to gaining loyal customers was one of the most talked about topics during Q3. According to a study by McKinsey & Company, 70% of buying experiences are based on how a customer feels they are treated at the store. One bad experience would mean that 55% of customers were not likely to return to a store or retailer, according to another study conducted by payments provider, Klarna.
Providing personalised offers and experiences was one of the reasons 68% of customers chose to visit a store, according to the 2019 Unified Commerce Survey conducted by BRP Consulting. Implementing next-generation technologies and shopper tracking will enable retailers to address these needs, the study adds.
70% of the buying experiences are based on how the customer feels they are being treated https://t.co/kULGM4BOVd ecommerce CX customer experience #DigitalTransformation retail marketing mobile pic.twitter.com/4qMhY1nMJA

— Cyril Coste #DigitalTransformation (@CyrilCoste) July 17, 2019