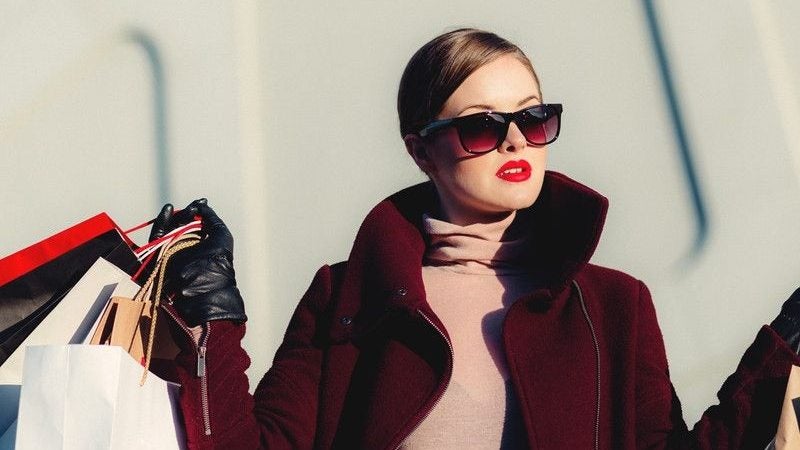 Retail Insight Network talked with TradeGala CEO Mina Melikova to find out more about TradeGala, the benefits of a B2B fashion marketplace, and how the company is supporting sustainability and circular fashion efforts.
Jessie Paige: Tell me about yourself and your background
Mina Melikova: I suppose you could say that I'm the creative mind behind the fashion companies such as City Goddess, Goddiva and TradeGala. I trained as a fashion designer with some of the biggest names in the industry before going on to co-found City Goddess back in 2003 – a wholesale fashion brand which has since become one of the most respected eveningwear suppliers in the UK.
Building on that success, I went on to design and launch the Goddiva brand with my partner in 2009, this time concentrating on the B2C market and keep my hand in both the design and management of the business every day. I don't stay still for long though, and my latest project has been the creation of TradeGala – the B2B online marketplace, which we think will totally revolutionise the wholesale fashion industry.
JP: What inspired the creation of TradeGala?

MM: Drawing on almost 25 years of experience in the fashion industry, I know how difficult it can be to establish a successful brand in such a competitive field – a situation made worse by a distinct lack of platforms dedicated to B2B and wholesale trade. This gave me the idea to create a wholesale fashion marketplace where brands and buyers all over the world have the opportunity to expand their reach, find a wide range of desirable products, and make purchases via a simple, user-friendly process.
JP: What is the benefit of a B2B fashion marketplace?

MM: The wholesale industry has long been in need of a "one-stop-shop" for wholesale fashion, and the creation of TradeGala has enabled retail buyers to shop for all of their fashion, shoes and accessories in one convenient online store. While marketplaces are popular in the direct retail sector, the creation of TradeGala represents a huge step forward in combining technology and fashion to simplify the supply process for wholesalers worldwide.
JP: How does TradeGala differ from other B2B marketplaces that also sell fashion?

MM: Most of the current B2B marketplaces still hark back to traditional buying methods – introductions, proposals and line sheets, acting as more of a wholesale database than a true marketplace. We've tried to draw inspiration from the best of these, but also from retail e-commerce giants like Amazon or Zalando in order to create a truly user-friendly platform allowing buyers to search and buy products in just a few clicks
JP: What is TradeGala's stance on sustainability?
MM: The recent crisis has shown clearly what much of the fashion industry already knew – the fast fashion trend that has dominated the sector for so long is no longer sustainable. The constant update of seasons; the "buy-wear-throw-away" mentality that has been encouraged; the destruction of stock that doesn't sell; all of these are issues that have resulted in a devastating effect on our environment.
TradeGala offers buyers a sustainable alternative, allowing them to order only what they need when they need it – reducing excess stock and minimising our carbon footprint. We have also created a popular sustainable fashion category making it easy for buyers to discover the brands which are leading the field in sustainable and ethical production.

JP: Resale and re-commerce are predicted to be the next big thing in fashion retail. How does TradeGala contribute to the demand for circular fashion?
MM: In order for circular fashion to have a future, it's vital that brands produce products built to last. The "wear-once" model is on the way out. Consumers themselves are looking for timeless pieces that will stand the test of time, which is why we pre-screen all of our brands to make sure that they produce great quality items.
We also have a large number of buyers in the occasion-wear sector and work with many that offer designs for rental – this way products are not relegated to the back of the wardrobe after the event and can have a more productive life cycle. I think any true fashion designer would embrace this circular fashion trend – fashion is meant to be worn and loved, not left to collect dust!

JP: What do you think the future holds for the fashion retail sector?

MM: E-commerce is changing fashion retail as we know it and it's not going away any time soon. Technology is creating new avenues to explore all the time, with augmented reality already being used to help customers try on clothing virtually. I think in the future, retail must be dedicated to prioritising customers as well as combining the physical and virtual worlds to offer a seamless online/offline experience.

This is obviously a difficult time for the fashion and retail industries, but I'm truly impressed at how this [Covid-19] has given us the opportunity to stop and rethink how to move forward into a more positive future. I've also seen how companies are pulling together to support each other which makes me optimistic about the future for the industry in general. I think TradeGala's ability to connect businesses can help play an important part in aiding industry's post-Covid-19 recovery.