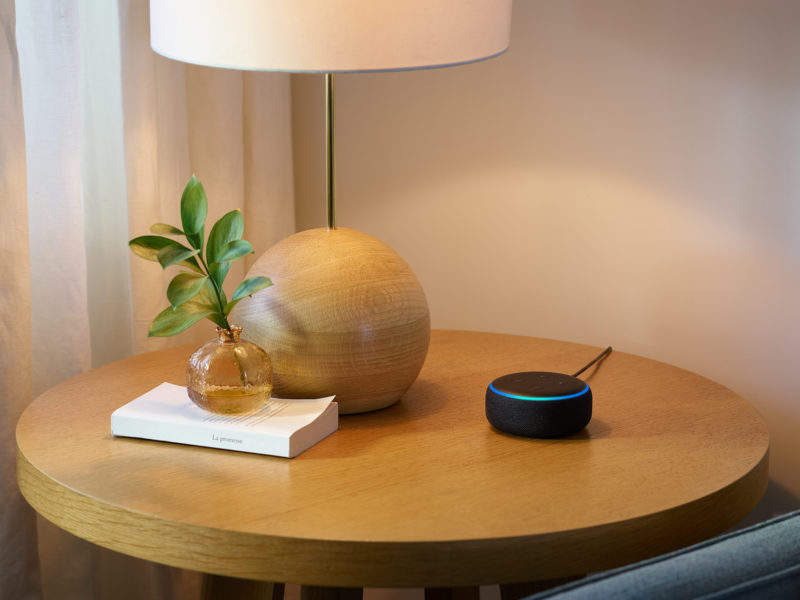 With ambient commerce set to boost retail spending on IoT tech to $5.3bn, GlobalData has predicted the big technology trends we can expect to see within this theme over the next two years.
Ambient commerce is a new way of shopping, and unlike e-commerce, it combines technology with the physical space associated with retail stores.
It makes use of sensors coupled with artificial intelligence (AI) to enable frictionless shopping.
Technological trends in ambient commerce:
The IoT enables ambient commerce
The IoT comprises arrays of connected 'things' with unique identifiers that collect data using sensors and transmit that data over communications networks without human-to-human or human-to-computer interaction. It is already providing an invisible, digital support backdrop for ambient commerce.
As the number of sensors and actuators that are deployed within the physical structure of our environment rises, the ability to blend physical and digital experiences expands.
Obstacles to IoT growth
Intel expects 200 billion devices to be connected to the internet by 2020, and Cisco's prediction is that there will be 500 billion by 2030. We see more modest growth than Cisco and Intel, however, because IoT solutions rely upon a many-layered stack of technologies, with each layer facing its own challenges when it comes to its evolution, and the standardization of the interfaces between each layer.
The implementation of IoT solutions today requires a significant amount of integration and will call upon expertise that will be difficult for all but the biggest players to build in-house.
Sensors become pervasive
Over the last decade, passive mechanical-based sensors have been displaced by the rapid emergence of cheap, smart, silicon-based sensors. These new microelectromechanical systems (MEMS) sensors can detect information about, light, motion, proximity, pressure, temperature and radiation. The decline in the cost of these sensors represents a key enabler for ambient commerce; where only a few years ago adding connected temperature sensors to chiller cabinets might have been prohibitively expensive, today it is possible to imagine embedding sensors directly into food packaging.
When connected to a communications network, these sensors can transmit the information they gather for analysis in a remote data center somewhere in the cloud where it can be analyzed.
Amazon Go connected store model
Amazon Go is a new retail concept whereby customers can walk in to a supermarket, pick up the groceries they need and walk out without going through a check-out register.
Amazon uses a combination of technologies – predominantly computer vision, sensors and machine learning – to keep track of what customers are buying.
For instance, pressure sensors detect when an item has been removed from a shelf or returned to it, while customer movements are analyzed by cameras and sensors built into the fabric of the retail space. The data is analyzed, and then transmitted to servers which use machine learning to determine which items customers have placed in their shopping bags.
The idea is at the conceptual stage and there are only four Amazon Go stores currently open, in Seattle and Chicago. These stores require significant investment in high-tech equipment, making imminent roll out on a commercial scale unlikely.
China's connected store models
Whilst the Amazon Go store shuns smartphones, China's connected store model places smartphones at its core, using QR codes to determine what items customers are interested in purchasing.
China is leading the world in the development of the new offline, ambient, retail world. Smart shopping in connected stores there will be based on an 'enter, scan, pay' model and be equipped with personalized concierge services that give customers product information and discount deals via their smartphone apps.
The two leading mobile payment providers – Alipay and Tencent's WePay – will also be key beneficiaries of China's move towards ambient commerce.
Scan and Go kiosks
China is also pioneering the development of automated, unmanned, walk-in stores carrying up to 500 grocery items based, again, on smartphones, scanning and automatic payment.
These are smart, connected halfway houses between convenience stores and kiosks.
They will be autonomous mobile units able to service rural areas as well as city outskirts, especially as city infrastructures become smarter as per Alibaba's Hangzhou based smart city project.
The leaders in this emerging sector are BingoBox, France's Auchan (which is piloting its mini and micro-stores in China) and Sweden's Wheelys, which is deploying mobile walk-in unmanned mini stores.
Ambient AI
The ability to analyse large volumes of data and make sense of it lies at the heart of delivering ambient commerce. AI and machine learning have an important role to play in making this new vision of retail a possibility.
Google, Amazon and Microsoft are leading in this field with Facebook, Baidu, IBM, and Alibaba all contenders.
The rise of the internet super-monopoly
The e-commerce world is bifurcated between the giant internet ecosystems and the rest. The giants have many advantages, including substantial network effects from the sheer scale of their user base and distribution capability. Their size means that they are in a strong position to invest in new technologies – allowing them to build on their already dominant positions.
Facebook, Tencent, Amazon, Alphabet and Alibaba have gained such footholds in global online markets that they are now virtually impossible to dislodge. Much of the growth in e-commerce will flow to them. Mid-sized e-commerce players like MercadoLibre will remain largely confined to their own domestic markets and adjacent domains whilst niche online retailers such as Jumei or Yoox Net-A-Porter will need to find a way to differentiate in order to avoid being squeezed out.
Traditional retailers like Walmart and Tesco – which still have sufficient scale – have to respond, and could use ambient commerce within their stores as a means to deliver a compelling "experience" to consumers but it is by no means certain that the vision of ambient commerce being explored in Amazon's concept stores will engage consumers sufficiently to stave off the threat posed by online retailers.
Conversational platforms
Voice is the next big computing platform. It could, at some point, replace keyboards and touchscreens. Since 2014, Amazon customers have been able to place orders for music and other goods just by speaking to Echo, a smart speaker powered by the Alexa virtual assistant. A number of companies have followed Amazon's lead and developed smart speakers of their own, including Google, Apple, and Alibaba.
By the end of 2018, many branded manufacturers will have introduced a range of 'conversational' machines and apps – primarily using voice APIs from Amazon, Google, Microsoft, Baidu, Nuance and iFlytek. By 2020, 50% of online search will be conducted by voice, compared to 20% in 2017. Natural language processing (NLP) systems, like the new breed of facial recognition systems, will begin to recognize emotion, and learn to fully engage and have meaningful conversations.
Leading voice-enabled virtual assistants include Amazon Alexa, Google Assistant, Microsoft Cortana, Baidu Duer, Apple Siri, Samsung Bixby, and Line Clova.
These voice-enabled digital assistants will have a huge advantage in the ambient commerce market for two reasons: their platforms are gathering vast troves of data on their customer's preferences by hearing their conversations; and consumers are increasingly likely to make purchase decisions using their voice.
Virtual & augmented reality
One of the most compelling use cases for virtual reality (VR) and augmented reality (AR) is e-commerce and ambient commerce. For example, IKEA has experimented with augmented reality headsets that allow customers to take the furniture from its catalogue and place it in front of them in their room to see what it looks like. Other retailers are experimenting with VR apps which can take their customers on a tour of their stores, while H&M is using AR in its voice interactive mirror at its flagship Times Square store in New York.
AR will be hugely disruptive because, ultimately, AR glasses (or contact lenses) with voice activation and AI will displace the smartphone as the consumer's main user digital interface. For this reason, all the leading technology companies will increase investment in the space in 2019, with Microsoft, Apple, Google, Sony, Samsung, Facebook, HTC and Huawei all improving their offerings. See the Thematic report, Alternative Reality (GD TMT TR S156) for more on this theme.
Leading VR platforms include Sony PSVR, Facebook Oculus, Samsung Gear VR and Google Daydream. Leading AR platforms include Microsoft HoloLens, Google ARCore, Apple ARKit, Facebook and Vuzix (Blade), with the mysterious and highly controversial Magic Leap threatening to transform the whole scene.
Tackling the cyber threat
If anything can stall the growth of IoT and ambient commerce it is cyber insecurity. The arrival of ambient commerce simply extends the attack surface for hackers. Even such tech-savvy companies as Apple, Sony, Netflix and Yahoo have repeatedly been exposed for their inability to avoid major cyber-attacks.
The cybersecurity sector has at best only been able to mitigate the effects of cyber incursions but now the big guns – Microsoft, IBM, Google, Dell and Cisco – are making determined efforts to develop the networking, big data and AI technologies needed to head off attacks or at least nip them in the bud.
If ambient commerce takes off, the cybersecurity market is likely to benefit. Niche players in identify management, like Gemalto, Okta, Giesecke & Devrient and Idemia, in particular, could reap significant rewards
Read more: