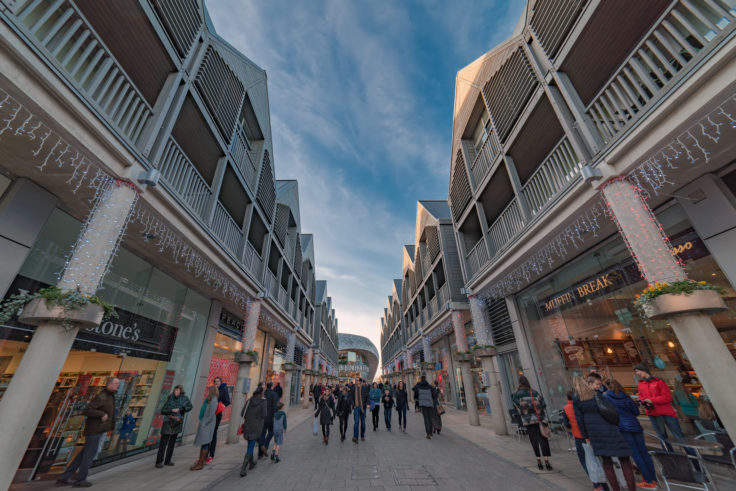 UK-based retailers saw the worst annual sales performance on record in 2020 due mainly to a fall in demand for fashion and homeware products, according to figures from the British Retail Consortium (BRC).
BRC chief executive Helen Dickinson said: "Physical non-food stores, including all of non-essential retail, saw sales drop by a quarter compared with 2019. Christmas offered little respite for these retailers, as many shops were forced to shut during the peak trading period."
Retail Insight Network talked with experts across the retail industry to find out their response to this news.
"As a whole, we have seen huge resilience"
Digital media expert inurface CEO Josh Bunce told Retail Insight Network: "2020 has undoubtedly been a huge challenge for retailers as they have been forced to adapt to the ever-changing threat caused by Covid-19.
"Our bricks and mortar retailers have been forced to shut their doors on more than one occasion. Planning has been thrown out of the window and companies have needed to do more than ever to encourage consumer spending, whilst operating responsibly and safely.
"This year, inurface has seen a new demand for visual and interactive safety and health technology as well as the option of alternative payment methods. Concepts like bartering deals have allowed retailers to make essential changes and invest despite unpredictable cash flow.
"Brexit and the changes that this brings are an added concern. Despite this, as a whole, we have also seen huge resilience. Companies have pivoted their models to support their customers and traditional stores have transformed their online offerings.
"Retailers have instigated stringent safety measures overnight to fulfil government guidelines, in order to enable continued trading – just some examples of the ongoing strength of our retailers despite 2020s challenges."
"Brands who invested in their digital offerings will survive"
Customer experience expert Go Instore Co-CEO Andre Hordagoda told Retail Insight Network: "It's no question that 2020 has been one of the most challenging years for retailers, with overall sales being the worst they've been in over 25 years. Despite this, many retailers have seen significant growth in their online channels.
"As retailers were forced to become purely digital operations throughout the pandemic, companies looked to invest and adapt their digital offerings to serve their customers and keep staff safe. With further lockdowns and restrictions in place for this year, almost half (49%) of UK consumers plan to continue using online services and new technologies even after lockdown restrictions end.
"It's clear that brands who have invested in their digital offerings will survive this turbulent retail period and come out stronger."
"The use of e-commerce technology will decide the winners and losers"
Connected e-commerce platform eDesk CMO David Keene told Retail Insight Network: "These figures from the BRC speak to the tumultuous story of retail last year, with significant movement of non-food sales moving online. Whilst this reflects the impact of restrictions brought about by the pandemic, it is simplistic to think just of bricks and mortar versus online.
"The reality of e-commerce today is much more complex, as big brands adapt to competing on multiple marketplaces and social platforms. At the lower end, margins are hugely squeezed by this competition whilst larger brands have to embrace, at speed, complex omnichannel strategies that enable customers to receive a personalised shopping experience online.
"The use of e-commerce technology will increasingly decide the winners and losers in this high-stakes environment, for example, with the use of A.I. in real-time pricing, stock management and customer queries."
"Firms have to work harder to retain the loyalty of a digital-savvy consumer base."
AI-powered customer engagement platform HelloDone CEO Ed Hodges told Retail Insight Network: "Thanks to the accelerated shift away from physical stores, vendors had to embrace digital with both hands in 2020 and this is set to continue in the year ahead. The realisation that the customer experience needs to extend beyond the acquisition and buying process, to cover the whole lifecycle of an order, will drive retail behaviour in 2021, as firms have to work harder to retain the loyalty of an ever-growing, digital-savvy consumer base.
"Covid-19 has been a major catalyst for change over the last twelve months, accelerating years' worth of digital transformation ahead of the expected peak. But the Covid-19 crisis will end and, as we saw during the easing of lockdown restrictions, there remains strong demand for physical retail experiences.
"What won't change is the heightened expectations consumers now have when shopping with their favourite brands online or in-store. I believe there is a huge opportunity for vendors in a post-Covid world to push forward with tighter integration of their physical and digital retail offerings to create a truly omnichannel experience that reduces friction in the purchase journey, builds customer loyalty and increases conversions."
"The latest findings will serve as a reminder of the role technology will play in 2021"
Customer service platform Puzzel CMO Jonathan Allan told Retail Insight Network: "Retailers have seen disruption like never before in the last 12 months. While the high street was already suffering before Covid-19 hit the UK, lockdowns and social distancing have now become our new normal, forcing stores to embrace digital as the primary driver of sales and customer engagement.
"The BRC's latest findings will serve as a stark reminder to leaders of the fundamental role technology will continue to play in 2021 as an enabler of growth. With vaccine roll-outs anticipated to take the majority of this year, and the future outlook uncertain, retailers must deliver a personalised digital experience that mimics, or even trumps, that of traditional in-store service.
"Indeed, over the last six months, we've seen a change in customer's preferred communication channels with SMS, web-chat and survey increasing on average by 37%, as well as seeing a decrease in voice calls. Brands must prepare for such changes in customer expectations, being prepared to adapt to fast-moving environments, to ensure they don't lose out against rivals."