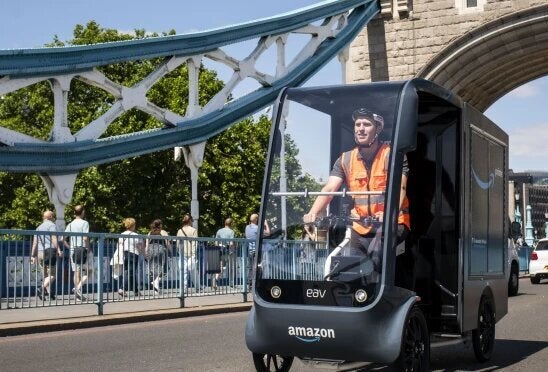 E-commerce giant Amazon has launched its first UK micromobility hub in Central London in an effort to enhance the sustainability of its deliveries.
The retailer plans to make more than one million customer deliveries a year from the facility using its new fleet of e-cargo bikes and walkers instead of traditional delivery vans.
Amazon operates a network of more than 1,000 electric delivery vans in the UK, which delivered more than 45 million packages last year.
Over the coming months, the company will add more e-cargo delivery hubs across the country to expand its fleet of zero-emission vehicles.
It also aims to make more than five million last-mile deliveries across Central London a year with e-cargo bikes and walkers.
Amazon recently announced five fully electric 37t heavy goods vehicles to replace its traditional diesel trucks.
Amazon UK country manager John Boumphrey said: "Amazon is driving towards a global net-zero carbon future. One way we're doing that is through the transformation of our transportation networks.
"Our new e-cargo bikes, walkers and growing electric vehicle delivery fleet will help us make more zero-emission customer deliveries than ever before across London and the UK in the coming months."
In addition to the micromobility hub, Amazon plans to install more than 30,000 modular solar panels at its facilities in Manchester, Coalville, Haydock, Bristol and Milton Keynes this year.
The investment is in line with the company's goal to power all its operations with renewable energy by 2025, five years ahead of its 2030 commitment.
Boumphrey added: "Doubling the number of on-site solar projects at our facilities across the UK further demonstrates our ambition to power our operations with 100% renewable energy by 2025 and represents an important step on our journey to be net-zero carbon by 2040."
Last month, Amazon confirmed that it will start delivering products using Prime Air drones in the US later this year.