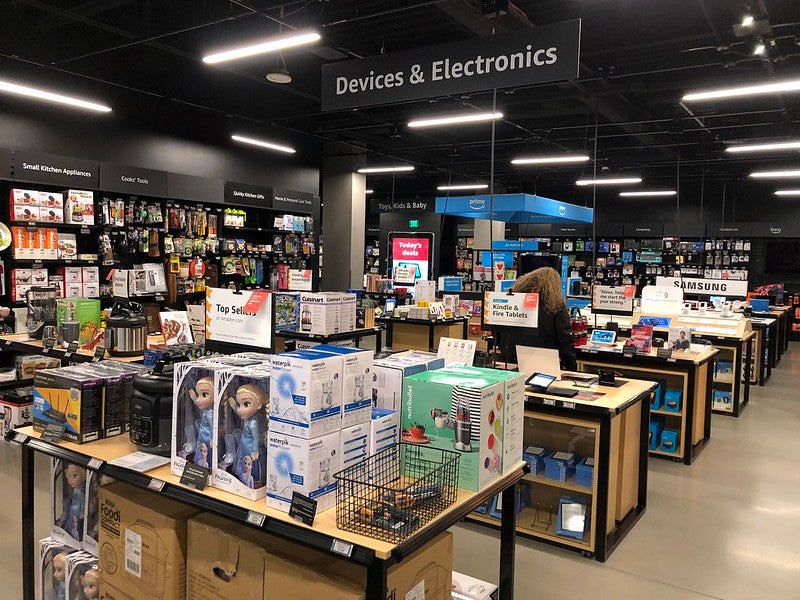 E-commerce retailer Amazon has expanded its physical presence in the UK by opening its first 4-star retail outlet at the Bluewater shopping mall near Dartford.
Launched in 2018, the 4-star store concept only sells products that are rated four stars or more, are top sellers or are new and trending on Amazon's website.
The Bluewater store is the company's first Amazon 4-star location outside the US, where it operates a network of more than 30 outlets.
The 3,500ft² store offers around 2,000 products, including books, toys, homeware and Amazon devices.
It uses digital price tags to ensure prices are the same in-store and online, so customers do not need an Amazon account to shop at the store.
Amazon 4-star UK director Andy Jones said: "I've been working on this for the past two years, so we are obviously just really keen now to get customers in and see what they think.
"The pandemic didn't really change our thinking. We've seen that the model has worked really well in malls in the US, so a location like Bluewater made total sense to us.
"I think the variety in the store is really important and hopefully something customers will see.
"There are the Amazon products they will expect but also local products from small suppliers, because that is a huge part of the Amazon business."
Jones did not confirm if the store is part of a trial or if Amazon plans to open more 4-star stores in the UK.
The e-commerce retailer currently operates six convenience stores featuring checkout-free technology in the country.
In March, Amazon opened a till-free Fresh store in West London, its first physical location outside the US. The company said that it planned to open more stores in the Greater London area.