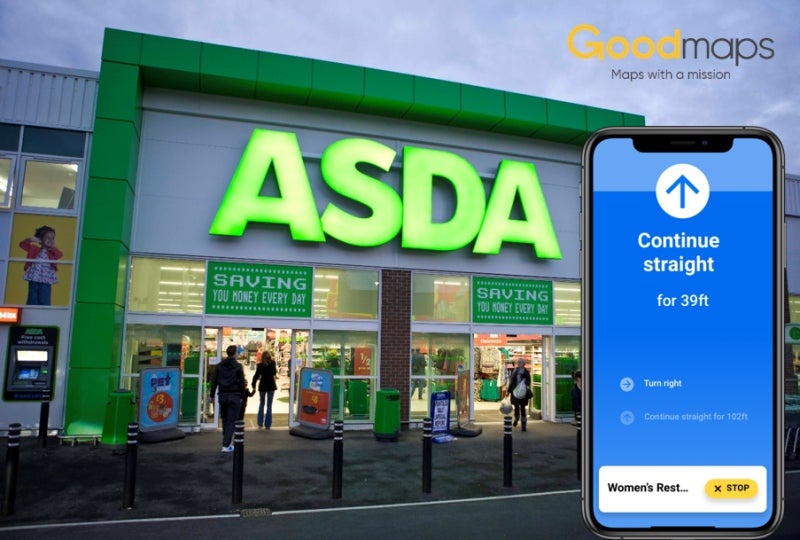 British supermarket chain Asda has expanded its trial of GoodMaps, an indoor map service designed for blind and partially sighted customers.
Currently being piloted at Asda's designated Technology-Innovation store in Stevenage, the navigation tool will be introduced to ten more stores in the UK.
The new stores that will feature the GoodMaps navigation technology are in Blackburn, Caerphilly, Hulme, Totton, York, Killingbeck, Milton Keynes, Aintree, Queslett and Wembley.
Asda Retail Transformation senior director Neil Fairclough said: "The trial at our Stevenage store showed us that this technology can really make a difference to customers who previously had difficulty navigating the aisles whilst shopping.
"The value of these trials is that we can take the learnings from each step and better integrate the technology as we go further into the trial phase, ensuring an even better experience for our customers and colleagues in these trial stores."
GoodMaps' navigation technology uses light detection and ranging (LiDAR) indoor digital mapping and camera-based positioning to pinpoint customers' locations to within one metre of accuracy.
It uses audio, enlarged visual and touch commands to help customers locate specific product categories on store shelves.
In addition, customers can use the smartphone app to navigate them to key areas of the store such as pharmacies, toilets and tills.
GoodMaps Europe vice-president Neil Barnfather said: "Empowering people to get around autonomously, on their terms, and in a manner of their choosing, has been an aspirational goal for decades.
"GoodMaps Infrastructure-free technology delivers upon something that is so often taken for granted; to just be able to go and access a location without afterthought.
"Asda's unrivalled commitment to breaking down barriers to inclusion revolutionises how our community can perform a fundamental basic need, to be able to buy your weekly shop.
"We look forward immensely to continuing to expand the reach of the GoodMaps technology in partnership with Asda."