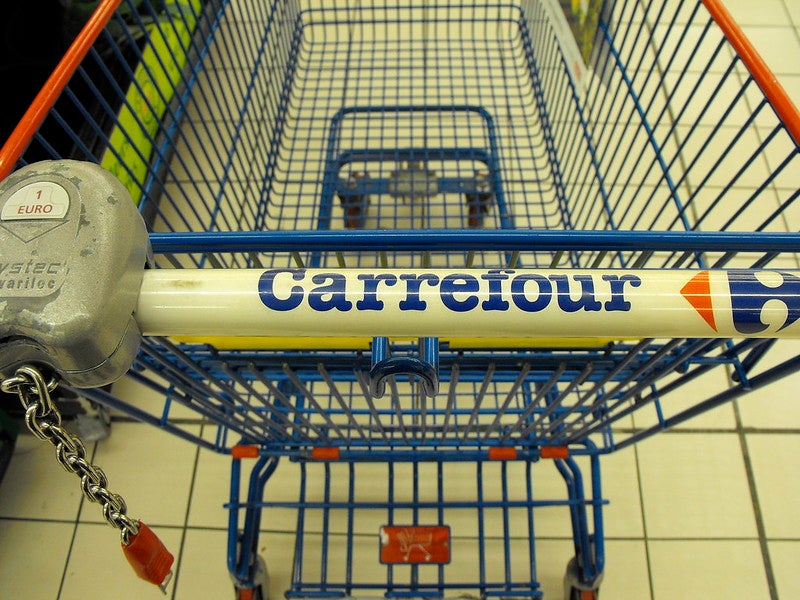 French multinational retailer Carrefour has reported slower sales growth in the third quarter (Q3) of this year (FY21).
The retailer's sales grew by 0.8% on a like-for-like (LFL) basis in Q3 2021, compared to the 8.4% increase recorded in the same period of last year (FY20).
On a reported basis, Carrefour's Q3 sales grew by 4.0%.
The group's total sales came to €20.47bn ($23.8bn) pre-IAS 29, compared to the €19.69bn ($22.9bn) reported in the corresponding period of FY20.
This increase includes a 'favourable petrol effect' of 2% due to an increase in crude oil prices and higher volumes.
During the quarter, Carrefour's France revenue was down by 0.3% on an LFL basis.
The retailer's European business also reported a 1.2% decline in LFL sales compared to the same period of FY20.
In Latin America, Carrefour's sales increased by 7.3% on an LFL basis and 35.7% over two years.
This strong performance was driven by sales in Argentina, which grew by 57% on an LFL basis.
Carrefour chairman and CEO Alexandre Bompard said: "We posted another quarter of growth at group level, despite a very high comparable base, and continued to gain market share in most of our countries.
"Our trajectory is very solid and demonstrates our ability to generate structural growth thanks to our strong customer-centric approach, good control over our operations, notably in digital, and impactful strategic initiatives.
"Our net-free cash flow objective for FY21, which was raised in July, is confirmed.
"With these favourable dynamics, its robust balance sheet, and thanks to the commitment of its teams, Carrefour is attractive and on the offensive, for the benefit of its customers and its shareholders."
Earlier this month, Carrefour and Nordic Coops agreed to expand their international partnership to global branded suppliers from 1 January.
The partnership, signed by Carrefour World Trade and Coop Trading, covers Coop's Denmark, Norway and Sweden branches, as well as SOK in Finland.