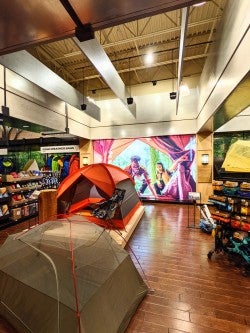 US-based sporting goods retailer Dick's Sporting Goods has reported a 20.7% increase in net sales to $3.27bn in the second quarter of this year compared to the same period of last year.
The company's net sales were up by 45.0% compared to the second quarter of 2019.
During this period, consolidated same-store sales rose by 19.2%, e-commerce sales increased by 111% and e-commerce penetration grew to 18% of total net sales.
Dick's Sporting Goods posted a consolidated net income of $495.5m, or $4.53 to a diluted share, driven by robust sales and gross margin rate expansion.
The company closed the quarter with around $2.24bn in cash and cash equivalents.
Dick's Sporting Goods president and CEO Lauren Hobart said: "Our record-breaking quarterly sales and earnings significantly exceeded our expectations, reflecting continued strong consumer demand across our diverse category portfolio along with the strength of our omnichannel offering and elevated athlete experience.
"I'd like to thank all our teammates for how they delivered against our core strategies and for their commitment to [our company], which helped make this performance possible.
"Based on the strength of our business and our expectations for continued strong consumer demand, we are pleased to increase our full-year sales and earnings outlook for the second time this year."
In the 26 weeks to 31 July, Dick's Sporting Goods' net sales increased by 53% to $6.19bn, while its consolidated same-store sales grew by 51%.
The company's e-commerce sales increased by 124% and its e-commerce penetration rose to 19%.
This year, the company plans to open six Dick's Sporting Goods stores and eight speciality concept stores, which will include remodelling two former Field and Stream stores into Public Lands stores.
Dick's Sporting Goods also expects to relocate 11 of its stores by the end of the year.
The company has raised its full-year earnings per diluted share guidance from $11.00 to $11.45 following these results.
In April, Dick's Sporting Goods opened a concept store, Dick's House of Sport, in New York.