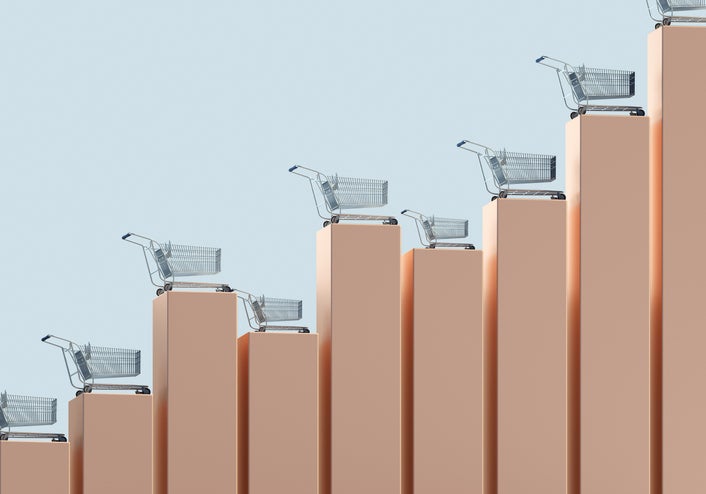 Despite the challenges of high inflation rates, labour shortages and disruptions in the supply chain, the top 25 publicly traded global retailers achieved a remarkable year-on-year (YoY) revenue growth of 7.1% to $3.5trn in 2022.
Leading data and analytics company GlobalData, reveals that the retail industry worldwide reaped the benefits of Covid-19 pandemic-induced circumstances as consumers were compelled to shift their shopping habits online.
In fiscal year 2022, more than 50% of the top 25 retail companies reported YoY growth in their net profits, with six retailers recording more than 30% growth.
GlobalData business fundamentals analyst Ragupathy Jayaraman commented: "Home improvement and pharmaceutical retailers experienced notable advantages due to lockdown restrictions in 2022. Major online retailers such as Amazon, JD and Alibaba gained a compound annual growth rate (CAGR) of above 20% in revenue during 2018-2022."
Which retailers saw growth?
An analysis of GlobalData's Company Reports Database reveals that of the top 25 publicly traded global retailers, Alimentation Couche-Tard, Seven & i, Costco and CVS Health posted double-digit YoY revenue growth.
Jayaraman explained: "Alimentation Couche-Tard topped the list with a 37.3% revenue growth and 5.1% CAGR between 2018 and 2022. This was primarily driven by higher road transportation fuel selling price and positive impact of foreign exchange rates."
Other major gainers include Walmart, Amazon, JD, Kroger, Tesco and Albertsons, who all reported more than 5% growth in their revenue. Regarding operating profit, 65% of the top 25 retail companies reported more than 5% growth, with three companies (Sainsbury's, Alibaba and JD) recording more than 50% growth.
Jayaraman concluded: "Global retailers are in constant pursuit of redirecting their strategic investments and planning efforts. This is due to various factors like changing consumer behaviour, investor sentiment and government regulations. Companies are focusing more on enhancing their digital supply chain management to expand and streamline business operations."
Despite this growth, inflation remains a force to be reckoned with as online retailers grapple with a significant profit drain caused by high return rates due to affected shoppers' habits.