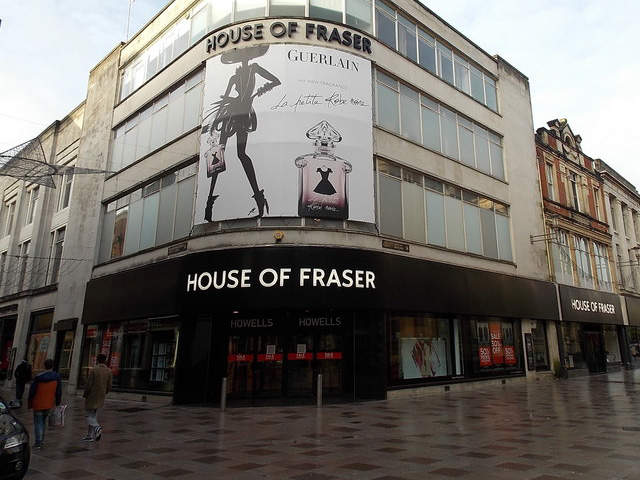 Department store chain House of Fraser is set to shut down more than half of its UK stores as part of a rescue plan.
Under a company voluntary arrangement (CVA), House of Fraser will shut down 31 stores by early next year, putting 6,000 jobs at risk. The retailer also plans to move out of its head offices in London and Glasgow.
For the remainder of its stores, creditors are set to vote on the deal, which includes reducing rent by 25%, on 22 June.
House of Fraser chairman Frank Slevin said: "The retail industry is undergoing fundamental change and House of Fraser urgently needs to adapt to this fast-changing landscape in order to give it a future and allow it to thrive.
"Our legacy store estate has created an unsustainable cost base, which, without restructuring, presents an existential threat to the business.
"So while closing stores is a very difficult decision, especially given the length of relationship House of Fraser has with all its locations, there should be no doubt that it is absolutely necessary if we are to continue to trade and be competitive."
The stores set for closure are: Altrincham, Aylesbury, Birkenhead, Birmingham, Bournemouth, Camberley, Cardiff, Carlisle, Chichester, Cirencester, Cwmbran, Darlington, Doncaster, Edinburgh Frasers, Epsom, Grimsby, High Wycombe, Hull, Leamington Spa, Lincoln, London Oxford Street, London King William Street, Middlesbrough, Milton Keynes, Plymouth, Shrewsbury, Skipton, Swindon, Telford, Wolverhampton, and Worcester.
The reconstruction is a condition of a deal that will give control of House of Fraser to the Chinese owner of Hamleys, Nanjing Cenbest.
In May, Nanjing Cenbest reached an agreement with C.banner to sell a 51% stake of the department store for £140m, leaving the current owner with a minority share.
Accountancy firm KPMG, overseeing the insolvency process, said the firm had been hit by 'mounting pressures facing the UK High Street'. A number of retailers and restaurant groups, such as Mothercare, Carpetright, New Look and Jamie's Italian, have recently used the CVA process to close their outlets.
The British Property Federation believes retailers are misusing the CVAs. On Thursday landlords called for an urgent government review of the rise in the use of CVAs, as they believe the process risks undermining the UK's reputation and deters investment in town centres.
The British Property Federation chief executive Melanie Leech said: "The CVA process is intended to be part of a comprehensive business recovery plan. Property owners, looking after savers' and pensioners' money, will support businesses who demonstrate this commitment but must protect those pensioners against unfair action that penalises their interests."