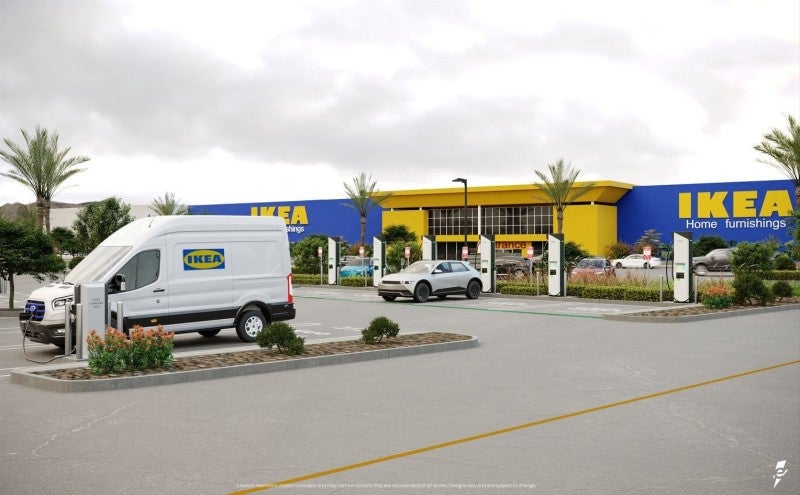 Swedish home furnishing retailer IKEA has partnered with Electrify America and Electrify Commercial to introduce electric vehicle (EV) charging stations.
The partners will install ultra-fast public charging stations and delivery fleet EV chargers at more than 25 IKEA retail locations across the US.
The joint effort will bring more than 200 individual ultra-fast chargers offering speeds of between 150kW and 350kW to stores in 18 states.
These will include Arizona, California, Connecticut, Florida, Illinois, Kansas, Maryland, Massachusetts and Washington.
The first chargers will be available at the end of this year, with the full roll-out due to be complete by late next year.
The collaboration is in line with IKEA's strategy to become a circular and climate-positive business by 2030.
It will quadruple the retailer's total number of EV chargers in the US, supporting its target to achieve zero-emission home deliveries by 2025 and halve its relative emissions from customer and co-worker travel by 2030.
IKEA US CEO and chief sustainability officer Javier Quiñones said: "This collaboration with Electrify America will not only bring ultra-fast public chargers to our stores for the first time but it will also help us take a big leap as we work towards our targets to become circular and climate-positive.
"We look forward to continuing to innovate around new ways we can make our everyday lives more sustainable."
In a separate development, British supermarket chain Tesco has launched its first zero-emission electric lorry to make deliveries in the UK.
Made by Renault Trucks, the electrically powered lorry is now delivering to more than 400 stores in Greater London.
It features multi-temperature zones and has a range of up to 130 miles.
The launch comes after Tesco switched to all-electric vans across its fleet in Glasgow, Scotland, last November.