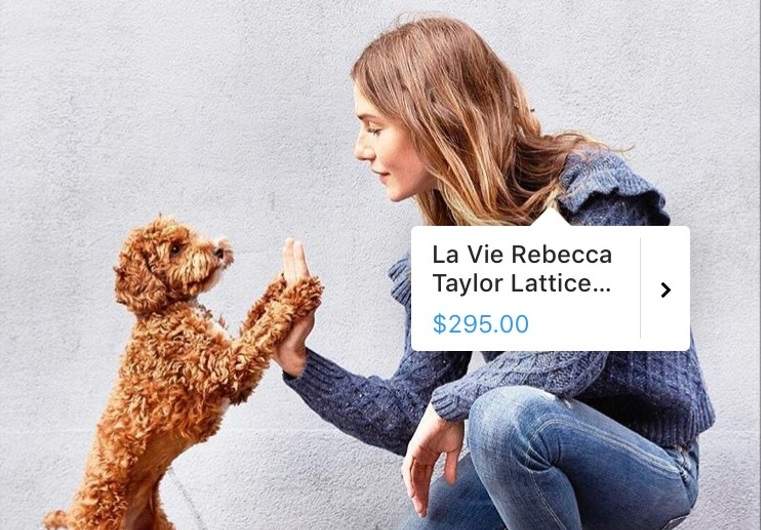 Instagram has launched a shopping feature on its social media platform that allows businesses to tag products in their posts for consumers to purchase while browsing.
The UK launch of Instagram Shopping coincides with its introduction in Australia, Brazil, Canada, France, Germany, Italy and Spain.
Shoppers on Instagram can tap an item in a post—such as a pair of shoes—and the product information will be presented in a small pop-up tag on the image. They are then able buy directly from the brand's website inside the app without having to search for the product in an independent browser.
The feature is only available for physical goods such as clothing, beauty products, jewellery and home goods; businesses offering a service will not be able to use the function.
"People come to Instagram every day to discover and buy products from their favourite businesses," said head of business at Instagram Jim Squires.
"We want that to be a seamless experience. Whether it's a local artisan, florist or clothing store, shopping directly on Instagram has never been easier."
The technology was trialled in beta form with Marks & Spencers, luxury swimwear brand Heidi Klein and slipper brand mahabis.
"Instagram has always been a great platform through which to showcase our products and engage with customers," said head of media and digital marketing at Marks & Spencer Erin Roy.
"Shoppable posts take this to a whole new level. They are simple to create, easy for our customers to use and enhance the Instagram experience."
Speaking at the press launch, head of marketing for Heidi Klein Amber Spencer-Holmes said: "What we've seen in these very early days is that it seems like the usual Instagram rules still apply, so posts that traditionally do well in terms of those engagement metrics are also doing better for us in terms of the shopping interactions."
To enable Shopping a business must sync their product catalogue with Facebook Shop and authenticate their Instagram business profile via its Facebook account.
Once a product catalogue is synced the business will have the option to tag a product in a new post.
In order to activate the 'Shop' tab at the top of their account page, a business must create at least nine Shopping posts.
There is a limit of five products per single-image post, or 20 products per multi-image post.
The Shopping feature was launched in the US last year, with a number of companies reporting increased traffic and sales.
Baby clothing retailer Spearmint Baby has seen a 25% increase in traffic and an 8% increase in revenue, while hair-curler seller Tyme Iron has seen a 44% increase in traffic from Instagram.
Similarly, Lulus have had 1,200 orders and 100,000 website views as a result of Shopping. Vice president of marketing Noelle Sadler said: "We've found as Instagram users become accustomed to seeing these native shopping experiences, they are more inclined to shop on Instagram.
"We've experimented with new ways to inspire followers to shop, from creating unique outfits in which every item is available for purchase, to showcasing user-generated content, to giving shoppers real-life ideas for how to wear the items they purchase from Lulus."
At present, Instagram takes no commission and makes no charges for using the service.
Instagram has over 800 million monthly users, with 25 million businesses using a business profile.