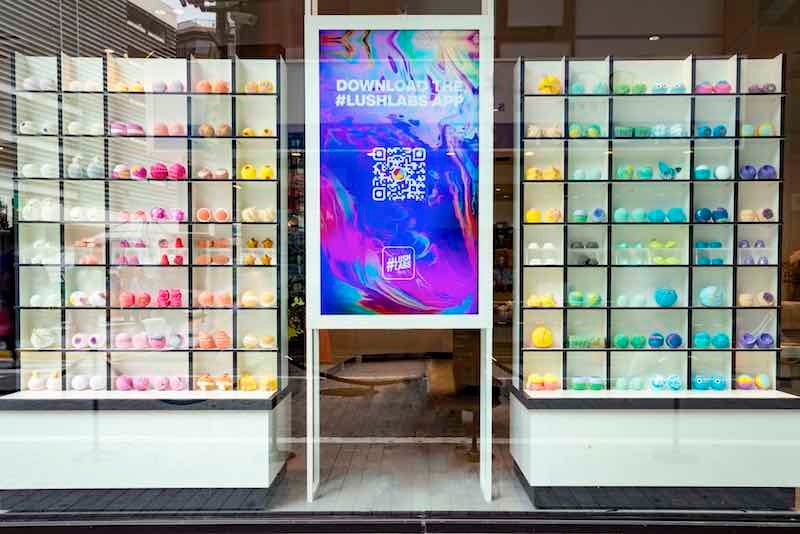 UK-headquartered cosmetics company Lush has opened Lush Shinjuku, its largest anchor store in Asia, with a technology-led retail focus.
Located in the southeast wing of the busiest station in the world, Shinjuku Station, Japan, the new store showcases Lush's innovations in retail technology, as well as offering exclusive products drops and new ways to shop.
Customers can use the latest version of the Lush Labs app, available in English, Japanese, Korean and Simplified Chinese, to scan and browse product information in-store, at home and on the go. They can also use the scan function via the 24-hour digital storefront window to scan and shop curated collections and products at any time.
Lush said its use of Google Lens technology also aims to minimise packaging and reduce water waste by showcasing products through video.
To further push its digital presence, Lush Shinjuku houses digital signage, such as a four-story 426 inch (10.8m) external LED screen, to match the shop to Shinjuku's urban landscape.
Lush states that the store will be a three-stage retail journey, with each floor offering interactive experiences. The second floor boasts a sensory-based experience, with data sensors that map customer position and movement, using colour therapy, art and sound, to create an interactive digital mood.
The Lush Spa is scheduled to open on the third floor this summer and the fourth floor will be revealed at a later date.
The Lush Shinjuku opening comes six months after the launch of #LushLabs Harajuku and its successful 2017/18 financial year results due to its strong push towards store investments and product innov