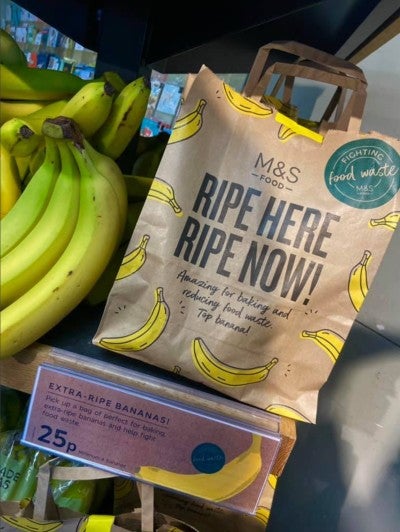 UK-based high street retailer Marks and Spencer (M&S) has introduced a banana waste reduction scheme at all its stores in England.
Customers can buy cardboard bags of extra ripe bananas at a cheaper price, helping M&S to reduce the amount of food that goes unsold.
Each 'Go Bananas' bag contains at least three ready-to-eat bananas for a purchase price of 25p, as well as two recipes cards for families.
The cards will feature popular baking ideas such as banana bread and vegan banana muffins, which are recommended to be made with extra-ripe fruit.
M&S fruit buyer Pippa Masters said: "Bananas are among the most wasted produce at supermarkets, as customers typically like to buy spotless yellow bananas to ripen at home.
"We're excited to be extending our Go Bananas bags to more M&S stores, and further reduce food waste by offering bananas that are absolutely perfect for baking and at great value.
"Home baking has seen a huge rise over the last year, with banana bread becoming the ultimate zeitgeist bake and a favourite for families.
"Our Go Bananas bags are helping us to become more relevant, more often for customers who are looking to enjoy baking tasty and convenient food at home."
M&S initially trialled the Go Bananas bag at ten stores. In the trials, 6,800 banana bags were sold, saving the equivalent of 18,000 units of loose bananas.
The initiative is in line with the retailer's commitment to halve its food waste before 2030.
In May, M&S revealed plans to close around 30 locations that it said could not support a store, as part of its aim for its full-line estate.
The retailer reported a £200m ($282m) loss in its full-year results for the 53 weeks ending on 3 April.