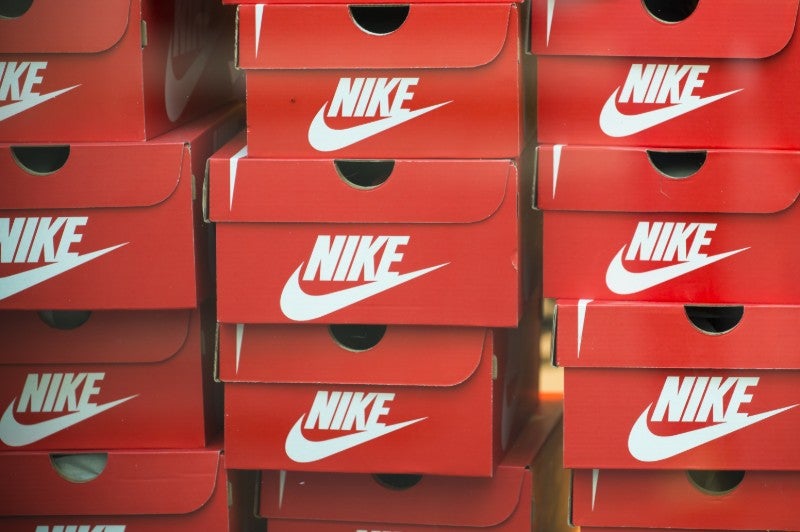 US sportswear brand NIKE has said that digital sales nearly doubled in the three months to the end of August, as the Covid-19 coronavirus pandemic drives an increase in online spending.
Nike posted total revenue of $10.6bn (£8.3bn) today.
Nike's digital sales increased 82% during the June to August quarter, offsetting the decreased revenue from physical stores, which have seen low footfall since reopening in June.
Nike chief executive John Donahoe said: "Our results this quarter continue to demonstrate Nike's full competitive advantage, as we strengthen our position in the midst of disruption. In this dynamic environment, no one can match our pace of launching innovative product and our Brand's deep connection to consumers. These strengths, coupled with our digital acceleration, are unlocking Nike's long-term market potential.
"We know that digital is the new normal. The consumer today is digitally grounded and simply will not revert back."
The "unstoppable rise of e-commerce"
UK-based commerce agency LiveArea EMEA commerce consulting director Elliot Jacobs said: "The comments from Nike are yet another sign of the unstoppable rise of eCommerce. The pandemic shifted the balance of shopping – in the age of 'at-home retail,' digital is simply more resilient, more agile and more effective.
"With high demand for athleisure wear during lockdown, Nike took a direct-to-consumer approach, using its website and shopping apps to build close relationships with customers no longer visiting its stores. Not only this, but the sportswear brand also pulled back from online retailers last year, such as Amazon, to dial down on delivering outstanding digital experiences and personalised content to its loyal customers, and this is now reaping rewards.
"Brands like Nike, that have shown digital understanding, have been able to grow their customer base effectively, even during a pandemic. Nike saw the lockdown and accompanying store closures as an opportunity to accelerate its digital potential, realising years' worth of transformation in a matter of weeks.
"Digital businesses that are able to effectively automate capacity to meet the demands of customers, both in terms of experience and delivery, will continue to flourish."
Consumers are trying to shop exclusively online
E-commerce experience specialist company Bloomreach UK MD Michael Schirrmacher told Retail Insight Network that the news of Nike's online success is unsurprising.
Schirrmacher said: "As we start to see the introduction of a second lockdown, physical stores will continue to struggle and online shopping will remain the most important channel. This is an ongoing trend and the State of Commerce Experience research study, conducted by Forrester and commissioned by Bloomreach, found that 90% of consumers have changed their behaviour as they try to avoid physical stores due to safety concerns and buy exclusively online where possible.
"While Covid-19 may have sparked this behaviour, these new habits and expectations will live on long after the crisis ends. Now that consumers have had a proper taste of the convenience, they are going to continue to use it."
Schirrmacher added that Nike's investment in the Direct To Consumer (DTC) "trend" has been interesting to see.
He said: "It is also interesting to see Nike invest so heavily in DTC, which is another trend that has been accelerated by Covid-19. Many brands are very focused on DTC due to the ongoing struggles of their wholesale accounts — retailers. There is a need for brands to control the relationship with the customer and drive their business without being beholden to an increasingly challenged model of wholesale-retail.
"The benefits of DTC are clear in increased margins, as well as having the customer relationship and data that gives them control over their future. This is a trend that looks set to continue."
Nike's share price
Nike's share price has risen by 80% since March when the Covid-19 coronavirus pandemic caused a fall in stock prices for the retailer. It has beaten the expectations of analysts, who forecasted that the company would be at 50 cents per share.
Nike's shares currently stand at around 127.33USD per share.