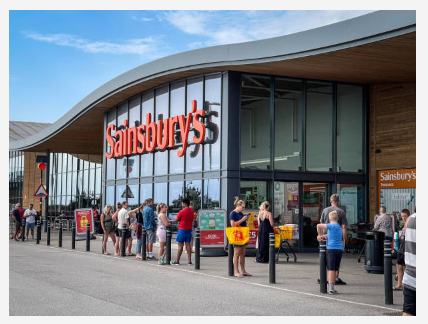 UK grocery chain Sainsbury's has announced that its Nine Elms London superstore has adopted a fully electric fleet for customer deliveries.
This transition to electric vans ensures that customers' grocery shopping will be delivered with zero emissions, supporting the company's commitment to environmental sustainability.
The Nine Elms delivery fleet, consisting of 12 vans, now operates entirely on electricity. Both the vehicles and fridge units are powered by electricity, resulting in no carbon emissions, dust, dirt, soot, or smoke being released into the air during deliveries.
Environmental benefits and commitment to decarbonisation
This initiative benefits the approximately 145,000 households in Sainsbury's Nine Elms delivery area by providing groceries with reduced carbon emissions. The new electric vans operate quietly, contributing to a decrease in noise pollution within local communities.
On average, Sainsbury's Nine Elms store makes more than 2000 deliveries each week, covering approximately 1760 miles. By utilising the 100% electric fleet, the company anticipates saving 57t of carbon annually.
This significant reduction in carbon emissions supports Sainsbury's commitment to achieving its decarbonisation goals and contributes to a cleaner and healthier local environment with reduced air pollution.
This shift to fully electric delivery vans at Nine Elms is part of Sainsbury's broader strategy to operate a completely electric fleet across all its stores by 2035. The company aims to align its efforts with its decarbonisation objectives, ensuring a more sustainable future.
Focus on sustainability and innovative solutions
This transition will assist Sainsbury's in achieving its commitment to becoming net-zero in its own operations by 2035.
Sainsbury's continuous efforts to reduce carbon emissions and energy usage in its operations are exemplified by various initiatives.
In 2022, the company introduced LED lighting throughout its entire estate, resulting in an average reduction of 70% in lighting energy consumption.
The company's Innovation Investments was established, pledging a minimum investment of £5m over the next four years into start-up businesses focusing on commercialising innovative, sustainable technologies to reduce operational carbon emissions. Currently, the multi-channel retailer operates with 100% renewable electricity and by the end of 2023, the retailer expects up to 40% of its electricity to come from newly established wind and sun.