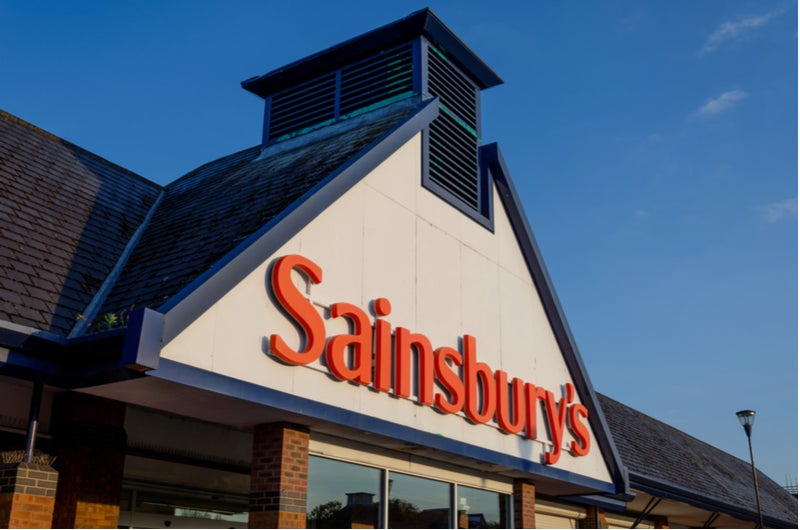 UK supermarket chain Sainsbury's has announced that it experienced a boom in sales during the festive period, particularly online, with 1.1 million online orders having been delivered.
This online sales figure is double that of 2019's figure. Online grocery sales in the 15 weeks to the 2 January 2021 increased by 128% year-on-year.
Sainsbury's festive period covered nine weeks from 1 November 2020 to 2 January 2021. In this time, Sainsbury's overall like-for-like sales increased by 9.3% year-on-year.
Premium champagne sales were cited as increasing by 52% during the period while "Taste the Difference" premium food brand raised by 11%. General merchandise and clothing sales were also said to have been stronger than expected in the quarter.
Sainsbury's chief executive Simon Roberts said: "Many customers had to change their Christmas plans at the last minute and we sold smaller turkeys and more lamb and beef than normal."
The supermarket also raised its profit guidance, stating that underlying profit before tax is expected to be at least £330m in the financial year to March 2021.
It said: "We now expect, after forgoing business rates relief of £410m, to report underlying profit before tax of at least £330m in the financial year to March 2021." This is down on 2019's figure of £586m.
Sainsbury's success lies in preparation and digital investments
Germany-headquartered software company Software AG senior director of industry solutions Oliver Guy told Retail Insight Network that Sainsbury's online success could be attributed to good preparation for the festive period by hiring more staff and investing in digital commerce.
Guy said: "The success of Sainsbury's suggests digital businesses can be more agile and more resilient in turbulent times.
"The Tier 4 announcements resulted in last-minute changes to Christmas plans for many. These changes could have helped Sainsbury's online orders surge by 128%, which in the past may have been met with product shortages, website crashes and delayed deliveries. But grocers, faced with the panic buying seen at the beginning of the pandemic, largely pivoted to digital to cope with changes to consumer behaviour – for Sainsbury's, this meant recruiting 12,000 members of staff to pick, pack and deliver online grocery orders over the festive period.
"Where supermarkets have previously struggled to make money from online grocery shopping, record-breaking levels of online orders could well be contributing to making operations more cost-effective. More orders could have enabled improved 'drop density' with delivery vehicles delivering to a tighter radius of customers, while click-and-collect options, which are operationally cheaper than online deliveries, accounted for a quarter of orders in the final week.
"Sainsbury's sales figures underline how the digital investments made by grocers last year paid off for both retailers and their customers. With Christmas and New Year plans in tatters, the grocer came to the rescue, allowing many to continue festive celebrations while the grocer reported a bumper Christmas trading period."
Supermarkets in general still need to improve their online platforms
US-based commerce specialist Bloomreach EVP EMEA Tjeerd Brenninkmeijer told Retail Insight Network that, although supermarkets performed well during the festive period, they must improve their online platforms to boost sales in the future, as customers become "more unforgiving when it comes to a bad digital experience".
Brenninkmeijer said: "It is no surprise to see supermarkets perform so well during this period, with more customers placing online grocery orders than ever before. With this in mind, it is important that supermarkets are able to keep up with this increased online demand and continue to serve customers efficiently.
"Earlier this week, it was reported that many supermarkets are struggling to fulfil online orders and this can have a really negative impact on customer experience. Since the first lockdown early in 2020, Bloomreach Pulse data has consistently shown that in the grocery category specifically, online traffic is outpacing online sales.
"This is often because consumers are facing out-of-stock items, as well as lack of pick and delivery slots, forcing them to find their groceries elsewhere. This loss of custom can obviously have a negative impact on revenue, so it is vital that supermarkets extend their online capacity at this time.
"Shoppers are more unforgiving than ever before when it comes to a bad digital experience, and brands simply can't afford to lose customers to their competition because a product was hard to find, or it took too long to load a page. Whether your business is in survival, adaptive, or growth mode now is a critical time to reallocate funding to deliver enhanced digital experiences and set your business up to be more competitive as the world shifts to a new normal post-pandemic."