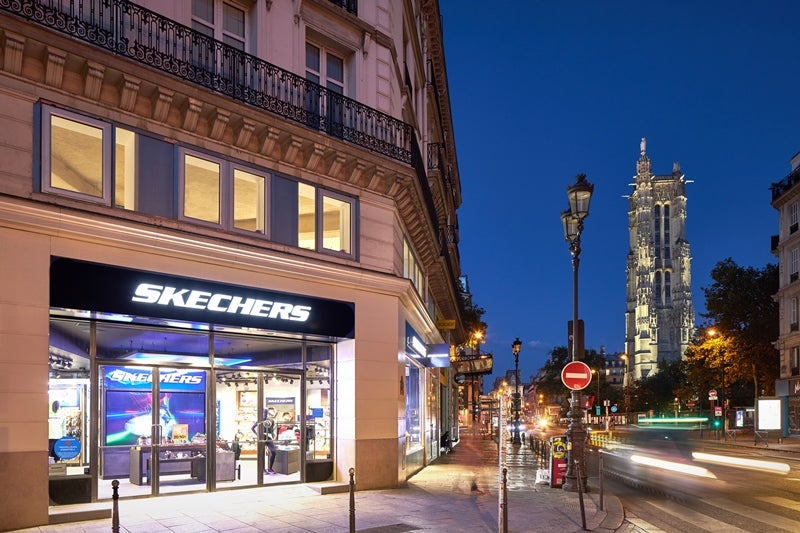 Global lifestyle brand Skechers is expanding its network in France with the opening of a new flagship store.
Located on Rue de Rivoli 102 in Paris, the 545m2 flagship store will aim to provide a complete Skechers retail experience to the customers.
It offers a full range of the latest Skechers footwear and apparel collections for men, women and kids.
The new store features a high-resolution digital screen at the entrance, mid-century modern design inspired interior, LED lighting and graphic displays.
Skechers chief operating officer David Weinberg said: "Skechers stores offer the best retail venue for shoppers to directly experience the vast assortment of our lifestyle and performance footwear, and this flagship location will reinforce Skechers as a global leader in footwear to consumers in Paris.
"Establishing a location in the centre of Paris is a testament to our belief that Skechers will remain a go-to footwear brand in France and across Europe as the recovery continues and consumers seek comfort and quality along with style during this challenging year."
Skechers also has locations in Aeroville Mall outside Paris, Les Terrasses du Port and Plan de Campagne in Marseille, Aix en Provence, Toulon, Béziers, Montpellier and Bayonne.
During the rest of the year, the company noted that it is limiting store openings and will focus only on those stores that were in development before Covid-19 pandemic.
Over 90% of its more than 3,615 Skechers destinations across the globe reopened.
Last September, Skechers USA reduced plastic in its footwear packaging by 85% as part of the company's global strategy for sustainable packaging.