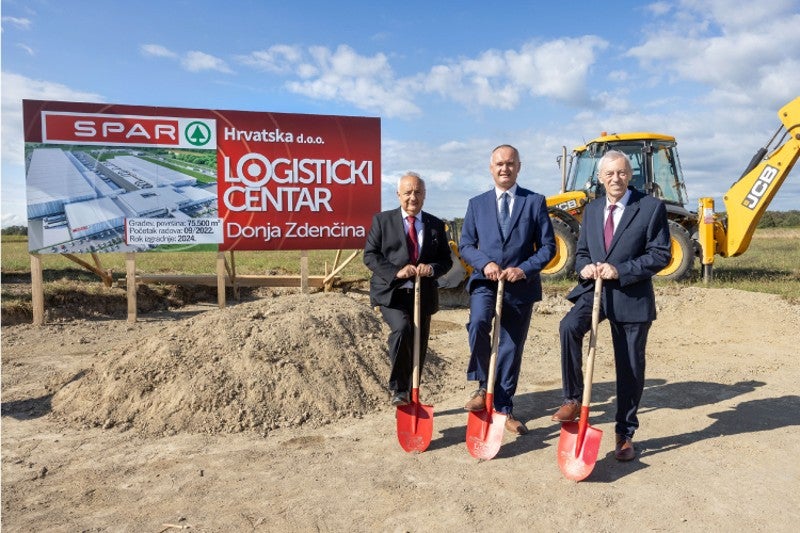 The Croatian branch of multinational retailer SPAR International has begun the construction of the first phase of its new logistics centre in Donja Zdenčina.
Located in the municipality of Klinča Sela in Zagreb County, the 75,000m² logistics centre will be built on a 410,000m² area.
The project will require a total investment of more than €100m ($97.3m). In its first phase, SPAR Croatia will build a distribution centre.
Scheduled to be completed by the end of 2024, the distribution centre will have a storage capacity of more than 100,000 pallets and employ around 500 team members.
SPAR Croatia said that the logistics centre will improve and facilitate the company's operational efficiency, as it is connected by roads and located near the city's public transport and railway.
The ground-breaking ceremony for the facility was attended by SPAR Croatia Board member Danijel Vidiš, Klinča Sela municipality mayor Miljenko Vučković and Zagreb County prefect Stjepan Kožić.
Vidiš said: "The construction of the SPAR Logistics Centre represents the most strategically important project for us at SPAR Croatia.
"Given the amount of investment and the number of employees, I believe that it is currently the largest project in Zagreb County and the municipality of Klinča Sela.
"Thanks to the efficient cooperation with the local self-government led by Mayor Miljenko Vučković, we were able to speed up the start of this high-value project."
SPAR Croatia reported an 8.1% retail sales growth for fiscal 2021 (FY21) and ended the year with €792.6m.
The company opened its first store in the country in 2005.
Last month, SPAR International selected retail media platform CitrusAd to improve the shopping experience for its online customers.
As a supplier of e-grocery retail media solutions for SPAR, CitrusAd will provide a personalised, targeted experience for consumers.