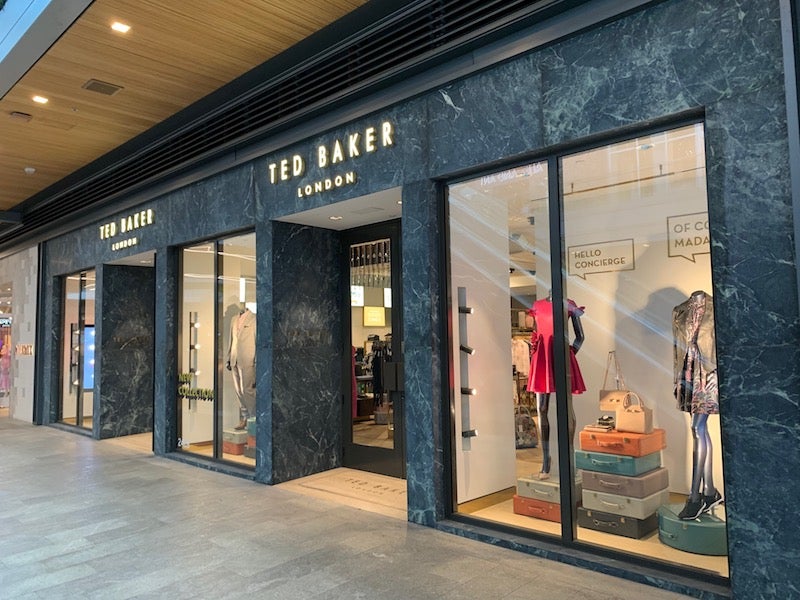 British luxury clothing company Ted Baker has issued a profit warning of a predicted £20m drop in earnings to between £50m and £60m for underlying profit before tax for the year ending 25 January 2020.
In its trading update for the 19 weeks from 27 January 2019to 8 June 2019, Ted Baker said this figure reflects the company's view of anticipated trading for the rest of the year, despite the positive impact of new product initiatives and planned cost efficiencies.
Group revenue increased 3.8% (1.9% in constant currency) for the 19 weeks from 27 January 2019to 8 June 2019, compared with 1.1% the same period last year. Total retail sales, including e-commerce decreased 0.3%, (1.8% in constant currency) and average retail square footage increased 5.3% to 443,036 square foot (sq.ft) from 420,779 sq.ft. The group's e-commerce sales increased by 2.4% (1.2% in constant currency) and represented 26% of total retail sales, compared to 25.3% in the same period the previous year. Wholesale sales also increased by 14.2% (11.4% in constant currency).
The profit warning has been attributed to on-going consumer uncertainty, unseasonable weather experienced across North America, challenges with its Spring/Summer collectionsand raised levels of global promotional activity, which the retailer claimed to have resulted in extremely difficult trading conditions.
Ted Bakerchief executive officer Lindsay Page said: "Ted Baker remains an outstanding brand and, underpinned by the strength of our flexible business model, including a relatively low number of own stores that showcase the brand, we remain confident in our long-term growth prospects.
"As a team, we are proactively addressing the challenges we face as an industry.  Several of our new product initiatives will commence imminently and we are confident in our collections for the coming season.  We are relentlessly focused on achieving cost efficiencies as well as further cost savings throughout the business.
"We remain committed to the long-term development and expansion of Ted Baker as a global lifestyle brand. Over recent years, we have made a number of significant investments to ensure that the Group is well positioned to continue to adapt to structural changes in the retail sector."
Ted Baker has 'passed its peak' according to analysts observations
GlobalData lead retail analyst Sofie Willmott said: "Following years of admirable growth, the previously untouchable Ted Baker has had a terrible start to 2019/20 with retail revenue falling into negative territory, contributing to a profit warning and signalling that the lifestyle player has passed its peak.
"When incremental sales from the retailer's acquisition of footwear brand No Ordinary Shoes are stripped out, retail revenue declined 1.1% and with challenging trading conditions anticipated for the remainder of the year, profit before tax is now expected to be £50-60m (versus £50.9m in FY2018/19). Following the disappointing results, shares nosedived, falling 25% this morning.
"As a result of its past success and demand for the brand, Ted Baker products are widely available from department store players like John Lewis and House of Fraser, and online pureplays including ASOS and Very.co.uk, but overexposure can damage brand appeal particularly when it is positioned at a premium level."
Willmott continued: "Alongside this, the struggles of department store retailers coupled with the misconduct allegations against the brand's founder, Ray Kelvin, who stepped down permanently in March, will not have helped its performance. To reverse its sales decline, Ted Baker must rein in the number of distribution partners it has, to reaffirm its premium positioning.
"Poor results were blamed on the tough trading environment, a promotional market and challenges with spring/summer collections but Ted Baker has reached a point where it will either sink or swim. For the brand to be able to survive without its former leader and retain its loyal shopper base, it must seize the opportunity to shake up the business and re-establish its brand identity."