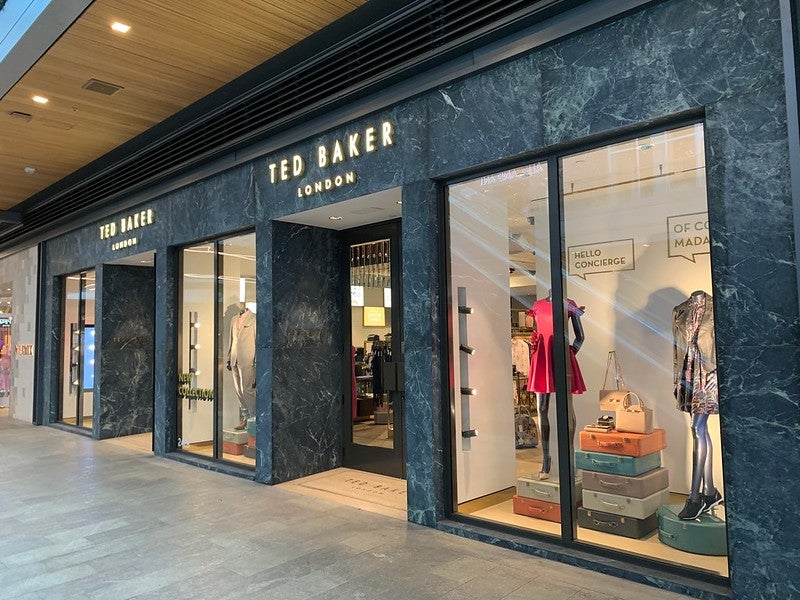 UK-based lifestyle brand Ted Baker has reported an 18% growth in revenue for the third quarter (Q3) of the fiscal year 2022 (FY22), which ended on 6 November.
The group's revenue grew by 20% on a constant currency basis, driven by its retail store channel and Wholesale and Licencing businesses.
During the quarter, Ted Baker's retail store sales increased by 34% compared to the corresponding period of last year (FY21), but fell by 38% against Q3 2020.
Despite the growth in retail store sales, the company's e-commerce sales were down by 10% but increased by 4% against the same period two years earlier.
Sales for its Wholesale and Licence businesses were up by 24%.
For the first half of FY22, which ended on 14 August, the company's revenue rose by 17.6% to £199.3m ($266.6m) compared to the same period of FY21.
This was up by 21.4% on a constant currency basis.
Retail sales in the quarter, including e-commerce sales, grew by 10.4% to £136.9m from last year, while e-commerce sales declined by 14.2%.
The retailer has not provided guidance for the current financial year.
Ted Baker CEO Rachel Osborne said: "I'm pleased with the continued progress we're making as we return to revenue growth and make big strides back towards profitability.
"The brand remains healthy, delivering a stronger full-price mix alongside encouraging early reactions to the new collection.
"The pandemic continues to impact the global retail environment, yet despite this, we are delivering against our Transformation Plan.
"I remain confident that our turnaround of this great global lifestyle brand is on course and that Ted will emerge as a stronger business."
In May, Ted Baker and its existing lending syndicate agreed to extend its revolving credit facility to provide further financial flexibility for the group.
The company's existing credit facility, as well as another restricted facility, were both replaced by a £90m facility, which will reduce to £80m in January.