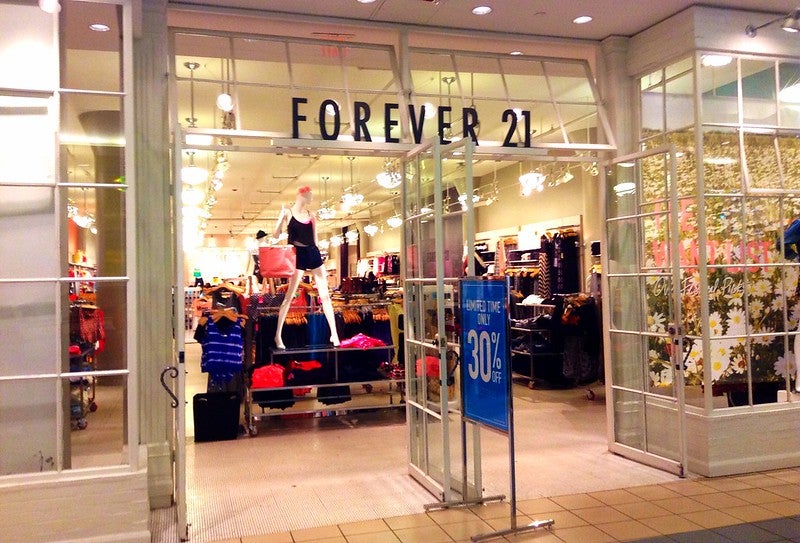 US-based fast-fashion retailer Forever 21 has received an $81m offer from a consortium made up of Simon Property Group, Brookfield Properties and Authentic Brands Group.
The deal includes all of Forever 21's remaining stores and its beauty line RileyRose.
The consortium has been the front runner to buy the bankrupt retailer. Other bidders and interested companies can place counteroffers by 7 February.
According to a court filing, an auction will be held on 10 February depending on the receipt of offers with Forever 21 seeking approval of the sale by 11 February.
Forever 21 said in a statement: "Forever 21 filed a motion with the bankruptcy court seeking approval to sell the Forever 21 business to a new owner.
"Once approved, the agreement will allow Forever 21 to come out of bankruptcy, keeping its headquarters, stores and e-commerce operations open, providing fashions and trends that customers know and love for years to come."
In September last year, the retailer and its US subsidiaries filed for Chapter 11 protection in the US bankruptcy court in Delaware.
Its Canadian operation also filed and received approval for protection under the Companies' Creditors Arrangement Act by the Ontario Superior Court of Justice.
The move for divestiture, as mentioned by the company at the time of filing Chapter 11 bankruptcy protection, is to fund the retailer's global restructuring plan.
Forever 21 plans to focus on its more profitable operations.