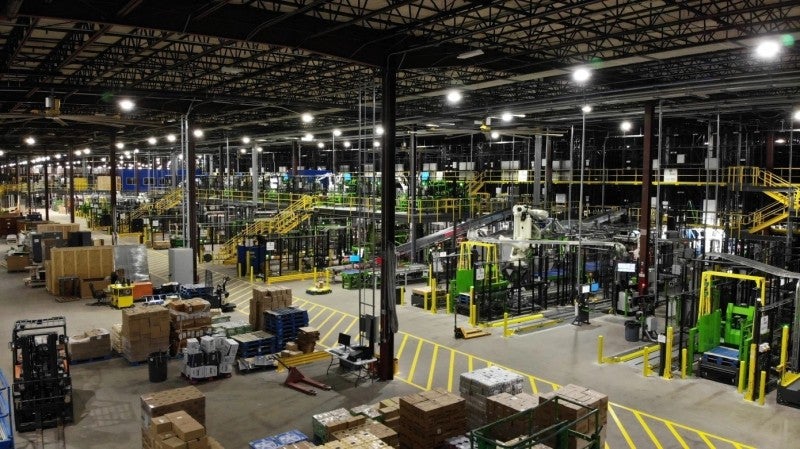 US-based retail giant Walmart has completed the renovation of its regional distribution centre (RDC) in Palestine, Texas, with automated technology.
The conversion is part of the company's larger initiative to convert all 42 RDCs into high-tech facilities.
Combining artificial intelligence-powered software systems, robotics and automation, the technology aims to organise and optimise freight onto pallets before shipping them to stores.
Walmart said that the introduction of this technology will increase the speed, efficiency and safety of product distribution.
Walmart US regional distribution centre general manager Marty Denney said: "Walmart's Palestine distribution centre has been a pillar in the community for the last 42 years, and we're excited to transform our building into an industry-leading, high-tech distribution centre.
"This isn't just an investment in our facility, but also our associates, our community and our future. I couldn't be more proud to be at the forefront of Walmart's supply chain transformation."
The Palestine RDC is part of Walmart's supply chain network and supplies food items, home goods and technology products to more than 4,700 stores.
The company operates 593 retail units and online through Walmart Online Grocery, Walmart.com and its other portfolio brands in Texas.
It currently employs 176,179 associates in the state.
In a separate development, Walmart Health has revealed plans to increase its health centre network in Florida to 16 centres.
The company opened its first six Walmart Health locations earlier this year, with new centres due to open in the metro areas of Jacksonville, Orlando and Tampa late next year.
Services offered by the health centres will include primary care, labs, X-ray and electrocardiogram, behavioural health, dental, hearing, select speciality services and community health.
In August this year, Walmart announced plans for a 400,000ft² consolidation centre in Lebanon, Pennsylvania.
The company previously opened a consolidation centre in Colton, California.