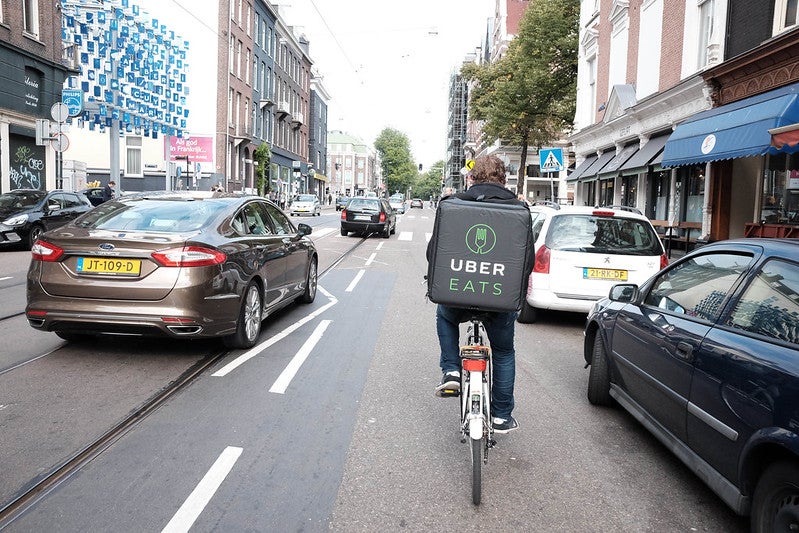 Australian supermarket chain Woolworths Group has partnered with food delivery platform Uber Eats to offer same-hour grocery deliveries across Australia.
As part of this partnership, Woolworths's convenience store brand Metro will feature on the Uber Eats app.
From 30 August, Woolworths locations in Sydney and Melbourne will be made available on Uber Eats.
The service will be expanded across the eastern seaboard in the coming weeks and the rest of the country by early next year.
Customers can order fresh fruit and vegetables, as well as hundreds of household staples, and receive them within 60 minutes.
Woolworths Metro general manager Justin Nolan said: "At Woolworths, we're always looking to make it easier for our customers to shop in ways that work for them.
"This partnership will give our ‌customers‌ a ‌fast,‌ ‌reliable‌ ‌and‌ ‌effortless‌ ‌way‌ ‌to‌ ‌get‌ ‌groceries‌ ‌delivered‌ ‌to‌ ‌their‌ ‌door‌ within an hour.
"It will be an ‌ideal‌ option for‌ those smaller ‌top-up or‌ last-minute shopping needs and complement our existing e-commerce offer.
"Importantly, it will also help us meet the needs of customers seeking to limit their community outings during the pandemic."
Orders received will be packed by Woolworths personal shoppers before being passed on to Uber Eats delivery people.
This month, the companies will extend their partnership to provide additional delivery options for customers ordering from Woolworths.com.au.
Uber currently provides last-mile delivery solutions for Woolworths' online retail operations.
Uber Eats Australia and New Zealand (ANZ) Retail regional general manager Lucas Groeneveld said: "By linking up with Woolworths, Uber Eats is well-positioned to usher in a new era of ease for Australian households, strengthening our platform's appeal as the place to head to go anywhere or get anything."
Last month, Woolworths submitted a development application for an online customer fulfilment centre in Caringbah, New South Wales.