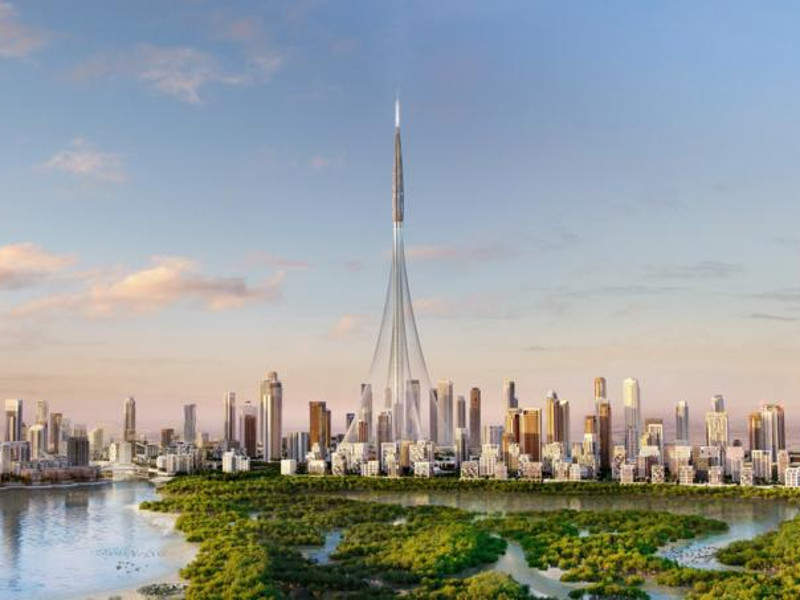 Dubai Square is a new shopping and lifestyle mall being built in the Dubai Creek Harbour area. Upon completion, the development will overtake the existing Dubai Mall as the world's biggest mall.
Emaar Properties and Dubai Holding are jointly developing the project to showcase Dubai as a smart city and a global hub, reflecting the vision of His Highness Sheikh Mohammed bin Rashid Al Maktoum.
The total investment in Dubai Square, including the retail, residential and hospitality components, is $5.5bn.
Dubai Square mall location
The new mall will be located in Dubai Creek Harbour, from where every important destination is easily accessible. It is located near the Ras Al Khor Wildlife Sanctuary and ten minutes away from the Al Maktoum International airport, Burj Khalifa, and Jebel Ali Port.
Due to the development of Dubai Square mall, along with the existing Dubai Creek Tower, Dubai Creek Harbour is expected to result in a 30% to 40% rise in property prices.
Dubai Square mall design details
The Dubai Square mall will cover a 750,000m² area, which is larger than 100 football fields. The plan for the Dubai Square mall was inspired by some of the world's most popular shopping destinations such as Oxford Street, Beverly Hills, Sienna Squares, Piazza Della Republica, Plaza Mayor, Champs Elysees, and Ginza.
The design is inspired by the Arabic architectural element called mashrabiya, and traditional souks. The mashrabiya filters the sunrays through the holes in the roof, creating a visual effect called 'rain of light'.
"The mall will be home to attractive cultural services for passionate travellers and knowledge-seekers worldwide."
The mall will also have a glass roof, and a vast expanse of open area, giving the shoppers the feeling of an indoor city. It will host an array of stalls and plazas, as well as feature streets interconnecting every outlet.
Dubai Square mall layout
Dubai Square mall will be spread over three floors. The ground floor will host event spaces on the alleys and streets, in addition to a groundbreaking events arena. It will be directly connected to the Dubai Creek Tower and the plaza, through an underground extension featuring a central boulevard.
The first floor will have a four-lane boulevard, which will be lined with dining, a virtual reality park, and luxury retail and leisure outlets. A grand luxury avenue perpendicular to the boulevard will also be part of the floor. On the second floor of the mall, there will be an array of family-friendly activities such as Ice Adventure, along with a sports arena, a state-of-the-art Cineplex, waterpark, a metro link and a supermarket.
Attractions and amenities at Dubai Square
The mall will be home to attractive cultural services for passionate travellers and knowledge-seekers worldwide. It will feature an art district that will display small terracotta statues and tall Giacometti-style sculptures.
Programmes and events covering different fields of art such as dance, literature, drama, cinema, music, painting, and photography will be conducted at the mall throughout the year. Art performances, permanent exhibitions, solitary shows, and concerts will be conducted in the area.
The mall will host live cooking stations, festive pop-up markets, grab-and-go food and beverage (F&B) offerings, organic marketplace, and street vendors. An inbuilt China town, the biggest in the Middle-East, will also be part of the mall. It will cater to people from around the world and approximately 200,000 Chinese people living in the UAE.
Dubai Square will feature a wide range of technology brands from around the world in the fields of computing, automotive, 3D printing, sustainable technologies, artificial intelligence, drones, and many other emerging technologies.
Technology-based shopping experience at Dubai Square
Dubai Square mall will be a highly tech-driven retail destination. It will feature omnichannel retailing, which will help shoppers make purchases using their mobile phones, desktops, or in-store.
The mall will be equipped with quick checkout solutions, custom-designed mobile apps, barcode scanning and search applications, mobile payment methods, click-and-collect services, and radio-frequency identification technology.
The shopping experience will be made smarter by providing VIP dressing rooms, personalised artificial intelligence (AI)-based recommendations, 3D-printed clothing and accessories, smart fitting rooms with interactive mirrors, curated private fashion collections, and a fashion museum.
The mall will offer 3D printing of delicacies to enable ordering food in the premises, while avoiding long queues.
Key players involved
WATG provided architectural design and strategic planning services for the Dubai Square mall.
Core Architects designed the residential component of the project.