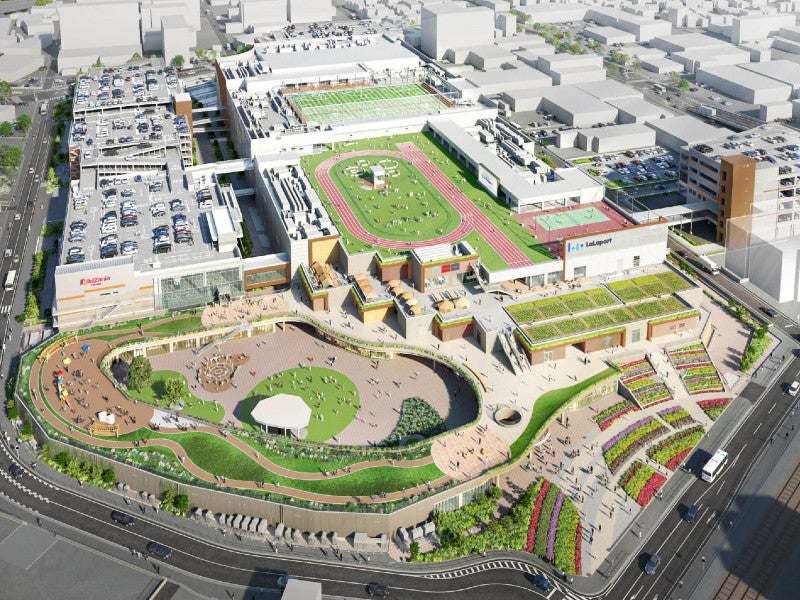 The Mitsui Shopping Park LaLaport Fukuoka is being built on the old Fukuoka City fruit and vegetable market site in Hakata-ku, Fukuoka. Credit: Mitsui Fudosan Co., Ltd.
The project is being developed by Mitsui Fudosan, in partnership with Kyushu Electric Power and Nishi-Nippon Railroad. Credit: Mitsui Fudosan Co., Ltd.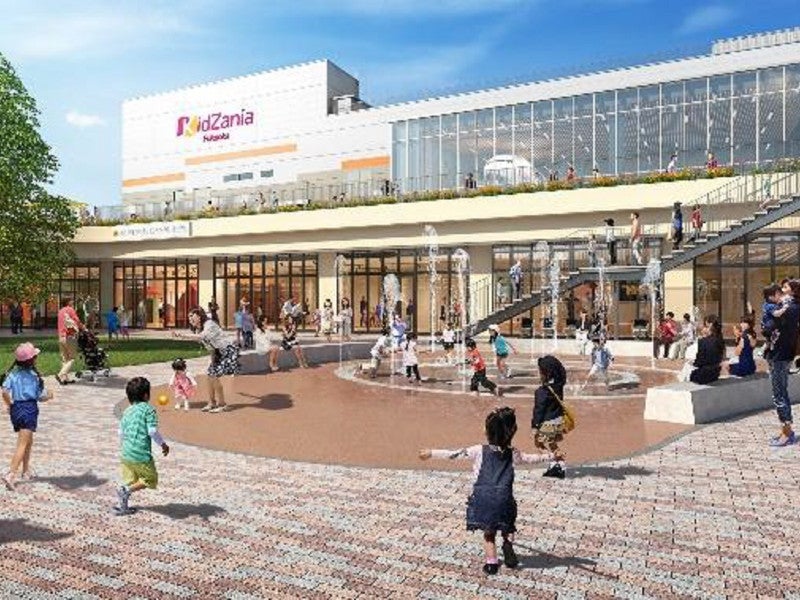 The LaLaport Fukuoka shopping mall is expected to house at least 183 stores offering fashion goods, general sundries, and entertainment. Credit: Mitsui Fudosan Co., Ltd.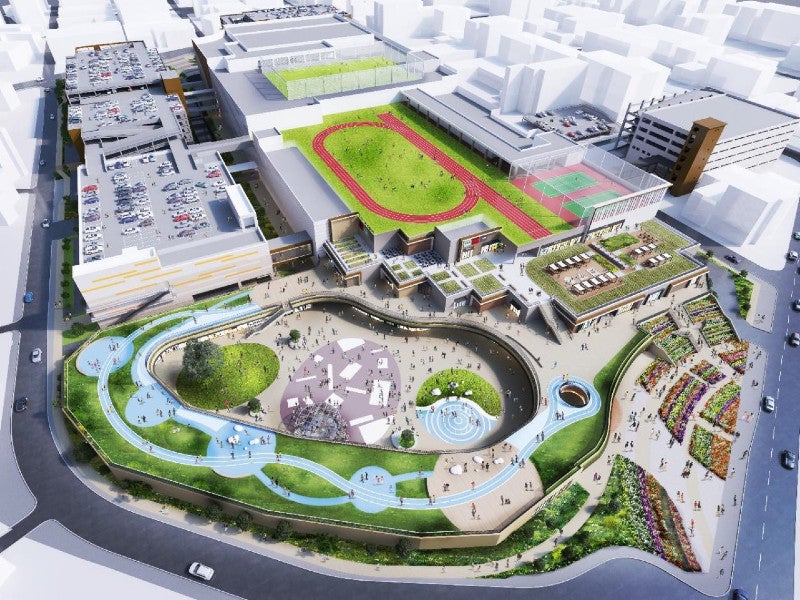 The rooftop will include a sports facility equipped with a tennis court, a basketball court, and a 200m track. Credit: Mitsui Fudosan Co., Ltd.
The Mitsui Shopping Park LaLaport Fukuoka is a new shopping mall under construction in the Fukuoka Prefecture, Japan.
The mall is being developed by the Hakata Nakaroku Kaihatsu special purpose company, an entity jointly formed by Mitsui Fudosan, the Kyushu Electric Power company (Kyuden), and Nishi-Nippon Railroad (Nishitetsu), on a site that previously hosted a fruit and vegetable market.
The tender for the development of the site was issued by the City of Fukuoka. Construction of the project began in November 2020 and is expected to be completed in March 2022. The mall is scheduled to be inaugurated in April 2022.
Mitsui Shopping Park LaLaport Fukuoka location and details
The latest shopping mall from Mitsui Fudosan will be located on the old market site at 351 Naka 6-Chome, Hakata-ku in Fukuoka city on Japan's Kyushu Island.
The site is located next to the main road of Chikushi-dori and within walking distance of the Takeshita Station on the JR Kagoshima main line.
The mall will have five storeys, with a total floor space of approximately 2.22 million ft² (206,400m²). It will also have a floor below the ground level. The total area of the site is approximately 932,100ft² (86,600m²). The buildings will have wide entrances to enable natural air flow.
LaLaport Fukuoka will feature a full-size Gundam statue similar to the one installed at Mitsui Fudosan's mall in Shanghai, China. The Gundam statue will be based on the RX-93 v Gundam, a mobile suit that appeared in the movie Mobile Suit Gundam: Char's Counterattack, which was released in 1988.
Retail offerings at the Lalaport Fukuoka mall
LaLaport Fukuoka will house over 183 stores comprising fashion, dining and entertainment, topical, and miscellaneous stores. It will house Nishitetsu Reganet Daily Entertainment Square, a supermarket and food store.
The mall will host a range of stores including Market 351, Toho Cinemas, Baycrew's, Mila Owen, Onward Crosset Select, Elura, Randa, Rodeo Crowns Wide Bowl, Azul By Moussy, Gelato Pique, Niko and Coffee, Avirex, Discoat, Prè de France, Bayflow, Zara, Diesel, G-Star RAW, Billabong, and Coen.
It will also include other retailers such as Kashiyama, Wego, Takeo Kikuchi, Petit Main, Lovetoxic, Yoo-Hoo Store, Hario Lampwork Factory, Bijou Sophia, Canal 4℃, Albion Dresser, Cloakroom by Porter, Michael Kors, Aimerfeel, Lingè Noël, Coach, Flava Hat, Kaneko Optical, Jins, Cassis de Rouge, Zwilling, Karendo, a.depeche, Katoji, Dadway, SmaPla, Lovst Photo Studio, Moff animal café, and Fukutaro.
Dining and entertainment spaces in the Lalaport Fukuoka mall
The shopping centre will feature ten restaurants and cafes, and a food court with 19 vendors.
The restaurants and cafes will include Gyumaru Classic, Happy all-you-can-eat yakiniku Kamimura Ranch, Pizzeria Nao, Dalian Dumpling Base, Kurashiki coffee shop, Lemon Cafe, and McDonald's.
The vendors at the food court will include Sei Yo Ken's Ramen Noodles, Shinjiko Shijimi Chuka Soba Kohaku, Jin Din Rou, Nihonbashi Tendon Kaneko Hannosuke, Gyoku, Godiva, Gong Cha, and Wagyu Burger.
KidZania and Toy Museum will open their first stores in the region at LaLaport Fukuoka. KidZania is an edutainment centre that offers more than 100 roles for children to try out and experience different careers.
Toy Museum will be a facility dedicated to learning and multi-generational exchange through interactions with wood.
The MIFA Football Park will include three futsal courts and a mini soccer court while the sports part will feature a tennis court, a 3×3 basketball court, and a 200m track. The sports park and the football park together will occupy more than 10,000m² (107,639ft²) of space.
Amenities at the Lalaport Fukuoka mall
The project will include multi-functional plazas with different concepts. The plazas and other outdoor spaces will offer gathering places for visitors, including people from the local community.
LaLaport Fukuoka will place a multi-storey parking space that can accommodate approximately 3,050 vehicles. The parking decks will be located in seven floors across two buildings.
The shopping facility will be energy-efficient and equipped with spaces to accommodate people who are stranded in the wake of a natural disaster.
Charging stations for electric vehicles and LED lighting in shared areas will be installed. A new bus terminal will be developed within the project site.
Contractors involved
Takenaka, an architectural engineering company based in Japan, provided the design for the Mitsui Shopping Park LaLaport Fukuoka. The building's exterior was designed by Nonscale, a Japanese design and planning company while the landscaping and interiors were designed by STGK and Tanseisha, respectively.
The shopping destination is being constructed by a joint venture (JV) between Takenaka, Nishitetsu Construction, Nankai Tatsumura Construction, Kobayashi Kensetsu, and Sakashita Kensetsu.
The multi-level parking decks are being built by Daiwa Lease, a pre-fabricated architecture and construction firm.